10 things to make your Christmas more Christmassy
Sofia Fredrikson suggests ten ways to make your Christmas even more holly-jolly.
christmas
list
listicle
santa
xmas
10. It's that time of year again. As Starbucks fill their Red Cups with warming Christmas themed drinks, it's hard not to get giddy in anticipation, so jump on the bandwagon and grab one yourself!
9. Want to remind your friends and family of the true meaning of Christmas? Invest in one of these badges, and there will be no chance of miscommunication.
8. Not feeling Christmassy yet? Just take a look outside! Pretty much all of London shows evidence of the looming arrival of Christmas, usually in the form of twinkling lights.
7. Few things spark on that Yuletide spirit better than a classic Christmas movie. There's no reason for you not to take it a step further and make it a theme for a girls (or guys!) night in. Nightmare Before Christmas anyone?
6.  "It's beginning to look a lot like Christmas…" Be it the smooth sound of Michael Bublé's Christmas Album, or some carol singers blocking the already crowded London sidewalks, it is near impossible not to join in and sing along to the classics.
5. Christmas and Coca-Cola go hand in hand. With their heart warming television adverts and huge jolly Santa Clauses, it would almost be inexcusable not to share a Coke with Santa… Remember: if you believe in him, he'll believe in you.
4. Put your creative skills to work and try to make a gingerbread house! (Key word being "try".) If you aren't as skilled with a piping bag as you first hoped, don't fret. It's a fun way to spend an afternoon, wasting time instead of studying, and the gingerbread and frosting will be just as tasty no matter what architectural disasters you put it through.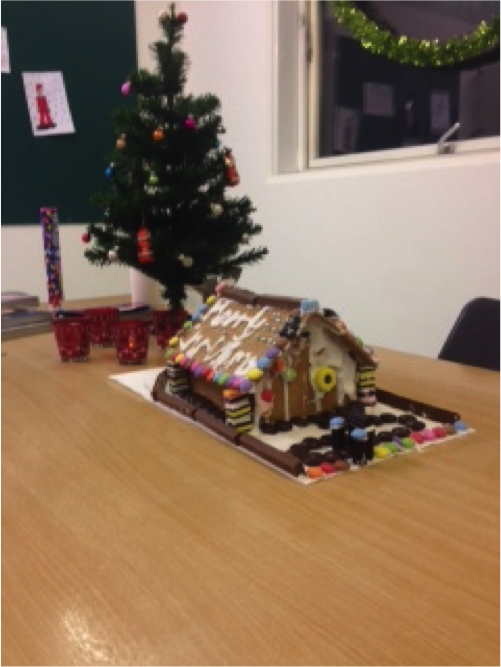 3. Bussing tables whilst donning the unmistakable Santa hat? This guy knows what's' up. Soon enough Santa hats will be popping up everywhere, making it hard to avoid those Christmas butterflies in your stomach.
2. If you are starting to feel insecure with the tacky-ness of all this Christmas spirit, then why not go on the hunt for the most inappropriate Christmas card? It might not send the right message, but it will most likely put a smile on your face, and what could be more Christmassy than that?
1. If all else fails, then there's always the trusty Santa Claus onesie. Not only will this snuggly fartbag keep you warm; it's also a great way to hide the fact that, underneath it, all the Christmas candies and cookies are making you look more and more like an actual Santa Claus every day. Most of all though, it's liable to get you childishly overexcited, and is it not this, above all else, which is the true warm gooey core of Christmas?
Merry Christmas everyone!