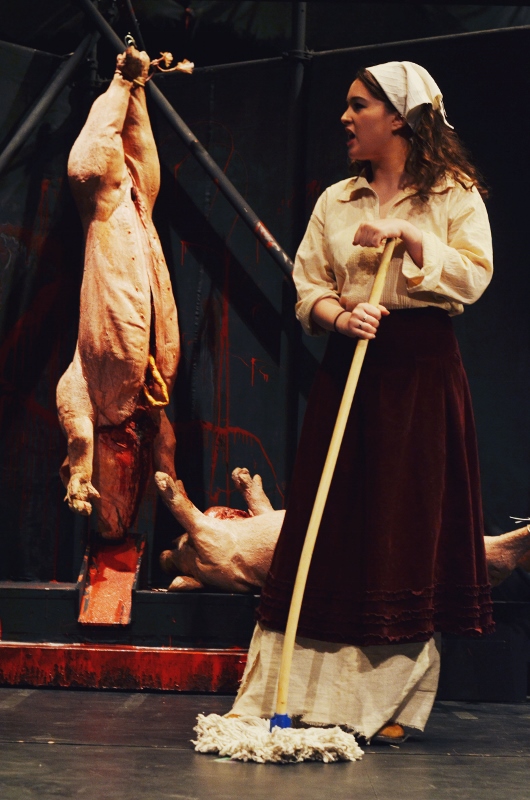 Review: The Gut Girls
Komi Sarna gives her verdict on UCLU Drama Society's eagerly anticipated production, 'The Gut Girls'
If you're seeking an entertaining night out at the theatre filled with laughter and excitement, UCLU Drama Society's latest offering, 'The Gut Girls' promises just that.
Set in the early 1900s, the Gut Girls are a foul-mouthed, brash and unrefined group
of girls living and working in the slaughterhouses of the impoverished town of
Deptford. Struggling to make ends meet, the girls find solace and comfort in each other when times get rough. Amusing encounters with Lady Helena and the slaughterhouse
foreman juxtaposed with the Gut Girl's heartbreaking monologues, which makes for an
exciting plot, with particularly good performances from Chloe Petts as Polly and Eleanor
Wright in the role of Lady Helena, Duchess of Albany. Hui-Ching Ong's simple set design served it's purpose well, keeping the audience focused on the dynamic events taking place on stage and the terrific acting on display.
The show was kick-started by a playful yet elegant dance sketch before plunging
into the gritty Deptford slaughterhouse, fully furnished with – what one would
hope – was a dead pig. The local philanthropist, Lady Helena takes pity on the menial
existence of the Gut Girls, with naïve aspirations of alleviating them from their
poverty by teaching them Christian virtues inspired by her own straight jacketed
maid. With the aid of an invisible tray and a slideshow of Jesus, Lady Helena attempts
to cram Christian righteousness down their blaspheming working-class throats. Each
actress makes their 'Gut Girl' their own, fashioning them with a distinct personality
and their wonderful and playful camaraderie is delightful to watch.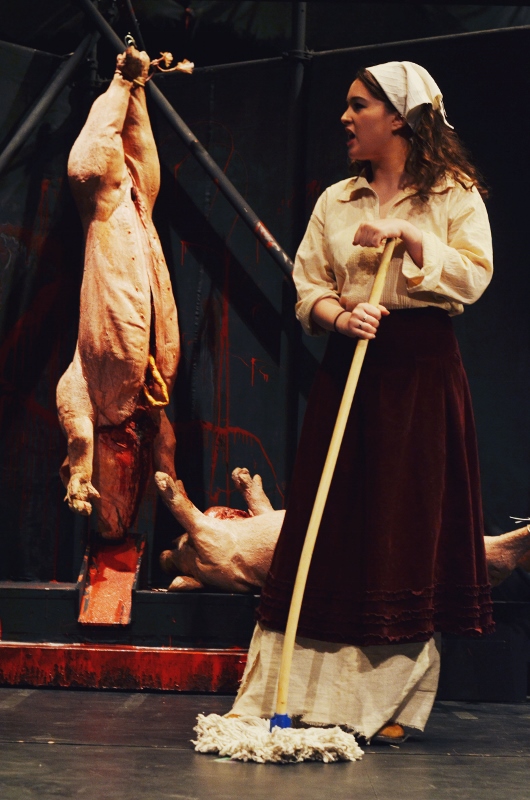 Whilst the first half was light-hearted, with fainting toffs and a misfiring comedian,
the second half leaves those (slightly) sunnier pastures behind, as the girls' lives are dramatically altered with the closure of the slaughterhouse, and the group's solidarity is threatened by each girl's attempt to safeguard her own future. Their narrative of strife is intermingled with an intriguing subplot demonstrating that the lives of the upper class were not as rosy as the Gut Girls assumed them to be. Howard Horner, playing Arthur, and Olivia Dowd as Priscilla, perfectly captured the relationship of a dysfunctional upper class couple.
With an equal dose of humour and woe, The Gut Girls delivers a captivating evening. One definitely not to be missed!
UCLU Drama Society's production of The Gut Girls runs from 21st-23rd February at the Bloomsbury Theatre.
Performances commence at 7.30pm.
Book online via the Bloomsbury Theatre website, by phone, or in person at the box office to avoid disappointment.
Photography by Tirion Jenkins