Love Is in the Air
From wallowing at home in your PJs to getting your glad rags on for a fancy dinner, The Tab has got your back this Valentine's Day.
clothes
Francesca Galeota
sabina trojanova
style
Tab Fashion
Valentines Day
Valentine's day is coming up and we've got plenty of outfit options to suit the occasion. From wallowing at home in your PJs to getting your glad rags on for a fancy dinner, The Tab has got your back.
FOREVER ALONE
If you're lacking the Romeo to your Juliette, go ahead and invest in these not-so-festive tees from zazzle.com (£21).
NIGHT IN
If you're having a cosy night in, why not go for a heart onesie from boohoo.com (£25) – or even just a plain red one from New Look (£24.99)
MASQUERADE BALL
If you're going to Proud's Masquerade Ball on Saturday, you'll obviously need a mask. A quick search on amazon.co.uk will get you a great selection of masks from simple black and white (£5.99) and silver (£4.42) to elaborate floral red lace masks (£7.99).
As well as your very fancy mask, you'll need a very fancy outfit. If you're lacking in ideas, do not fear, The Tab is here!
Girls
Topshop £30
Asos £18
Asos £25
Office £58
Team this outfit with a soft smokey eye and nude lip and you're ready to go.
Coco's Fortune at Topshop £60
boohoo.com £20
Asos £45
New Look £22.99
Asos £18
Jeffery Campbell Madame at Office £45
Guys
Asos bow tie £8 / Shirt £17.50
 Pocket Square £12
You can make your suit a little more interesting with a cool tie or pocket square.
Asos £150
Team this burgundy velvet blazer with a pair of jeans and a jumper and you have a stylish smart look, bound to get you to first base – at least.
CLUBBING
If you're going to Bad Sex on Thursday you may want some more casual outfit ideas.
Girls
Urban Outfitters £22
Revlon Black Cherry £7
Aldo £30
Skirt, boohoo.com £8
Team this bustier with a high-waisted number, disco pants, leather skirt, beaded shorts, chiffon maxi skirt… the options are endless! It will look perfect with a dark lip for an edgy look.
American Apparel £45
Topshop £80
Be the sexy lady in red with this romantic lace red dress and block heels.
Guys
Urban Outfitters £30
redmolotov.com £14.99
These subtly romantic tees are perfect for a casual night out with a pair of black jeans.
DINNER/DRINKS
Here are some options for your dinner or drink date at Bar 55 on Sunday.
Girls
Motel at Topshop £38
Love at Topshop £30
Asos £28
Asos £18
If deep red, velvet bodycons aren't your thing, we have a flowy, romantic little green number for you. To keep things fresh, team them with a pair of flats, a leather jacket and a cross body bag.
Guys
New Look £14.99
This jumper will look great with a pair of blue jeans and trainers.
Amazon £18
These cuff-links will add a little detail to a plain shirt and jean combination.
CASUAL DATE
If you're going on a more casual date to the cinema or even just to the Phineas, then you can opt for a subtler testament of your love for Valentine's day – you don't want to rub salt into the single souls' wounds.
Girls
boohoo.com £20
New Look £12.99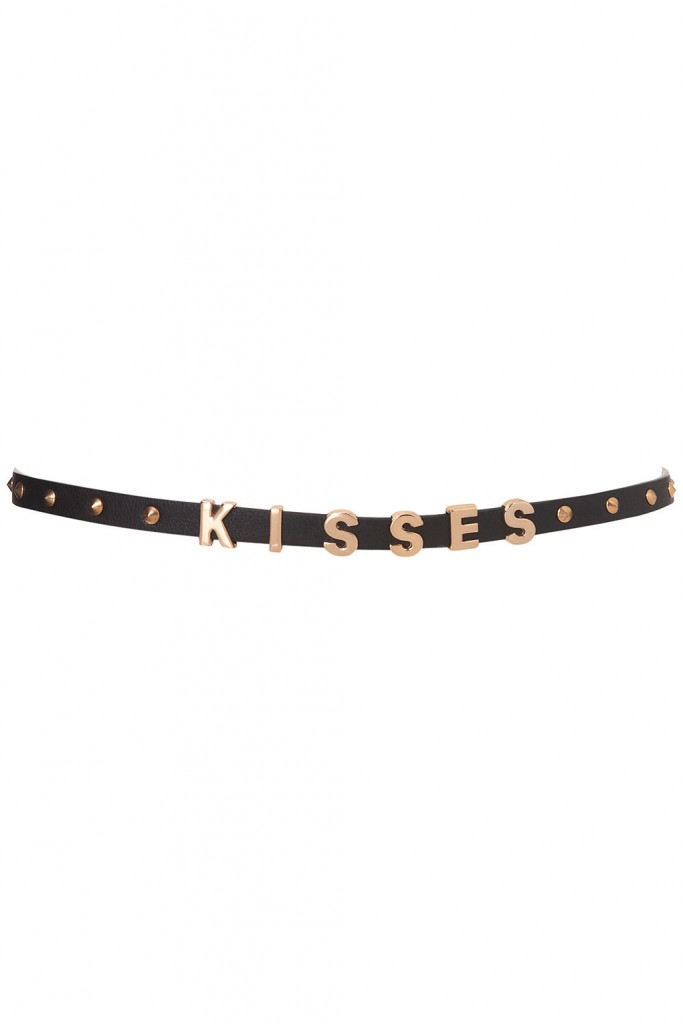 Topshop £14
You could team this waist belt with a plain dress to add a true Valentine's day feel to your outfit.
Asos £10
River Island £4
Accessories are an easy way to celebrate the romantic day without too much commitment.
Guys
Asos £20
American Apparel £48
A plain red jumper or shirt can be the perfect way to show you're not cynical towards Valentine's Day. Pair with a pair of jeans or light coloured chinos.
UNDERWEAR
In all honesty, what is the main point of Valentines Day boys and girls? Yes, that's right. Sex.
Girls
Shopping for underwear is very personal, but here are a few ideas of what's out there for you to browse.
La Senza £39
Intimissimi £49.99
Intimissimi £25.99 & £12.99
Guys
Guys, don't just leave it up to the ladies to look sexy between the sheets – you wear underwear too. Or at least we hope you do.
Velvet CK boxers, Asos £18
Debenhams silk boxers £16