Interview: The Diamond Noise
Hugh gets to know the UCL-alumni band Diamond Noise.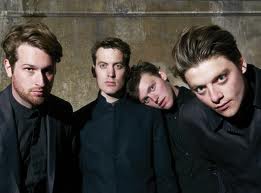 I'm on my way to interview UCL-alumni band The Diamond Noise, scribbling down the questions I'm going to ask them, when I look up. Sat opposite from me on the Tube is a vaguely familiar face, the band's guitarist Scott Viney. But the coincidences are only just beginning.
After waving enthusiastically, and he realises I'm not an over-friendly public transport mentalist (we met at a party a few weeks ago), I sit down and perversely, he helps me come up with a few questions that I will then later ask back to him and mainly his brother/lead singer, Hugh.
Yep, the lead singer and I share the same name! When will the madness end? Not there. Because the drummer is also called Hugh. I know, three Hughs! (The madness has ended there, you're okay now).
I arrive at their studios (in East London, obviousy) after berating Scott with exclamations about all the coincidences that are happening, and him letting me in on some of the attractions of the location (It's near a 'Secrets' lap-dancing club, and apparently the pub over the road does cheap beer, so far, so rock n' roll).
Their rehearsal space turns out to be so close to what I'd expected, I genuinely wonder if they've hired an interior designer to create them a 'place where a band would hang out', complete with used mugs, ashtrays, and no natural light (singer Hugh informs that musicians melt if exposed to the sun too long) .
The studio come flat come dream-man-grotto even smells like band. Band-like things can be overheard. One of them walks past and just says "we need to put some more tambourine on the chorus". I nod, knowingly.
I, Hugh, sit down with Hugh (other Hugh is in the background), and, after whipping up a couple of strong coffees (at three in the afternoon! I feel like Bowie in his prime), we get talking. 
So, when did you guys form?
Hugh (Drums) and I started making music with Scott in our last year at UCL, so about 2009. I was doing Classics, he was studying Architecture, and we used to put on our own club nights, where we'd invite DJ's, other bands we knew, and turned it into this big thing, so we'd perform there rather than just 'trying to make it on the circuit'.  We got a really nice following through that and it was a lot fun.
Luke was an old friend from school. It's great as there was no awkwardness and we could just get into making music.
We made our first proper single in 2011 after a producer, Greg Haver (Manic Street Preachers), heard one of our demos. From that we got a management deal, and the track 'Never Say Never Say Never' was played on XFM and got us in TimeOut.
Our next single after that, 'Yippie Yeah' was produced by Ian Davenport (Band of Skulls), and people started asking for more, so October last year, we quit our day jobs and started writing.
http://www.youtube.com/watch?v=5plC7W5Sp30
Never Say Never Say Never. The band refuse to recognise Bieber as an influence.
What would you best describe your music as?
Rock and roll. We have a lot of American influences, White Stripes, Queens of the Stone Age, Interpol for example, but we like to put an English twist on it.
What are your best memories of UCL?
One year I translated and directed the Classics play at the Bloomsbury (Aristophanes' Frogs), and we wrote an original folk score for it. I guess that's not very rock and roll!
(Drummer Hugh shouts out of the kitchen): 'Breaking into the union and climbing on top of the roof!'
Your reputation's been saved. Do you have any opinions on other notable musical alumni of UCL, Coldplay for example?
Chris Martin studied 'Ancient World', or as it's otherwise known, 'Poor man's Classics'.
Ouch! Do you have any advice for musicians currently at UCL?
Yeah, finish your degree! It's good to have something to fall back on.
Apart from that, do something different. We put on whole club nights in order to get noticed, and it got us a fan base we could hold onto.  It's a lot harder living in London as it's full of bands trying to make it, so you have to be original.
Also take your time. People wanted us to make music straight after they heard our first couple of singles, but our management agreed with us that we should just take our time, and make something we're really proud of.
What's the best thing about being in a band?
Performing, definitely. It's a cliché, but you really can't beat the buzz of a crowd shouting your lyrics back to you.
Do you have a favourite memory of being a group so far?
Selling out Barfly in Camden felt great. And our last gig of 2012 at The Old Blue Last was a hell of a night, but the absolute best was hearing our song played by Jo Whiley, that was incredible.
So what can we expect from The Diamond Noise in 2013?
We've spent the last 2 months writing and recording demos, and have come up with a load of songs which we are going to whittle down to a smaller number.
After that we're heading back into Couryard Studios, Oxford with Ian.
Because we only released 2 singles last year, it's going to be our first real body of work. Not really a debut album, but more a debut EP or mini-album depending on how many we choose. It's exciting that we are going to be able show people what else we've got.
http://www.youtube.com/watch?v=nhLtsl-Zoxw
Yippie Yeah. Just a normal day at work. (Directed by Harvey Eton)
Okay! Time for 'The Lightning Round'!
You didn't tell us there was going to be a 'Lightning Round'.
Well I just made it up, so now there is! Get those synapses firing and say the first one you can think of! *makes thunder and lightning noise* (The coffee had hit me by this point)
Brie or Camembert?
Camembert.
TLC or Destiny's Child?
TLC.
Long country walk or mad 24/7 clubbing?
Clubbing.
Sweet or Sour?
That doesn't really make sense.
I know!
Sour.
SXSW or Eurovision?
SXSW.
Let's pretend you said Eurovision. McDonald's or a salad?
McDonald's. Their new breakfast wrap is amazing.
I think you're my dream man.
If you would like to see The Diamond Noise, they are next performing on the 15th of February at The Griffin Lounge, Queen Mary's Union.
Their studio space is The Edit Rooms, www.editrooms.co.uk, and is available for rehearsal and recording bookings by Sam Houselander.