No walks of shame or desperately pulling in Level: Why LDRs are the best at uni
My hometown bae > your one night stand
Remember when UCAS encouraged people to break up with their school sweethearts before uni? Ta for the advice hun, but there's still a few (actually, a plentiful amount) whose uni experience is actually enhanced by their long distance relationship, not hindered. No, we don't spend the moonlight hours cooped up in our rooms reciting romantic poetry down the phone to our SO; our passion for Aldi rosé and greasy kebabs is almost as strong as our two year romances.
Firstly, you don't need to worry about what you look like on a night out. These may be the garms sported in Lidl earlier, this may be the make-up hastily applied when running extremely late for my seminar, but does it matter when you're yearning for cheap Black Rabbit shots, not the cheap thrill of getting off with someone? Even if effort is put into one's appearance, the night isn't a total write-off if the look is spoilt, as you don't have a uni bae to judge. Rain and other unforeseeable circumstances won't necessarily dampen spirits, especially if the night's modelling shots already took place at pres.
Furthermore, not having to worry about getting off with someone is a weight off your shoulders; no pull, no problem gurl. Single sisters can have the issue regarding how to reject creeps, especially as they could've possibly spotted her licking the face off another lad earlier. Us pringles not ready to mingle, however, gain the sweet satisfaction of turning down suitors with reason, and their reactions can be priceless; shoutout to Heebies guy who apologised approximately 267 times when stating I have a boyfriend after he wrapped his arms round my waist.
Your mates' company is also appreciated much more, as you're not halfway across the room trying to make a move on a guy that looks like Van McCann, you're painfully attempting to hit the notes in Take On Me whilst trying to catch the photographer's attention.
Then, going home is a blissful experience; after gorging on cheesy chips and an even cheesier pizza, you can finally relax in your room, without worrying about legs you haven't shaved in a week and a clothes chair bigger than your prospects. The only walk of shame you'll be doing is to the kitchen, ready for a nutritional breakfast of leftover munch.
Could I be any more excited for bae's visit this weekend? You can, willingly or unwillingly, force them to go to all the places your friends say they'll try, but always end up in the same bar. So much overeating, so many things you wanna splash all over Instagram. Oh, and you can finally utilise the £6 extra spent per week on a double bed.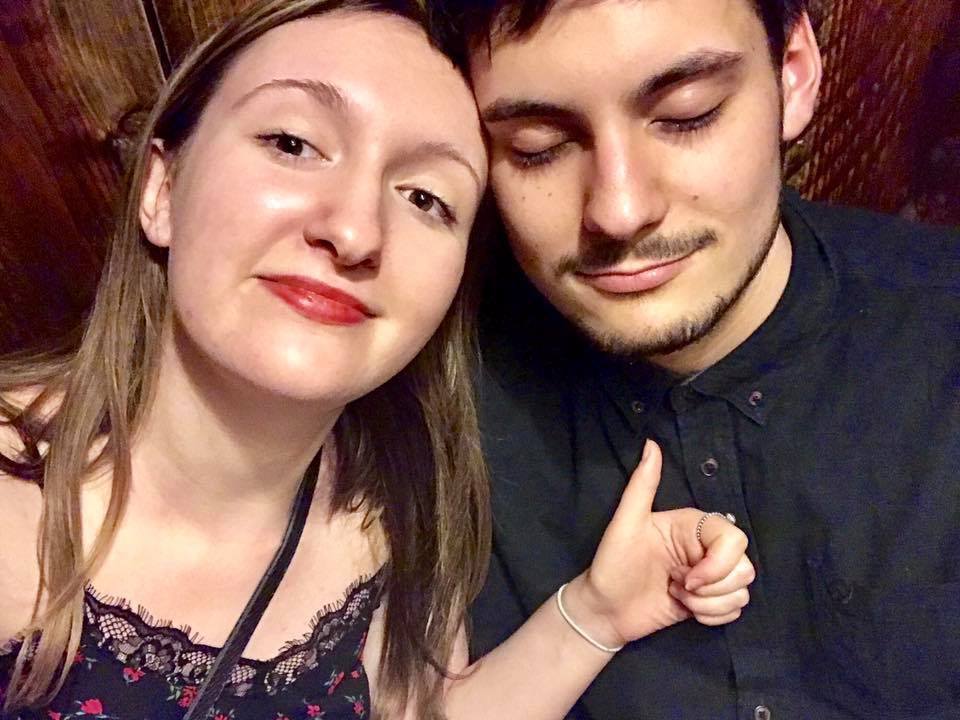 Snoozing after being dragged around Liverpool
Also, your fellow loved-up luvvies are instantly your best friend, as the basis for a solid friendship is clearly one minute agreeing that your beau is your soulmate, then the next minute saying you'd rather poke your eyes out with your free freshers fair ruler than talk to them again this evening. You know they'll be your shoulder to cry on, and your number one call when you have gossip about other people's sticky love lives.
Even when your bestie ain't around, the confinements of your hall room aren't so daunting. First year especially can be a lonely experience, but laughing about the snakes you've encountered and crying about how the phonetic alphabet must be the brainchild of Lucifer is only a Facetime call away.
Going home for the hols ain't so bad either. You have the great opportunity to make up for lost time with your loved one, so you won't be spending your hours sobbing about how much you miss Baa Bar (or maybe you will, just not as much as others).
The relationship at uni life isn't for everyone, especially long-distance, but it can be argued that it's as good as double vodka mixers for £2.50 or less. May be taken, but can't be taken away from the fun.