The definitive concert square low down
black rabbit
cava
concert square
level
liverpool
med
modo
night out
proximity
Raz
republic
soho
students
Walkabout
One of the beauties of nightlife in Liverpool is proximity.
Let's begin with the first logical step we take on a night out after prinking. Shots.
Cava
Undoubtedly, the most known shot bar – Cava with tequila shots ranging from chilli to baked bean flavour.
It's the perfect place to start your night as the shots are student-friendly 1 pound each. Admittedly, no one like tequila. But that's besides the point.
As regards to the music it's got a chilled out sound, not a dancey vibe.
A negative would be that the place is a bit small and the bar is usually overcrowded, which gets really annoying.
Also, it shuts at a wimpy 1am. Django's bar next door, who do the same priced shots, is open till much later (and has friendlier bouncers).
Soho
Notorious for pestering promoters, Soho is the next stop on our concert square tour.
You can guarantee shots at Soho will be affordable, and with no entry fee – there's no reason not to pop in. Just try to ignore the whiny pop songs.
The best thing about Soho is it's location. It's right in the slap-bang-centre of the square which means prime location for stumbling into other student favourites.
If you consider yourself an adventurous drinker, Soho offer shots that are 60% alcohol.
A downside would be that Soho tends to attract an older, less studenty crowd – so not the best place if what you're after is a rowdy night out with other students.
Black Rabbit
Finally, Black Rabbit bar is one of the newest editions to the 'shot' scene on our beloved concert square.
It combines a quirky design and branding with student atmosphere and is much bigger inside than anticipated.
A stand-out feature of Black Rabbit would be the fire-shots – bound to make an entertaining Snapchat story and excite any visiting friends.
However, with every good comes the bad. And the bad in this case would have to be the prices.
The snazzy lights and drinks come at a cost, leaving an overall rating of 5/10.
So, after the initial stages of prinking and shotting comes the main body of a student night out – more booze.
But by this point, you'll be pretty bladdered so your next step is to find an all-rounder. A club that ticks all the boxes because soon you'll be too drunk to switch it up.
Brooklyn Mixer
This one's for the cool students. Very different to the typical student night out at Raz or Med, Brooklyn Mixer brings a laid back, trendy vibe to concert square.
This gem is underrated, and hidden away in the shadow of next door neighbour big-dog Heebies. Price wise, the Brooklyn Mixer is perfect for students looking for a casual and relaxed night out painting the town red.
But there's always a 'but' and for this gaff, it would be the size. It's tiny.
Juicy @ The Shipping Forecast
Juicy has saved Thursday nights out for students. It's the only place to be seen.
Bringing you the best in old school hip-hop and R&B hits, Juicy is the perfect place to bump 'n' grind with all your pals.
Despite the steep entry fee, the drinks are cheap, and you'll have a suiick night.
The only downside to Juicy would be that most students spend their Thursdays nights here so it gets really packed and sticky. You also have to arrive by midnight to guarantee you'll get in.
Republik
Hip-hop orientated, in Republik you will hear all the latest from Cory Gunz and Chris Brown.
The best nights to go to Republik are Fridays and Saturdays – although, this isn't one of the most popular amongst students.
A drawback would be the entrance fee – it's steep. But if you arrive in a predominantly female group – you'll probably get in for free.
Heebie Jeebies

Heebies is a concert square classic that holds a special place in every students heart.
Easily one of the coolest-decorated clubs in the City, Heebies is the perfect all-rounder ticking every student need.
Be sure not to fall into the rookie trap of buying drinks on the top floor though (they're more expensive). Always buy drinks in the basement – the musics way better down there too.
Level
We wouldn't forget Levels. The fuck-off superclub. Very popular with freshers, the Med-rival caters for all sorts of students across 3 floors so it's impossible not to give in to the boogie.
The dancers are a distinct difference. It's the only student-aimed club to have them – a selling point for many. Best nights to show your face in Level would be Wednesday or Friday (gay night on ground floor).
A big weaknesses to this night out though would be the entry fee. Although, they do make up for it with cheap drinks.
Raz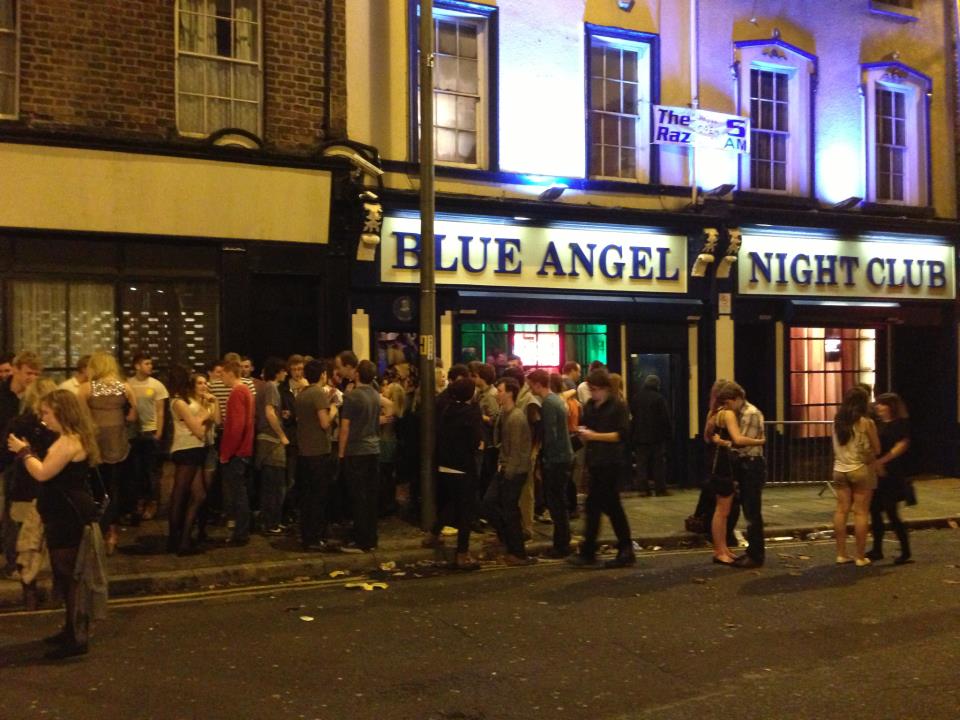 Last and most certainly not least – Raz. The infamous Monday night out in Liverpool for all students. Apparently
Historically a trendy nightclub with the likes of The Beatles, Rolling Stones and Bob Dylan making appearances it is now something very very different…
The Raz is known for being a cheap night out. With £1.50 entry fee, you can spend the rest of your coins buying the luminous-green Fat Frog drink* – exclusive to this clurb.
A potential downside to this classic night out is the sheer amount of people. If you are trying to avoid last week's minger, the Raz is not the place to be. Also, you can guarantee being showered in RAZ stamps the next morning.
Their recently extended opening hours have decreased the chance of students turning up to Tuesday 9ams even more, now closing at 5am.
*Warning: if you're a vommer, Fat Frogs will make your whitey glow-in-the-dark.