I tried to pull boys on campus by acting out romcom scenes – but did it work?
It's Valentine's Day and once again I am spending it alone. In previous years, I have spent the dreaded day by myself in my room, swiping right to any half decent looking boy on Tinder with an array of cheesy romcoms playing in the background. But not this year. This year I am determined to take control of my love life.
Instead of watching the romcoms, I am going to be the romcom, as I re-enact some of the most iconic scenes from your favourite films to see just how easy it is to secure a potential bae this Valentine's. Notting Hill's coffee scene and Love Actually's "say it's carol singers" were sure to work. Right?
In other words, I am going to completely embarrass myself as I desperately try to find a date in time for February 14th.
10 Things I Hate About You's poem scene
I thought I would kick things off by recreating the poem scene from Gil Junger's 1999 classic, 10 Things I Hate About You. Let's face it, every pre-teen girl dreamed of being Kat Stratford swooning over love interest and bad boy Patrick Verona.
I was about to make this dream a reality, as just like Kat in the movie, I wrote a poem in an attempt to score potential bae number one. Except instead of having Heath Ledger on the receiving end of my poem, I was sending this to an unsuspecting boy who I slept with once after we matched on Tinder.
Don't get me wrong, me and this boy shared a wild night together, and we have both exchanged a few messages here and there since. So why shouldn't I channel my inner Kat Stratford and write him a 16-line poem confessing my undying love for him? It is Valentine's day after all.
With a few tweaks to Kat's original version, I was ready to sweep my lover off his feet (again). Unfortunately, due to our long-distance relationship, I could not perform my poem in person, so I just had to settle with sending him an unsolicited text message.
It was a tense four minutes, but he finally replied.
Unfortunately, unlike Patrick, potential bae number one did not come running into my arms and kiss me romantically in the car park. Perhaps it was my delivery, or the fact I sent a poem out of the blue after not speaking to him for two months. But, it is safe to say he was not going to be my date this Valentine's. Kat Stratford, you failed me.
To All The Boys I Loved Before's letter scene
Where a text message had once failed me, the most sensible step up seemed to be sending a letter. Just like Lara Jean in To All The Boys I Loved Before, I was about to go old school and put pen to paper in a second attempt at securing a date for Valentine's.
In the 2018 hit, Lara Jean addressed her love letters to her past flings. It is safe to say that I am not on the best terms with anyone I have previously been involved with, and I was sure if any one of them received a letter from me, they would definitely call for a restraining order.
Instead, I decided to address my letters to complete strangers. But where on earth was I going to find a set of eligible bachelors on such short notice? The library, of course.
Seeing as I didn't know the names of my potential suitors, or anything about them in fact, I decided to write four generic love letters to four potential dates in hope I would get a few responses, leaving my phone number so they could get in touch.
To keep the mystery alive, I left each letter on the unattended desk of each male so they would have no idea who I was, or what I looked like.
Once the letters were dished out, it was all a waiting game to see if anyone would be brave enough to accept my advances.
Within the hour, I had my first message.
It seems like looks really are everything, as after giving in and handing out my Instagram to library boy number one, I never heard from him again. I'm not sure Peter Kravinsky ghosted Lara Jean after stalking her Insta.
After a knock to my confidence, I was delighted to have received another response to one of my letters.
I was impressed by this boy's chat and thought the poem was quite romantic. I sent back a cheeky reply.
I appreciated this boy's bravery and was delighted that he agreed to be my Valentine. Turns out sending a good old fashioned love letter still works wonders when trying to impress a man.
Notting Hill's coffee scene
With one date in the bag, I was hungry for more. My confidence was now at an all time high, and I knew if I was going to try and get a second date I needed to stop hiding behind my notepad and go out in to the real world to look for love. How could I expect to find a man if they had not been subjected to my good looks and charming personality?
I wanted my meeting with my potential date to be romantic with fireworks exploding around us as we lock eyes for the first time. It only made sense for me to recreate the infamous coffee scene from Notting Hill.
If there is one thing I love more than boys, it's coffee. I made myself a morning coffee from the comfort of my own home and off I went to look for an unsuspecting boy to accidentally bump in to, pouring the contents of my cup on to his shirt.
With any luck, the poor boy would agree to come home with me so I could help clean him up. I did, of course, wait for my coffee to cool down. I really didn't want our first date to be in the hospital with him suffering from third degree burns.
I began the walk up to campus, when I acquired my target. A handsome blonde boy walking straight towards me. It was now or never.
I committed to the role of William Thacker and pretended to be too preoccupied with my surroundings to be concentrating on where I was going.
And before I knew it, our bodies collided and my coffee cup was now empty.
Just like William, I apologised profusely and offered to wash his shirt back at my student house.
Unfortunately, he was less forgiving than Anna Scott. Instead of agreeing to come back with me in exchange for some clean clothes, he ran where I can only assume was home, without so much as an exchange of numbers.
It was not the romantic accidental bump in to I was hoping for. Instead, we were both just covered in coffee and all in all I was a bit miserable.
Love Actually's confessional sign scene
The sun was setting and I was running out of time to secure another date. I knew for my final attempt, I had to make a grand gesture.
When considering a big romantic gesture, my mind immediately jumped to of Love Actually. What was more romantic than Mark turning up on Juliet's doorstep, confessing his love for her through a series of written signs? I knew I had to re-enact this iconic scene.
The only problem I had was deciding whose doorstep I was going to turn up on. Then, I thought of a boy who lived directly opposite me and I had always thought he was good looking. Plus, I knew exactly where he lived. He would have to do.
I wrote my signs and waited until he returned home from uni to make my move.
He opened the door with a very confused look on his face, mostly because he had no idea who I was and why I was hiding behind ten A3 pieces of card with writing on them. I ignored his face squirms and put on the performance of a lifetime.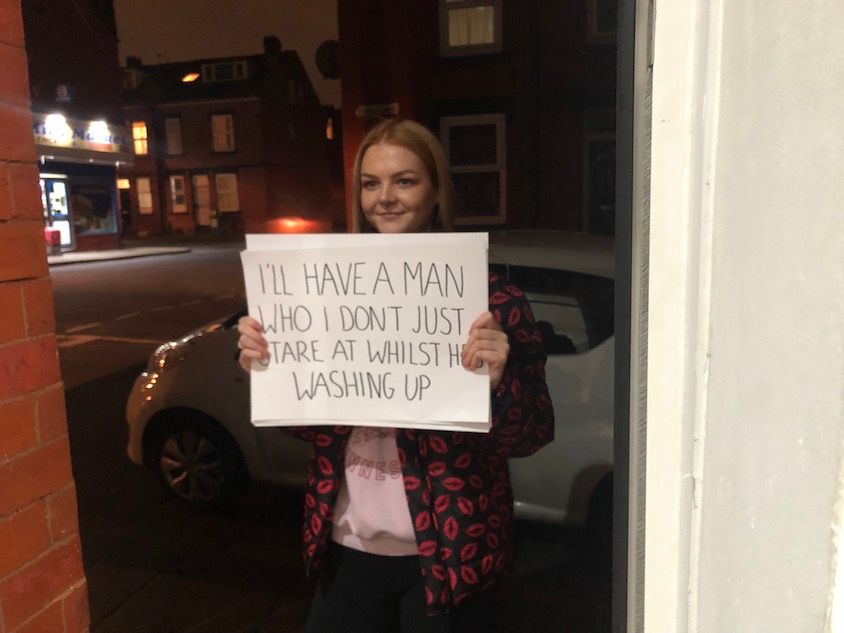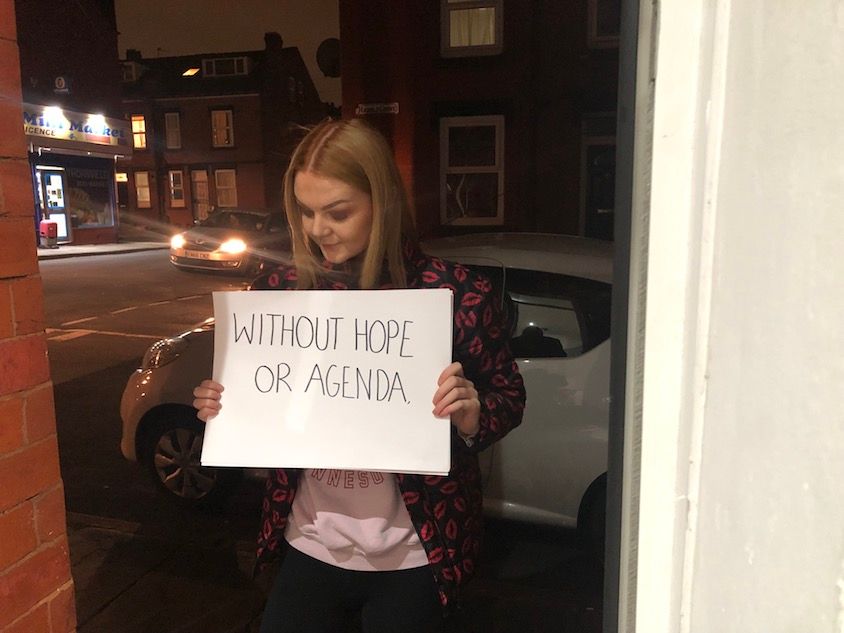 I don't know whether he was as desperate as I was, or whether he just felt sorry for me, but to my surprise, he agreed to go on a date. Finally, after searching high and low, I had secured another Valentine's Day bae.
The moral of this story is that you can in fact secure a date by following the trusty techniques of modern cinema. Would I recommend it? Probably not. I can now never show my face in Eddie B again because I fear I will bump in to one of the recipients of my love letters. However, I did secure two dates at the end of it. So, who is the real winner here?