This sexual assault map shows just how dangerous Hyde Park really is
The situation seems to be getting worse
| UPDATED
An investigation conducted by The Tab has revealed the worst areas of Hyde Park for sexual assault and violence.
There have been 260 sexual assaults recorded in Hyde Park in just the first six months of 2018, an increase of nearly a fifth compared to the last six months of 2017.
Yet according to third year student, Robyn Gunn, says she has "never considered Hyde Park scary." In fact, many students have described the area as "safe."
However Ella Davis Yuille, a third year student, said: "A friend had a man get out of his car and block her getting into our house, he even tried to follow her inside."
West Yorkshire Police's sexual assault and violence data records exactly where crimes such as sexual harassment, rape and assault are committed.
Looking at Hyde Park, Woodhouse Moor and the outskirts of Headingley, we have created a heat map to reflect the most dangerous parts of Leeds.
The 2018 data range is from January to June, and the results are shocking to say the least.
The red parts of the map highlight areas with more incidences of sexual crimes being committed, while the yellow and blue areas show where these crimes are less concentrated.
The areas of Hyde Park with more sexual crimes include Brudenell Avenue, Hyde Park Close, Kelsall Terrace, Royal Park Road and Chesnut Avenue. The entrance to Woodhouse Moor, between Headingley and Woodhouse Lane, is also a red zone on the map.
According to West Yorkshire Police, the number of sexual violence crimes in Hyde Park has increased from 236 incidences in January to 312 in June 2018.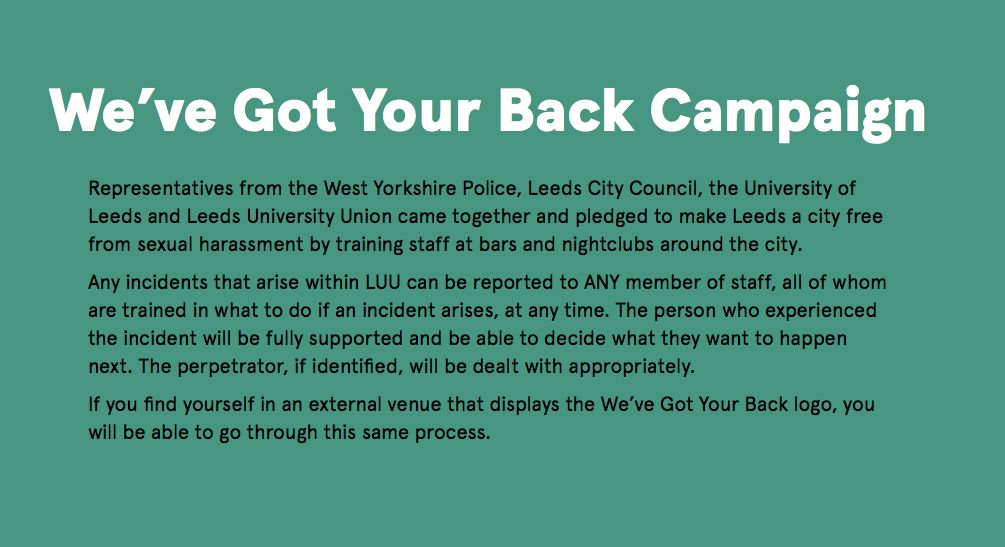 In 2016, the University of Leeds joined forces with the West Yorkshire Police, Leeds City Council and our student union to begin raising awareness of increasing sexual crime rates.
They launched the "We've Got Your Back Campaign", whereby the nightclub and bar staff across Leeds are trained on how to deal with a sexually violent incident. They will fully support the victim in what they choose to do next and deal with the assaulter appropriately, if identified.
Leeds University Union run another campaign called "Ask Angela." If you are in an uncomfortable situation, you can ask the bar staff for "Angela" and the staff will assist you in removing yourself from the situation and getting you home safely.
The West Yorkshire Police offer emergency numbers for victims of rape and sexual assault here.
If you've been a victim of sexual assault, contact your local SARC for medical attention, advice on possible legal action and suggestions for further support.