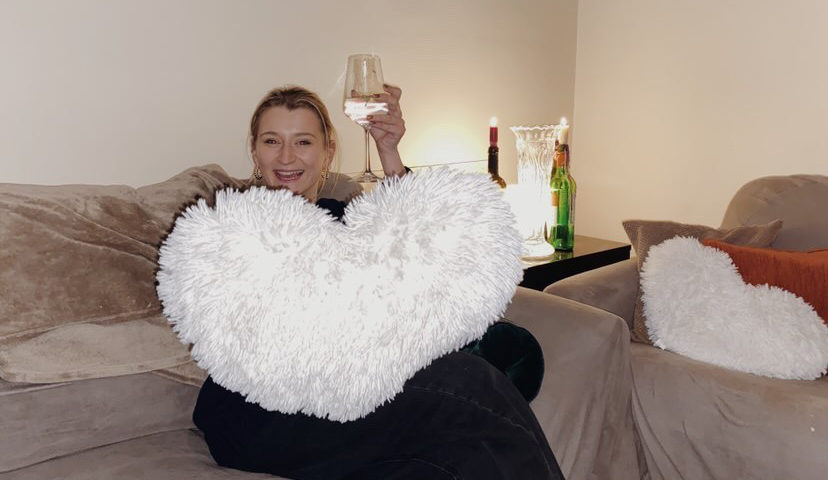 Meet Exeter second year behind new charity blind date event with sick prizes up for grabs
If you come along you could even win an Invades season ticket
| UPDATED
Love is in the Exet-Air is a charity date show taking place on 20th February at The Monkey Suit, with audience tickets released a week before the event.
Whilst the show is going on, there will be a huge raffle taking place for the audience, and the chance to win sick prizes such as a sky diving experience, Demoo Jeans and Tom's Trunks.
The Exeter Tab spoke to Sophia, the second year Business student who's organising the event. She told us that she "came up with the idea for the event because I took part in something similar on my Ski Season. I was a contestant, and it was such a fun evening and a really good way to raise money. It's also been a really good way for me to procrastinate my uni work!
The layout will be based on the show Blind Dates, as presented by Cilla Black during the 80s. There will be three chairs on stage, with a fourth chair hidden behind a wall, so they can't see each other.  The person on the fourth single chair asks the questions, and each of the three chairs will take it in turns to respond. The guy or girl in the single chair will then pick someone to go on a date with based on the answer.
"My friend Chris is going to be presenting the event with me, so there will be a male and female presenter. I've chosen this charity – Young Lives vs. Cancer – because I actually had cancer about three years ago and the charity majorly supported me and my family, so I really want to give back in order to help those that are in my situation. I'm also doing it alongside a half marathon which I'm running with my friend Millie, so I just wanted to raise as much money for that as I could as well."
Once the person in the fourth chair decides who they want to take on a date, they'll get to choose one of the golden envelopes, inside which are vouchers to local date locations as have been donated by the bars and restaurants themselves. Those that have donated a date include Pura Vida, Hubbox, Mango's, On the Waterfront, Old Firehouse, The Monkey Suit and Coolings. If that isn't an incentive to get involved I don't know what is.
Sophia told The Exeter Tab alongside the show will be a raffle, for which a bunch of Instagram companies have donated prizes. These include Demoo Jeans, Tom's Trunks, Just Winston shirts, Abella London and more. As well as brands there are experiences to be won, such as a spa trip, sky dive, and Invades have donated three season tickets, which is insane.
"At the end we'll draw the raffle, and my friend Morgan DJs and is gonna come and do a set, so there will be a big boogie. That way the contestants will get to go on their dates, but also people will hopefully be able to meet people in the audience as well. It's gonna be super fun."
Stay updated by following the event's instagram, @loveisintheexetair. If you're interested in being a contestant, please email [email protected] Your dates will be sponsored by local restaurants like Old Firehouse, Pura Vida and On the Waterfront!
Related stories recommended by this writer:
• Layers upon layers: Welcome to the first Fashion in the Forum of 2022
• Here are Exeter Uni's best moustaches from Movember 2021
• Meet the Exeter Grads behind new car sharing app where students can get to London for £11