From baggy layers to sustainable legends: This week's best dressed in lockdown
Back for round two – corona style
Welcome to edition two of Looks in Lockdown. This week, we are showing you our favourite fits in locations around Exeter University, like the Forum, Fever and even Bodrum Kebab.
In this edition we're taking it global, with pieces from Italy to France to…Exeter. There is an autumnal vibe to this week's collection of outfits.
Have a read below to see our favourite looks from this week:
Moyo, Third Year, Medical Science (@slimmchicc)
Moyo's look in lockdown consists of M&S trousers, a Brandy Melville turtleneck (surprised this is the first Brandy mention we've had) and a jacket from last year's Vintage Kilo Sale (we miss it). She has added Air Forces to the look.
She tells us that online classes means that most of her time is spent in sweats in front of a laptop, and so she makes an effort with her outfits whenever she leaves the house now, telling us: "It's like an event to be going to the supermarket." What has Covid done to us?!
Another effect of lockdown is that, although her style has stayed largely the same, she finds herself leaning towards loose fitted and baggier clothing as she prioritises comfort. This is why her trousers are her favourite item of the fit, as she says: "They may not be the most stylish but the comfort they give me is more than enough." Agreed.
Isabella, Third Year, Anthropology (@isabelllaaaaa_)
Isabella describes herself as "jewellery mad" and says that this outfit is her lockdown look because it, "can be thrown together last minute using some staple wardrobe pieces, and leaves loads of room for layering up the jewellery".
Her pinstripe blazer was thrifted in Brick Lane, and her fishnets and necklaces are Depop and Vivienne Westwood (an Exetah classic). She has combined her Urban Renewal silky slip dress with a white turtleneck and Nike trainers. Isabella's earrings are Astrid and Miyu, and the bag is from Kate Spade. Her layering is on point here.
She credits Depop for her insane pieces, telling us that she sold a bunch of stuff over lockdown and in turn, her spending rocketed. Hours scrolling through the app meant that she was exposed to different ways of styling certain pieces. Therefore, lockdown gave her the time to learn how to style herself whilst still keeping her outfits unique.
Loic, Second Year, Strategy and International Security (@loic.mcc)
Loic's lockdown look shows Exeter how to do colour coordination right. This is very important to him. All of the items he is wearing have a special story to them, which in turn makes the outfit very interesting. His jacket belonged to a friend of his who owed him money and gave it to him as a substitute.  This is how we might start approaching friends who owe us money after a night out. The bag was second-hand from Depop, and the cargo trousers were custom, with the cheeky Lacoste logo shining through.
Perhaps the best part of his outfit is his shoes as they were a gift from his mum two years ago. He claims his fashion sense did not really change over lockdown, but he went for a more comfortable look, which we have found is the general consensus of Exeter students.
Mimi, First Year, Classical Studies (@mimi.emrys)
Mimi's look is made up of various pieces that she modified during lockdown. She finds most of her clothes in factory reject and Italian vintage markets (so extremely cool – how do we become you?), which she then alters to fit her. She explains that her bag is made from her grandma's old skirt and confesses that her cowboy boots are a Pull & Bear cop.
During lockdown, Mimi "felt little inhibitions about what [she] was wearing because no one was seeing [her]", which meant she got much more creative with her outfits. She started to design her own t-shirts using transfer paper and has tried to carry this experimental attitude on post lockdown. Exeter is lucky to have her.
Jay, Second Year, Civil Engineering (@jmwendz)
Jay's lockdown look reflects his laid-back persona, with his intention to be comfortable yet stylish when he is out and about – comfort is key people. When asked to give details about his outfit, he mentioned that his pearly whites were from Colgate, which is definitely the best answer we have had yet. To keep him comfy and to showcase those pearly whites Jay's look includes a full grey Nike tech tracksuit. His gilet and shoes match in colour, yet the gilet is from an all-time Exeter favourite brand- North Face. His shoes, that we feel a particular need to steal off him, are black Balenciaga speeds.
Like most students Jay learnt the hard way about what shoes to wear in Exeter and claims that little has changed in his fashion sense over the last few months, apart from he now no longer wears his nice shoes to TP. He also claims that he is saving his best outfits for post lockdown events. We can't wait to see what he pulls off!
Tilda, Second Year, English and Drama (@tildablohm_)
As evident from Tilda's very aesthetically pleasing lockdown look, white linen trousers are all the rage at the moment – most likely because you can pair them with anything, as Tilda commented. They compliment the more chill look that she is going for at the moment, with sadly not much happening due to Bojo. We think it is a general consensus that the easier to put on an outfit… the better it is.
Tilda's trousers are from an Exeter charity shop and her black Nike Air Force trainers are reworked. Her top is a green polo from a thrift store (we love a sustainable gal) and her baggy zip up hoodie is stolen from her brother's wardrobe. We wonder if he has realised? Tilda's accessories – her silver bag from Topshop and a few chunky necklaces, finish off her look.
Tilda does not think her fashion sense has changed over lockdown, yet she admits she spent more time thinking about outfits she wanted to wear when lockdown ended. She therefore, spent some time planning vibey looks, as shown in our pic of her outside the iconic Fever.
Ellie, Second Year, History and Art History (@ellieknighht)
Ellie credits her lockdown look to having more time to browse clothes online. She came across independent brands/second-hand pieces that she had never seen before.
Her coat is from Depop and the sick trousers are from Peachy Den, an up and coming brand based in London. Their jumpsuits are on everyone's wish-list. Her shoes are Nike and her bag Zadig et Voltaire. Whilst her fashion sense didn't change much in itself during lockdown, she started to incorporate more colour into her outfits, evident when you look at her trousers. Obsessed.
Naomi, Second Year Economics and Politics,(@naomi_osullivan)
Naomi's lockdown look oozes joy with the colourful tones of her top from Cancer Research complimenting the more subtle tones of her trousers and jacket. Over lockdown Naomi became addicted to charity shopping with all aspects of her outfit from charity shops, which is amazing to see.
Her bag is DKNY from a North London Hospice, her jacket from Cancer Research and her stylish white jeans are from British Heart Foundation. She claims the top and her jacket are her favourite aspects of her outfit. Easy to see why.
Naomi's style definitely changed over lockdown as she and her sister became more interested in fashion. She especially liked shopping when the clothes were from charity shops, with her particular obsession of finding cute handbags and clothes with funky patterns.
Conor, Second Year, Drama (@conordevlincook)
Conor's fit consists of baggy suit trousers from Zara, a vintage Stone Island top and Cos jacket. His hat is a Depop cop and his 'staple' piece. He likes baggy vintage clothes with a smart element to them, and so picked this outfit because it allows him to achieve both looks.
His fashion sense didn't change a huge amount over lockdown, but he says that he was a lot more chill with his pieces because he couldn't go out. Conor mentions that since he is, "back at uni it's good to be able to put together nice outfits." We are sure Exeter appreciates the effort.
Millie, Second Year, Drama, (@mills.c)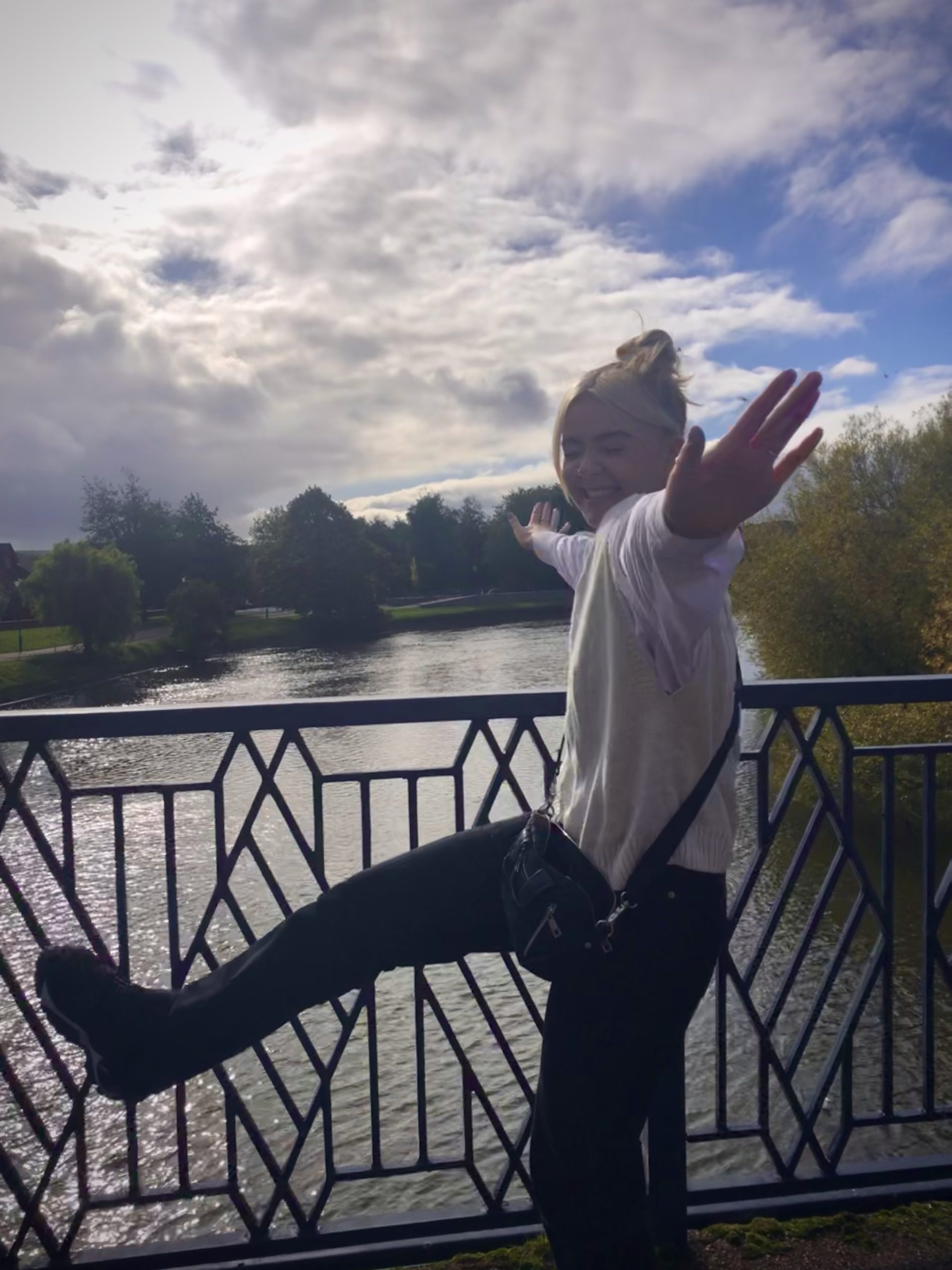 Millie is a girl, just like us, who sees one of her favourite Instagram influencers pull off an outfit and wonders if they can do it too. As this picture demonstrates she most definitely can. Plus, the layering in this outfit makes it extremely comfortable and practical for a day in Exe. The top half of Millie's outfit is from ASOS and is inspired by Matilda Djerf. Understandably Millie wanted to make the outfit more casual so she has dressed it down with her classic buffalos and simple jeans from Depop.
Millie's fashion sense is very relatable as it has not changed over lockdown, however she did notice that her style isn't always consistent. Some days she prefers to whip on her Juicy tracksuit to keep her cozy, and other days she likes to be put together. The days one spends in a Juicy tracksuit are always the best.
This was your second edition of Looks in Lockdown, keep your eye out for more. It's spooky season so if you want your Halloween looks to be showcased contact us on Instagram @thetab.exeter.
Related stories recommended by this writer:
• Gone but not forgotten: Fashion in the Forum becomes Looks in Lockdown
• How to fit in at your uni, in starter pack form: 2020 edition
• 'The postman's quite sexy': 12 things you'll overhear isolating in an all-girls house