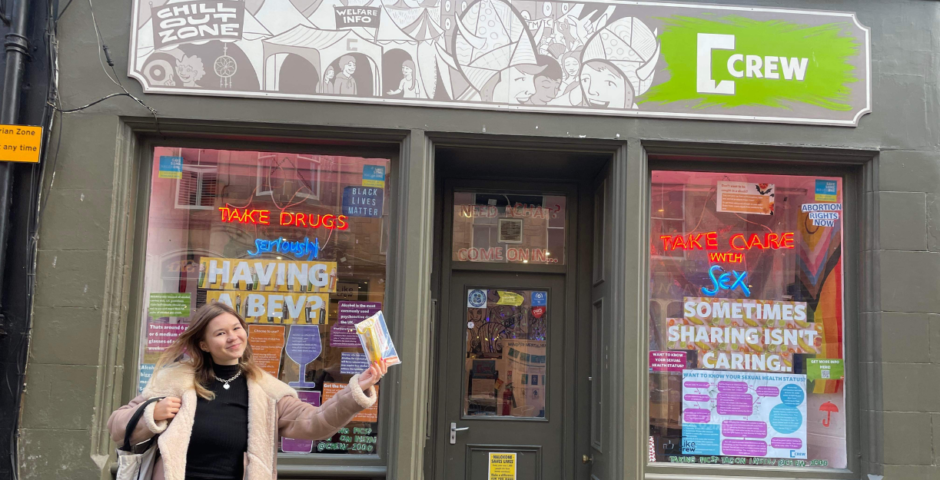 Here's how you can help save someone experiencing an opioid overdose
Groups like Crew 2000 in Edinburgh provide free training and medication kits that can reverse an opioid overdose
When I was spiked last January, the biggest thing I felt was just relief that it hadn't been worse. I was with friends who made sure I got home, I was able to account for all the missing time, and while I was sick for a few days, I didn't suffer any long-lasting effects.
But as time went on, I started to get more nervous – what if I hadn't been that lucky? What if something similar happened to one of my friends while we were out, but they were spiked with something more dangerous? What if someone I was out with took something and overdosed?
I realized that you can do everything "right", but at the end of the day, it's important to be prepared for the worst-case scenario. My hometown in Texas is currently experiencing a tragic increase in opioid overdose deaths, many due to the increase in fentanyl in the drug supply, with people unknowingly taking laced drugs. It was from my friends back in Austin that I heard about Naloxone (called Narcan in the US), a medication that can reverse the effects of an opioid overdose. After finding the harm reduction centre Crew 2000 here in Edinburgh, I decided to go get trained and learn more.
What is Naloxone?
I spoke to Kira, the Nightlife and Harm Reduction Coordinator at Crew, to learn more.
"Naloxone reverses the effects of an opioid overdose by 'kicking' the opioid (such as heroin, codeine, methadone, Tramadol or opium) out of the opioid receptors in the brain. Once the opioids are kicked out and naloxone attaches to the receptors in their place, normal breathing and heart rate will resume. The reversal effects of naloxone usually last for around 20-30 minutes. After this time, the person could go back into overdose so it is important to stay with them and encourage them to accept medical help."
"The provision of naloxone kits containing syringes pre-filled with a naloxone hydrochloride solution is the most common way naloxone is distributed in Scotland. These are designed to be administered by intramuscular (IM) injection, and they are also known by the brand name Prenoxad." 
:In some areas, naloxone is available as a nasal spray device under the brand name Nyxoid. This can be useful for people who are not comfortable with needles. To get a kit, you have to complete a short training which can be done in person at the Crew Drop-in but is also offered online by other providers."
In Scotland, the provision of naloxone is FREE and anyone over the age of 16 can grab a naloxone kit from the Crew Drop-in. 
Our training experience
I went with a friend to get trained and we couldn't have had a better experience. The staff was so friendly and covered how to respond in case of a drug use emergency and how to use naloxone. The whole thing took about 20 minutes (and it's free)! They provided us with the intramuscular (injectable) form of naloxone but also showed us how/ where we could order the nasal spray version in case we weren't comfortable with needles.
We learned that naloxone has no negative side effects, so if someone is unconscious and non-responsive, it is always better to treat them with naloxone while you wait for further medical help. This was great to know, as you may not know what someone has taken, especially in the event of spiking or laced drugs.
Who should get trained?
"Anyone who might witness an opioid overdose! This might be drug workers, social workers, the police and family and friends of people who take drugs. It is most important that people who take drugs carry naloxone. Drug users are usually the first to witness and respond to most drug overdoses. At Crew, we think as many people as possible should know what naloxone is, know how to use it and carry it everywhere they go."
"In an ideal world, everyone would be trained on the use of naloxone and its purpose! We all can care about our fellow humans. Naloxone training complements basic first aid training and gives people the confidence to help save a life."
"In Scotland, we have the highest drug-related death rate in Europe. These are preventable deaths caused by drug poisoning which most often involve opiate drugs that have been mixed with other 'downer' drugs like benzos or alcohol."
"Widened training would go a long way to tackling the stigma people who take drugs, and particularly the stigma that people who take opiate drugs experience." 
"Regardless of your drug use history, I strongly believe that it doesn't matter whether someone has been spiked, taken laced drugs, or intentionally taken opioids; everyone deserves lifesaving care and respect in the event of an overdose. Especially if you go out regularly, I would strongly encourage you to go get trained; so long as your kit is sealed, it is allowed in clubs, and it's so empowering to feel like you have a way to help in the event of a worst-case scenario."
What is Crew 2000 and what else do they do?
"Crew is a national charity based in Edinburgh. Crew was born in the Edinburgh club scene in 1992 when a group of young people decided they wanted to do something in response to increased drug use and drug-related harm that they were witnessing in their peer groups. They knew that the more information people had about drugs, their effects and how to reduce the risks if they chose to take them, the more confident people would feel in making positive choices about their own health."
"The group of volunteers started handwriting information about drugs and handing it out at club nights and raves. We've just celebrated our 30th birthday and still work to the same ethos forged decades ago that we don't condemn or condone drug use but work to offer opportunities for people to empower themselves through information, support and advice. Crew runs a Drop-in info and advice shop on Cockburn Street in Edinburgh where anyone can come and chat with our trained staff and volunteers to ask questions about drugs, sexual health and wellbeing."
In addition to naloxone training, Crew also offers a variety of other harm-reduction/counselling services, such as:
Free safer sex items
Free STI screenings
Free pregnancy testing
Professional counselling for people 18+ who use drugs (specifically

cocaine, MDMA

, ketamine

and cannabis, although they can signpost to other services that specialize in other drugs)
"We also deliver health-focused interventions in nightlife settings like clubs and festivals where we will pop up with an information stand, chill out space or welfare service. This is a great opportunity for us to chat to people about their or someone else's drug use, hand out information about drugs and let people know more about our services. When we offer chill-out spaces or welfare services, this helps keep an event safe by easing pressure on emergency services and preventing people from being ejected from a venue if they are overly intoxicated."
"In addition to all of this public-facing work, we also build capacity in the general workforce by training professionals on the topic of drugs and harm reduction, carrying out research, producing reports and responding to national and international policy!"

Additional Resources
If you would like a naloxone kit but can't make it to Crew there are a few options for you: 
Getting in touch with Crew:
Our information and advice is also available online through our digital Drop-in which is aimed at people aged 13-25. The Digital Drop-in is accessed through DMing us on Instagram @crew2000, emailing [email protected] or sending a message to our FREE text service: 07860047501. 
The Crew 2000 website discusses everything that Crew offers.
Related stories recommended by this writer:
• 'My cousins were shot by government officials': An experience of the Iranian protests
• Edinburgh University Students' Association is explicitly pro-choice after Thursday's vote
• A definitive list of the Edinburgh Uni alumni hitting the headlines right now