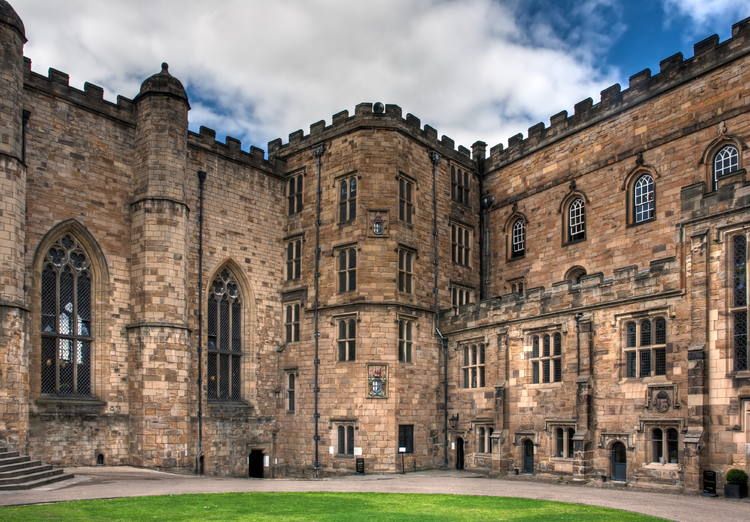 Which Durham college would each Made In Chelsea cast member go to?
With production for the new series reportedly underway, here are the answers to the question you've all been asking.
We all love Made In Chelsea, whether it's a guilty pleasure or you're open about it. MIC has Durham Alumnus in its ranks and they've filmed on Framwellgate Bridge, so we've all thought it before. What college would would the cast members pick if they were applying to Durham? Luckily for you, you have to wonder no more. Here are the colleges that the current MIC cast would fit best.
St Aidan's – Amelia Mist
She's kind of quirky, kind of cute but also easily forgettable – much like Aidans. Although she makes everyone in the room laugh, she appears to have very little faith in herself; much like students at Aidans who have no faith in their college and choose to spend their time at literally any other hill college instead.
Chad's – Verity Scarlett Bowditch
Chads is the most homely college. I mean, just look at the bar. I'm pretty sure my Gran showed the builders a photo of Chads as inspiration when having her conservatory remodelled. Much like Chads, Verity is very much a homely girl, she loves her Mum and especially loves introducing her to love interests (far too early).
Collingwood – Charlie Frederick
I feel bad putting Charlie's name so close to Verity's after all that happened between them. However, Charlie is a personal trainer and if that doesn't shout Collingwood then I don't know what does. His main scenes on MIC have seen him entangled in very 'laddish' culture: cheating, arguing and working out – so pretty much the average day for a Collingwood boy.
Cuth's – Jamie Laing and Sam Thompson
They're so cool that they're not even a college – "We're a SoCiEtY". Their bar reminisces something of an old mans pub, which would suit Jamie's age and receding hairline perfectly. Jamie and Sam when put together are an unstoppable duo, always at the centre of the drama, but are really softies when it comes down to it. Cuth's location on the Bailey would pair well with their need to be in the action.
Grey – Freddie Browne
Grey by name, Grey by nature seems to come to mind with this one. He's lovely, unproblematic and well respected amongst the cast; much like Grey. But he's just lacking something about him. He's your signature Rah but just isn't cool at all. Despite this, Freddie is always up for a laugh so would seem to fit right in at Grey.
Hatfield – Olivia Bentley
We hate to play into this Hatfield stereotype again but… they are posh. Daddy's money, polo and Champagne Society posh. Olivia Bentley? Related to the original Bentley Motors family? Now that's posh. But we do love her, and the show wouldn't be the same without her, even if her Rah voice is super grating sometimes. But then again what would Durham be without its Rahs.
Hild Bede – Alex Mytton
Everyone knows that boy from Hild Bede who has rocked straight out of Eton but because they didn't choose Hatfield they are somehow alternative. Mytton is the quietly charming one that everyone wants to be friends with, mirroring Hild Bede's friendly charm. Although he is an older cast member, he used to be more problematic than he presently is. Hild Bede alike is often out of the action, being away from the hill and the bailey.
John's – James Taylor
I don't have much more to say about this one than Johns has an untarnished reputation but we all know they've got a bad side. James didn't used to hide his bad side very well, but going back to his family roots seems to have turned him into an angel.
John Snow – Sam Holmes
We can't forget about John Snow's stint in Tees or their takeover of Rushford Court. John Snow has, however, had a major upgrade to their prime spot on the hill and brilliant new campus. A bit like Sam Holmes who certainly had a glow-up over lockdown.
Josephine Butler –  Tiff Watson
Did someone say Tell Your Friends London? Tiff is known for her cooking and vegan adventures into food, stationery and vegan accessories. Her instagram posts and stories are non-stop foodie posts. Surely all Butler students want to be food bloggers? That's why they need the kitchen right?
Mary's – Sophie Habboo and Emily Blackwell
We all know Sophie and Emily's legendary relationship timeline. Housemates turned best friends turned 'enemies'. They're both girly girls who really do seem to be supporting other girls, but yet they're secretly feuding the whole time.
South – Will Higginson
Everyone heard the infamous rumours of South Freshers' planning to turn it into the college with a party reputation, this reminds us of Will's sometimes over keenness. We do appreciate how both Will and South seem to enjoy themselves though.
Stephenson – Zara McDermott
Zara hails from Essex. Not too far from Chelsea, but far enough to be a complete juxtaposition next to the rest of the cast; has something to do with why these two are paired together. Stevo's original home in Tees just isn't quite Durham is it?
Trevelyan – Frederik Ferrier
He's got it all. He's musically talented, so could certainly make use out of the piano in Trevs bar. He's cool looking just like the Trevelyan building and we love it.
Castle – Mark-Francis Vandelli
Looks amazing on the outside and clearly takes care of his appearance but like any castle, he's cold on the inside. A kin to each other they're both a little up their own arse but for reason as Mark-Francis is well established among the cast having been there since series 1, and no Castle we haven't forgotten that you're the OG of Durham.
Ustinov – Victoria Barker-Harber
VBH is rarely sighted on screen and the whole cast seems to find her slightly scary. Ustinov alike is not often seen socialising with the other colleges with it often being missed off of college bar crawls. Where is it again? Victoria is mature and collected and quite frankly can't be bothered with the rest of the casts drama – because what sort of PG wants to socialise with freshers anyway.
Van Mildert – Tristan Phipps
Tristan seems to think everyone is his mate and seems to be the book keeper of 'bro-code'. Although Mildert steers away from controversy, their cliquey reputation precedes them. Tristan's heart, much like Mildert's, seems to be in the right place throughout his charity work however his constant plugging of Instagram brands somehow undermines this.