Who are the Durham Colleges named after?
Spoiler alert: Castle misses out for once
We all know that Durham has history. After all, it is the third oldest university in England – which is something you definitely told your bemused grandparents when you didn't get into Oxbridge. Yes, University College might be a literal castle, but what can be said about the other fifteen colleges? Well it turns out, quite a bit. With bishops, politicians, a brand of tea and even the Virgin Mary as namesakes, who knew Durham could be so interesting?
Historical Figures
Van Mildert College
Named after William Van Mildert who was one of the founders of Durham University and one of the last of the Prince Bishops (a representative created by William the Conqueror to hold secular and spiritual power over the whole of the North-East of England).
Stephenson College
The college's namesake, George Stephenson, was a Northumbrian engineer known as the "Father of Railways" who pioneered rail transport in the 19th century. As his parents were illiterate, he had to educate himself, and he finished building the first railway line not powered by animals in 1822. The rail gauge of 4 ft 8.5 inches he used is now commonly referred to as the Stephenson Gauge and has since become the global standard. Interestingly, Stephenson also developed a miners safety lamp.
Trevelyan College
Named after G.M. Trevelyan who was an English historian known for his liberalism. Based on his notable works he was a known fan of the Whig Party and philosophies in English politics and academia. He wrote extensively on Charles Grey (after whom another Durham college is named) and became a professor and master of Trinity College Cambridge.
Collingwood College
Named after Sir Edward Collingwood, an English mathematician and scientist. Sir Collingwood served in the Navy and after an injury in 1916 enrolled at Trinity College, Cambridge in 1918 to study mathematics. Collingwood served as a Captain during WWII and was employed as a naval scientist – for his service he was awarded a CBE.
Grey College
The original name for this college was Oliver Cromwell College – but this proved controversial. So Durham named the College after Charles Grey who was PM from 1880-1884. Grey was a member of the Whig Party which later merged into the Liberal Party, and it was his government that saw the abolition of slavery in the British Empire. Earl Grey tea is also named after him! You can witness Dominic Cooper's depiction of him in 'The Duchess', where we see his famous affair with Georgiana Cavendish, Duchess of Devonshire (played by Keira Knightly if you need any more convincing to watch it).
Hatfield College
Named after Prince Bishop Thomas Hatfield, who is buried in Durham Cathedral. He fought in King Edward's division at the Battle of Crécy in 1346 and was one of the last warrior-bishops in England. Having died in 1381 there is relatively little known about his life. 
John Snow College
This college is named after English physician John Snow who is considered one of the founders of modern epidemiology. He conducted research on England's cholera epidemics and was a founding member of the Epidemiological Society of London (formed in May 1850). Snow's epidemiological research currently contributes to the social intervention being practised by governments worldwide in the Covid-19 pandemic.
Josephine Butler College
Josephine Butler was an English feminist and social reformer in the Victorian era. Her work includes her campaign against the Contagious Diseases Acts, where Butler opposed laws which allowed the arrest of women believed to be prostitutes, and the subsequent invasive and painful forced medical examinations. She also pressured Cambridge University into providing more education options for women.
Ustinov College
Founded as the Graduate Society, it is still Durham's sole graduate-only college. The college was re-established as Ustinov College in 2003 – named after Sir Peter Ustinov who was the chancellor of the university at the time. Ustinov had an extensive CV: described as an actor, writer, film maker, director, comedian, radio broadcaster, and television presenter. 
The Saints
College of St Hild & St Bede
A college named after two Saints.  Previously two teaching colleges – 'The College of the Venerable Bede' for men founded in 1838 and 'St Hild's College' for women founded in 1858. St Bede the Venerable, among other things, is the Patron Saint of scholars and historians and was a key historian of his time. St Hild/'St Hilda of Whitby' (who was written about by St Bede) trained bishops and ran the double monastery of Streaneschalch at Whitby. She was an abbess at multiple monasteries and was known for her wise nature – being an advisor of kings. The two colleges were merged in 1975 to form Hild Bede.
St Aidan's College
St Aidan was an Irish monk, missionary and the Patron Saint of Northumbria and Firefighters. He is known for converting Anglo-Saxons to Christianity in Northumbria, and was the founder and first bishop of the Lindisfarne Island Monastery which still stands in the island off the North-East coast in Northumbria. This journey is even doable as a day-trip from Durham!
St Chad's College
Named after Chad of Mercia who was a monastic founder, abbot, and first bishop of Lichfield, and credited with the Christianisation of the ancient English kingdom of Mercia. Most of the information there is about Chad is drawn from the writings of the aforementioned Venerable Bede. Bede writes that Chad was a student of St Aidan at Aidan's monastery on Lindisfarne. 
St Cuthbert's Society 
St Cuthbert was another bishop of the monastery at Lindisfarne. He is regarded as the Patron Saint of Northumbria and is one of the most venerated English saints. He is regarded as one of the most important medieval saints from northern England, with a notable cult interest around his tomb at Durham Cathedral. 
St Mary's College
Named after Mary, Mother of Jesus. You know who she is. 
The exception
University College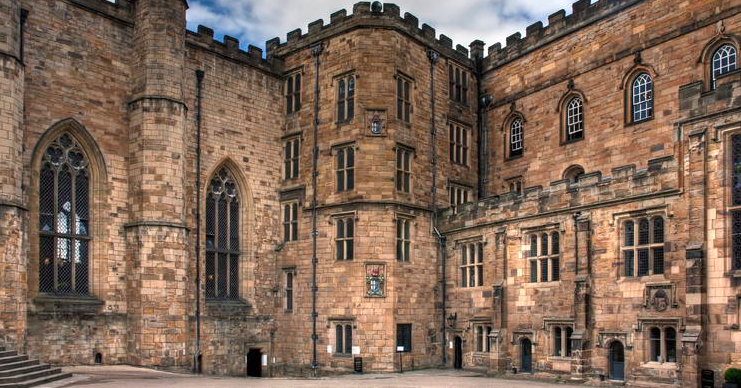 The only college not named after a person. It was the first Durham college when the University was established in 1832.