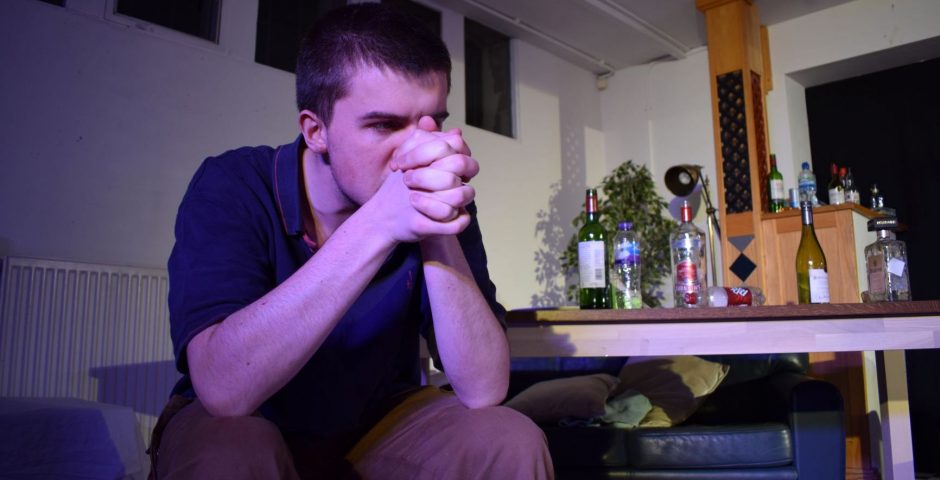 Tusk Tusk: Review
A dark and disturbing exploration of childhood and youth expertly executed
Tusk Tusk, Polly Stenham's 2011 play, takes place in a newly-moved in flat in which three siblings have been abandoned by their mentally ill mother and are forced to fend for themselves to avoid going into care. This setting was immediately established upon arrival: the Kingsgate Room was transformed into an intimate flat setting which was a perfect choice of venue by director Iz McGrady, paving the way for both a convincing and naturalistic performance.
There is always an immediate challenge in playing children far below our ages; however the cast made a solid, valiant attempt at doing this. The three children; Maggie (played by Ariana Van Biljon), Elliot (Max Greenhalgh) and Finn (Alexander Cohen) had an incredible synergy which created the genuine illusion of siblings through their witty sarcasm and playful energy. Cohen brought a hyper, child-like energy as Finn right from his entrance as he came running on in his underpants and in a crown holding a water pistol. Furthermore, Maggie is supposedly a fourteen year old girl, this was initially very believable, however Ariana quickly slipped out of these child-like tendencies and appeared far beyond her intended age. Perhaps this was a directorial choice by McGrady given that Maggie is forced to undertake a mothering role due to their abandonment by their parents. However, I think it would have been nice to see some of the qualities of a fourteen year old still shine through despite having to 'grow up' and take on such responsibilities. Regardless, the energy that radiated off the three siblings never faltered, leaving not a single dull moment in the play.
Act two had a dark turn which was brilliantly captured by Greenhalgh through his descent into a violent and troubled child which was both shocking and frightening. Unfortunately, I found that the scenes with Cassie (played by Maddie Lock) were a little uncomfortable and awkward. Although, this was a to a certain extent part of the character, at times Maddie seemed a little uneasy through her body language and I was left hoping she would relax into the role more in order to match the natural performances of the other cast members.
Auguste Voulton and Meg Roche gave brilliant performances as Roland and Katie: they were perfectly able to catch the nuances of their older character's age through voice and physicality. They were both incredibly convincing as a forty year old couple.
The decision to have minimal tech was a decision that really paid off in creating a naturalistic atmosphere that felt like I was not watching a play, but was actually sitting in their flat. Unfortunately, there were a few moments that broke this, for example, a phone ringtone blasted out into the audience through speakers which detracted from this realism that had been so prevalent throughout the rest of the play.
Overall, the few issues were hard to notice and did not detract from the powerful themes of the play. Congratulations to the production team for creating such an honest and believable production; it is certainly one of the best pieces of student theatre this term- a must-see.
Tusk Tusk is being performed at the Kingsgate room on the 16th and 17th of March.
Buy tickets here.