Restaurant Review: Lotus Lounge
The Tab's foodie-in-residence Belinda Davies made the short walk down Saddler Street to Lotus Lounge where she found "an authentic escape from the confines of DH1".
Nestled in a prime location adjacent to Mugwump and Wild & Funk on Saddler Street, Lotus Lounge is the latest addition to Durham's arguably lethargic gastronomic scene, an addition which has thankfully stalled the somewhat stagnant status quo.
Lotus Lounge is the nascent brainchild of entrepreneurs Howard Eggleston and Andy Drysdale, who set up the Durham restaurant's older sibling in a town called Yarm, Teesside, some 30 miles away. Stepping inside on a Sunday evening, the vibe was stylish and collected; positively sybaritic.
A warm welcome then led us, amidst oriental birdcages hanging from the ceiling and authentic black and white photographs, to a candle-lit table for two in front of the fireplace. Our appetites were pre-empted by a bowl of assorted prawn crackers and a sweet chilli dipping sauce, followed reassuringly by a chilled ice-bucket greedily enveloping a fruity bottle of Pinot Grigio. We began to feel more human.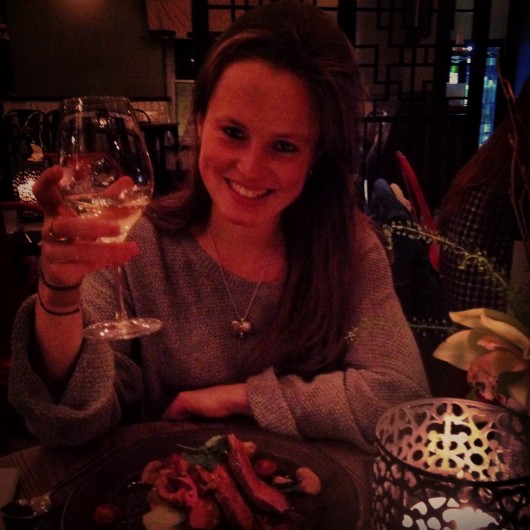 First up was the Lotus Sharing Platter, comprising of Thai fishcakes, fresh hake, chicken satay skewers and a dish of hedonically rare beef strips; all of which were absolutely first-class. The delicate hake, which melted in your mouth, took first prize; it was cooked to absolute perfection.
The Vietnamese lamb rump which I summoned for my main course truly exceeded my expectations, and I have rarely sampled a juicier, more roseate cut of meat. It came bathed in a tangy sauce of basil and soy dressing, with succulent roast cherry tomatoes nestled around its periphery, alongside tempura mushroom morsels and sweet potato mash.
On the other side of the table landed an equally ambrosial 'fillet of beef black bean', as part of a stir fry of bean sprouts and mushrooms with a perfectly moulded portion of rice; redolent of chillies and coriander.
The meat itself was exemplary. By this point we had of course assured the delightful staff that we were more than satisfied with our fare for the evening, as they attended to us vigilantly.
A cleansing coffee with Alex's signature request for hot milk on the side duly adhered to, paved the way for a second wind, moving onto a third course with consummate ease. A lemon grass and lime leaf crème brûlée, beautifully presented, was the ultimate conclusion, although the 2 enormous shortbread discs which accompanied it were superfluous and decidedly de trop.
Directly opposite me, a decadent portion of sticky toffee pudding awash in a pool of butterscotch and a boule of banana ice cream took pride of place. After a Herculean effort to do justice to the surfeit of food we had been faced with, we sat back; conquered, content and comatose, as our fate was revealed to us on a complimentary fortune cookie.
I wholly recommend Lotus Lounge whether you're looking for an opportunistic fireside table for 2, or the upstairs section of the restaurant can cater for hungry parties en masse – you are guaranteed exemplary service and a delicious taste of the Far East, and an authentic escape from the limited confines of DH1.
Open from 9.30am until midnight 7 days a week. Call 0191 384 1999 or visit www.lotus-lounge.co.uk