Eleven films to vicariously relive Cambridge through during lockdown
Watch these films and you'll forget that you ever left!
Let me paint a scene for you: Week One rolls around and you are back in Cambridge. Reunited with your friends, you cycle through Sidney Street together (actually, let's pretend you're walking – I think it's a one-way zone) and soak up the charming old buildings, fully appreciating Cambridge after being in your drab home town for ages. The market square's a hubbub of tourists and students fighting for dominance after six long weeks apart.
Well, that's what I imagined would happen, anyway. Lent term, as Toope has decreed, has been moved online and only those with extenuating circumstances are allowed to return to Cambridge
Moreover, I'm a fresher, which means my Cambridge experience so far hasn't exactly been filled with magical movie moments like dodging tourists on my bike, going to formals, or studying in coffee shops where I get a Camfess from a mysterious admirer.
This idea of Cambridge mostly comes from consuming Camfesses at an alarming rate and watching a bunch of Cambridge related films in March after schools got shut (ah, back when coronavirus was young, fresh, and exciting), so I decided to compile a list of films to trick yourself into thinking that you're strolling down King's Parade and not in your childhood bedroom that you share with two younger siblings.
The Man Who Knew Infinity
Starting off strong with a film that will recreate the Cambridge aesthetics and inspire all you mathmos out there. Shot in Trinity, Dev Patel (!!) plays the mathematician Srinivasa Ramanujan, who became one of the youngest fellow of the Royal Society and the first Indian to be elected a fellow to Trinity College in the 1910s.
Pitch Perfect
Next, we move onto an accurate representation of the extracurricular scene at Cambridge and the fierce competition displayed annually at cuppers as colleges fight to maintain their pride. Second and third years can relive starting university with Beca as she tries to find her people by entering the world of college acapella. And freshers – well, I'm sure Zoom acapella club wasn't too bad.
Whiplash
Romanticise pushing yourself to your limits by watching Whiplash. About a jazz drummer at an elite music conservatory whose perfectionism spirals into obsession, watching this will make staying up all-night and sobbing over that essay for a 9am supo feel ten times sexier. (But seriously, just ask for an extension.)
Maurice
I am currently trying to manifest the idyllic vibes of this film for Easter term 2021. Set in 1909, Maurice (played by James Wilby) falls in love with Clive (Hugh Grant) and an intensely emotional affair ensues. King's dining hall gets a feature, as well as Trinity's Great Court and Wren Library, and there are shots of Clare Bridge and The Backs in the elysian summertime sequences.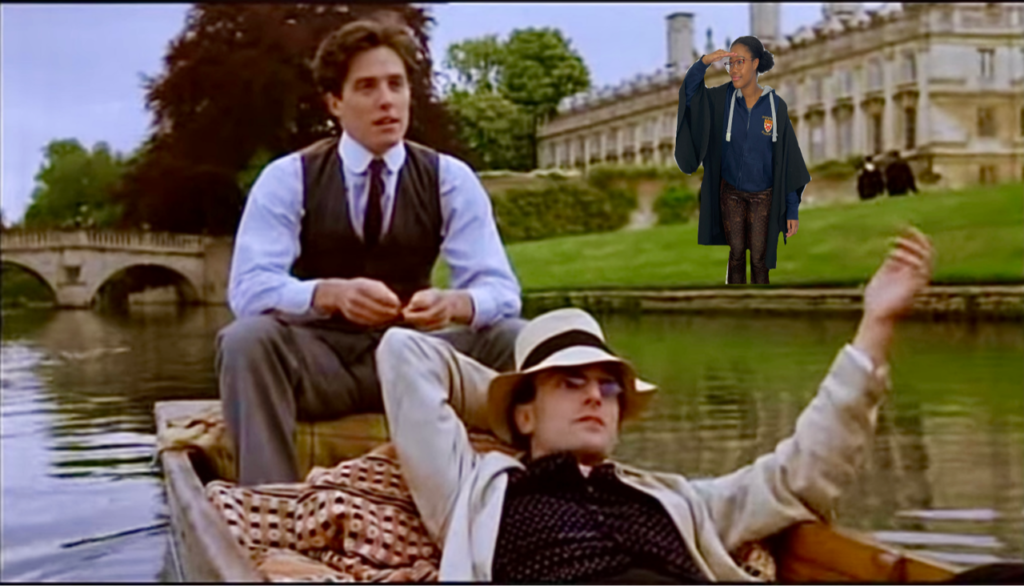 Missing your friends?
After a month of minimal human contact, you must be missing the unique people who make up this university. Watch The Social Network to remember all the Zucks-in-training that you've probably met around Cambridge (need I say more?), or The Breakfast Club to make up for the DMCs that would be had huddled round the Van of Life or in the Cindies smoking area. They don't hit quite the same over Zoom, do they?
Ratatouille
Remind yourself of those days when you felt like Remy the rat after having queued for twenty minutes on Sidney Street, done a shop at Mainsbury's, and stocked up your gyp cupboard, so that you could rustle up a recipe you found on Tiktok. Of course, you had to improvise with a toaster and microwave for the parts that required an oven (I'm still dreaming of those Newnham kitchens tbh…), but if Remy can do it, so can you.
The Riot Club
Yes, this is set in Oxford, but hear me out. The stereotype of boys behaving boorishly in an exclusive drinking club can easily be transferred to Cambridge and will be relatable for some of you, I'm sure.
The Stanford Prison Experiment
And now to bring back some more recent memories. Picture this: it's 9 o'clock on a Wednesday morning and you've just gotten the text that your bubble tested positive and will be in lockdown for the next two weeks. The Stanford Prison Experiment perfectly captures this experience. Based on the 1971 social psychology experiment, male students participated in a 14-day prison simulation to take on roles as prisoners or guards, but it quickly descended into chaos (parts of it are pretty intense and sensitive so please do watch with caution).
Knock knock…
And finally, to remember when the porters came a-knocking, watch A Quiet Place. Or for when all else failed, Escape from Alcatraz.
If watching these films hasn't already transported you back to the Mainsbury's queue, I'm not sure what will!
Related articles recommended by this Author:
•10 ways to pretend you're still in Cambridge this term
•How to recreate a Mainsbury's Trip from Home
•We emailed 200 Cambridge students to find out their favourite moment from Michaelmas 2020
•I'm a fresher, and I don't regret starting Cambridge in the middle of a pandemic
Featured Image Credit: Angela Okafor