Trip to the gyp: How to make the most of your Cambridge kitchen during lockdown
This week we attempted a BBQ pulled jackfruit burger, and it was SPICY
Hiya, we're Ella and Charissa and we want to welcome you to our Michelin star gyp. It's only been a week, and already the lockdown boredom has started to creep in. Especially for the two of us who, having run out of article ideas for our own sections, have decided to invade the Features section once again.
During the first lockdown, many of us chose to invest our time into improving our culinary talents: baking, breadmaking (shoutout to all the new sourdough connoisseurs out there), frying, more baking, and seasoning like we have never seasoned before. Ella even turned her lockdown cooking adventures into a Varsity article (boo, hiss). Sadly, this time round most of us are stuck with pretty poor kitchen facilities – there are only so many recipes you can make in a microwave.
But fear not! We have managed to put together a scrumptuous *almost* vegan (sorry meat-eaters) gyp-friendly recipe that will tantalise your tastebuds and bring a bit of spice into your lockdown life.
So feel free to take a look at our recipe and give it a try! In the words of a great Disney Pixar film, anyone can cook.
Introducing: Our sad little gyp
As far as gyps go, ours is pretty tiny. Two people cooking at the same time can be as chaotic as an episode of Hell's Kitchen. I wonder what Gordon would have to say about this:
Cambridge is all about overcoming challenges – coping with a single plug socket in your room, trying to sleep in a bed that is half your size or having to email your tutor to beg for a fridge (just us?) Perhaps the biggest challenge of all is trying to cook an even semi-ambitious meal in a gyp room.
However, we still gave it a go, with some relatively decent results. We've adapted a BBC Good Foods recipe for pulled jackfruit burgers and you can easily buy all the ingredients from Mainsbury's. It's largely vegan, except for the fact that we couldn't resist putting butter in our veg – we also found ourselves feeling very confused and stupid about not knowing whether bread was vegan or not. The wholemeal bread rolls we got from Sains apparently are though so yay! Here's an ingredients list:
Ingredients:
1 tbsp oil

1 red onion

1 tsp ground cinammon

2 tsp cumin seeds

4 tsp smoked paprika

1 tbsp white wine vinegar (optional)

6 tbsp barbeque sauce

200g can chopped tomatoes

2 x 400g cans young jackfruit

200g fine beans

4 wholemeal deli rolls
The recipe
Step one: Don't cry before you fry
Chop your onion nice and fine. If you're anything like Charissa, there'll be many tears. Heat the oil in a pan and fry the onions until they're clear and soft.
Step two: Spicy, saucy, and oh so naughty
Add the cinnamon, cumin seeds, and smoked paprika. Stir well with the onions. Once that's done, add the tomatoes, BBQ sauce (and vinegar if you're using it) and stir again. IMPORTANT NOTE: Do not forget to add salt. Don't be that guy. Just don't.
Step Three: Hit the road Jack(fruit)
Here's the exciting part. You'll need to drain the jackfruit and mix it in with all that saucy goodness. Warning: if you've never cooked with jackfruit before (as we hadn't), you might be surprised (read: horrified) by what you find in the tin. As Charissa put it, emptying the jackfruit into a sieve is "like watching tongues falling out of a mouth."
Cover the pan and leave it to simmer for 30 minutes, stirring every 10 minutes. This was a challenge for Charissa, due to the fact that our hob is under a sloped ceiling and she's basically twice Ella's height. As you can see, she was not happy at all:
Step four: In the bean time 
While your jackfruit is cooking, maximise time by starting on your veg. We opted for green beans but really any veg that you can cook in a pan would work!
Step five: On the pull
When the jackfruit is soft enough, (it may take longer than half an hour depending on the effectiveness of your induction hob) use two forks to pull the chunks apart. Once you've finished, it should look like real pulled pork (kind of).
Step five: Plate up!
Once you're happy that everything's cooked through, it's time to load up your plates and enjoy. Cooking jackfruit was certainly an experience, and if at any point you're worried that it looks uncannily like raw pig, we assure you it will look much healthier and more appetising as time goes on. Here are some pics documenting our food journey from shit to fit.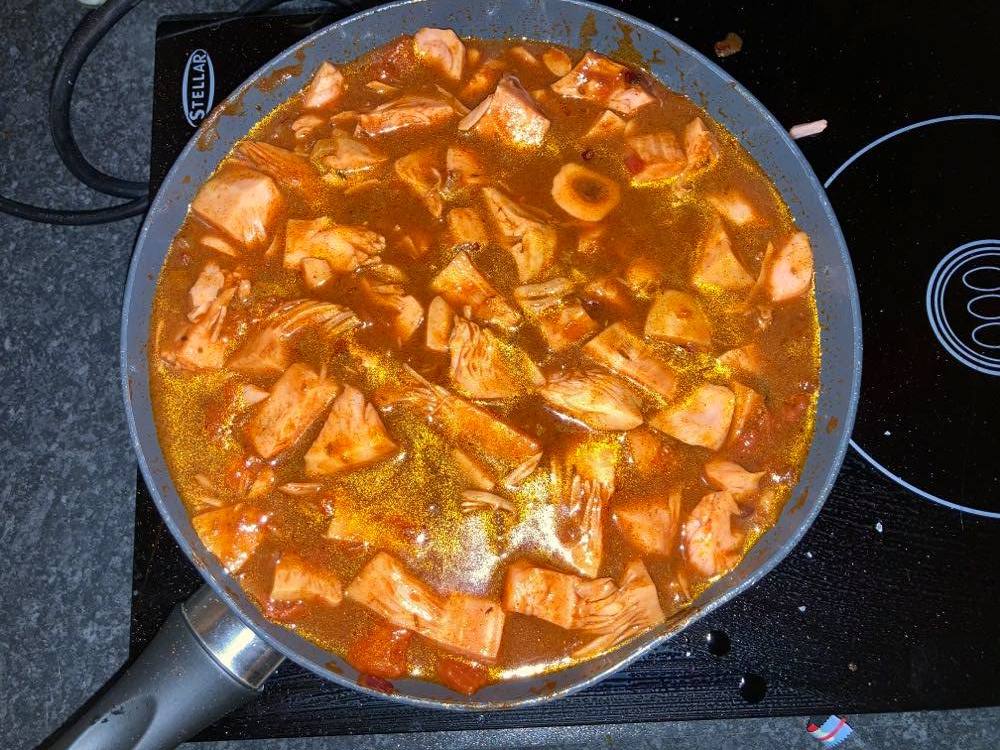 Reviewing the finished product
And voila! Here are our results. But wait, are those oven wedges you ask? In a kitchen where ovens are strictly prohibited and there's no way to make nice chips without one? Impossible….
Overall, we're pretty happy with this recipe. It did take a LONG time for the jackfruit to cook and, as a result, one of us may or may not have missed the contents of an entire Zoom meeting (a moment of silence for the breakout room invitation that was never accepted).
In the vain hope that this become a series, we've ranked this recipe according to four criteria, with which we might rate future recipes during the endless hours of lockdown. Scores on the doors:
Flavour: 4/5
Though neither of us are massive fans of fruit in savoury dishes, the copious amount of seasoning and sauce meant it actually tasted pretty darn good. The bread roll helped to balance out the strong flavours, as did our illegal wedges. This is an especially good recipe for fans of spicy food.
Appearance: 3.5/5
There were definitely moments where the food looked questionable and we were scared to try it, but by the end, we were quite chuffed with ourselves. Although Ella (a pescatarian) was lowkey freaked out by how much it looked like meat. For a student meal, we've got no big complaints here.
Difficulty: 3.5/5
The recipe itself was fairly easy to follow. Most of the ingredients are in tins, and it uses common spices that you're likely to have in your cupboard (That is, if you're not a basic basil pioneer). As previously mentioned, the most annoying thing about this recipe was how long it took to cook. But, if you've got a lot of time your hands and plan ahead, then you should be just fine.
Would we make it again: Yes…
… but not anytime soon. While it was fun, this is definitely a recipe for when you're feeling experimental, and not for your everyday repertoire. It's a great meatless barbeque alternative that puts Linda McCartney sausages to shame.
We hope we've inspired you to go forth and embark on a culinary gyp journey of your own. We might not make it to Masterchef with this one, but it beats getting dinner from hall any day. 
All images are the authors' own.