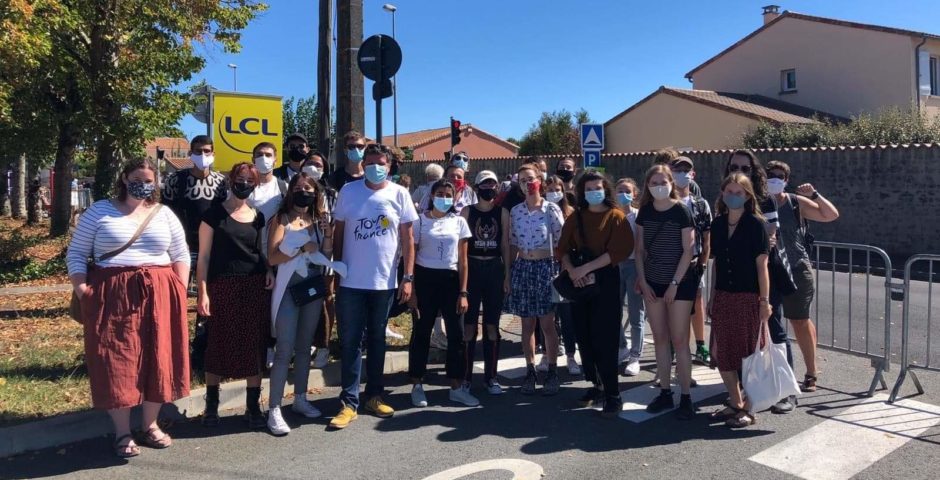 Year Abroad Report: Croissants and COVID-19
My first three weeks (ish) in France
This year caused a lot of doubt with the Year Abroad – whether it would take place, whether it would be (ew) virtual, what it would look like, and what the heck is going on with our Erasmus money. Thankfully, from my own personal experience I can answer at least three of those (sadly, not the funding one. No, seriously @MMLL, where is my money?)
(Disclaimer: this article only reflects one experience. Not all YA students are represented here, etc etc etc.)
I took French from A-level, whilst I picked up Spanish 'ab initio' as a fresher and even learned a little Catalan last year. I was initially planning to spend half a year working for Air France and the other half in the Universitat de Valencia. My Year Abroad story starts with the sad cancellation of my work placement (au revoir, Air France), many frantic Zoom calls with a very helpful and sympathetic Tim Chesters (the YA director) and a huge load of admin between UV, La Sorbonne, and Université Paris Est Creteuil, before I finally settled on Université de Poitiers (France) for the academic year. I sacrificed some Spanish and Catalan immersion for the extra stability I figured being in one place for two semesters would bring.
I started my Year Abroad , bright and very early on the 27th August, by getting up at 4am to catch a 6 o'clock train to London, where I would then take the Eurostar to Paris and onwards. There aren't many people on a 6am train, but the ones who are are weirdly chatty. At least I wasn't bored?
Train number two took me to Paris Gare du Nord, where I had a brief wrestle with a ticket machine before emerging victorious, bloody but unbowed, with a métro ticket. After the third train and a small abandoned baggage incident (thankfully not mine) I was on the train to Poitiers in western France. And boy, do the French know how to do trains. Zooming through French countryside at 230km/h is the way to travel. After being on the road (or rails?) for more than 12 hours, I was finally in Poitiers.
Due to the timing, the university halls weren't open for check-in, so I stayed in an Airbnb for the first night. Having explored the city for a little bit, I bought some food and video-chatted with a friend briefly before calling it a night. 
The next day, I checked into my new room. Being asked for an immediate payment of 623 euros (September's rent, one month's rent as a deposit plus rent for the remaining days until September) put a bit of a downer on the celebratory 'start of the year abroad' vibes, as did not being able to rent bedding due to COVID (I had to make do with a few fleece blankets, a sheet scrounged from the linen cupboard and a hastily purchased cushion), but I can 300% tell you that I ADORE my room. 
It is bigger, more functional and less expensive than my room in Cambridge. Last year I was paying around £1300 a term for a tiny room in a college hostel. Here, I pay 353 euros per month (so about £980 per 'term') for a huge room which comes with a mini kitchen and bathroom. 
Sadly, there is no WiFi in my halls building, so you kind of need an ethernet cable, which I did not think to pack and was not provided. After eating through my data allowance, I met two Masters students from Colombia in the laundry room, who gave me the chance to practice some Spanish as well as borrow a cable. 
Socially, the first week or so was rough. I spent most of my time picking up food, essentials for my room (I was surprised to find no toilet paper provided), and exploring the city with a book and my knitting needles. I would occasionally meet people around the halls or in the laundry room, but never anything meaningful -it's hard to pin a friendship on a lost sock. There were days where I hardly spoke to anyone, and as my only human interaction would be with salespeople, you can be sure I bought and ate a lot of patisseries.
I was quite casually informed by my faculty that classes wouldn't start until the 21st September (what?) and it was only after I'd been in Poitiers for a week and a half that I made any sort of meaningful connection with anyone. Thankfully, this first meeting was with the other Erasmus students of my faculty – three Brits, two Germans and a Moldovan – and within the next few days we also met up with Erasmus students from other faculties, through a university-organised excursion to a nearby village to watch the Tour de France. 
As an exchange student, we get a lot more freedom to pick our modules, so I'll be glad to be learning medieval French language, literature and history, alongside Spanish speaking and writing modules. Poitiers offers international students a free course in FLE (Francais comme langue étrangere / French as a foreign language) course, so I feel quite supported by the university here. 
Cambridge is another story – the latest email I received from the ISO about Erasmus funding was less than helpful, asking for my bank details and suggesting I could complete some forms, but as they "have not yet received the budget from the British Council for 20/21" they are "therefore unable to confirm whether we will be able to fund all months of your placement." I know many people here, including a student from Reading, who have already received their first funding installment… What's going on?!
My college (St John's), however, has been incredibly helpful. My DoS has been an absolute godsend in helping me find a supervisor for my Year Abroad Project, and through the Learning and Research Fund I was able to claim the cost of my outgoing trip, a not insignificant £144. I still get weekly college update emails, and although I'm sure these are automatic and I delete most of them anyway, it definitely makes me feel like I've not been forgotten about. I'll be helping out with an online access event through Zoom soon, and I urge any other MMLLers on their Year Abroad to try and stay in touch with their colleges, because we are still their students regardless of geographical location. 
In terms of the coronavirus situation, there are a lot more reported COVID cases in France, and I've already had an email reporting clusters in Poitiers. But people are so much more aware of it here. Walking around halls (outside of your room) requires a mask. There is hand sanitiser everywhere. There is no entry to shops without a mask, and nobody is making any fuss about 'exceptions'. All public transport and circulation in cafés and bars requires a mask, and I have witnessed bus drivers and university staff insist on this as well as social distancing measures.  An email from my faculty reads
I feel safer here than I think I would in Cambridge, because everyone is taking it seriously.
It's going to be a difficult year, but having the strangeness of being abroad combined with all the new rules and precautions makes them both easier to deal with. All in all, I can't wait to see what this year will bring.
Featured image credit: Mme Sabrina Delb