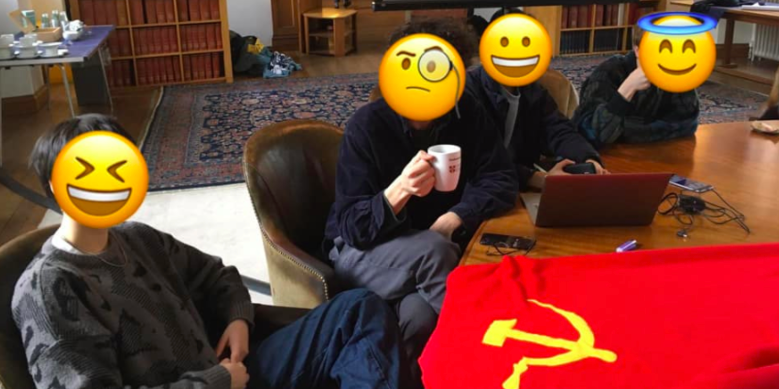 Old Schools occupied by Cambridge Marxist Society and Cambridge Defend Education
The group of 50 students entered Old Schools at 9:15am today in solidarity with UCU strikes
A number of Cambridge students have today occupied two floors of Old Schools, the University's administrative centre, it has been reported.
The occupation is in support of the UCU (University and College Union) strikes, which are now in their third week. It reportedly involves members of Cambridge University Marxist Society and Cambridge Defend Education (CDE).
A University spokesman told The Tab Cambridge: "We are aware that a group of students have blocked themselves into a staircase and some meeting rooms. The business of the University carries on as usual."
UCU announced on Facebook: "Students have occupied Old Schools, the heart of the administration at the University of Cambridge in solidarity with our strikes. This is a really powerful message to the University management, and to UUK and UCEA that students and staff are united.
"A statement of solidarity from the exec will be coming out shortly, but in the meantime we urge the University to respect students' rights to peaceful protest and call on UUK and UCEA to meet our negotiators' demands."
In a statement, CDE said that they "have seized the heart of University management, who have consistently failed to support its employees and students in their fight against marketisation, casualisation, overwork, and exploitation."
The student-run group added: "Ours is a vision of a university organised by and for staff and students, where there are no locked doors or shady back-room meetings; we are fighting for truly democratic control of this University.
"Under the UK's draconian anti-trade union laws, which make it a criminal offence to hard picket and prevent people getting into a workplace which is on strike, students can take on action that workers cannot.
"There is a strong precedent for students taking this form of action with Old Schools blockaded in 2018 and the BP Institute blockaded three times since 2019. Those involved act together, making discipline unlikely. We have public opinion backing the campaign and huge media attention. We do not give our names or damage property, and we target a structure.
"Business as usual has been brought to a stop; the occupation will massively increase the pressure on University management to meet the demands of UCU."
Cambridge Marxist Society also issued a statement via Facebook. They said: "We […] recognise that in an epoch characterised by counter-reforms and cuts, in order for the strikes to be successful we must link the strikes to the building of a democratic mass movement of students and workers in order to put power into our hands. It is only on this basis that society can be run by, for and in our joint interests.
"Ultimately, the race to the bottom in terms of living and working conditions pay and conditions have one thing in common: a system that prioritises profit over need. We as students will soon inherit the struggle for better pay and conditions and must show solidarity to striking staff in their struggle."
A Facebook event named "Rally: Solidarity with the Student Occupation" has also been set up by Cambridge UCU and CDE.
CDE has stated the following five demands, which they challenge the University to meet:
"1. The Vice Chancellor should make a public statement, calling on national employers' bodies UUK and UCEA to meet UCU's demands.
2. The Vice Chancellor should make a public statement setting out the University of Cambridge's plans to meet the national UCU demands.
3. The University of Cambridge should officially recognise Cambridge UCU.
4. There should be no attendance monitoring of any kind during the strike period, to ensure migrant students and workers can participate in strike action
5. There should be no disciplinary action against students or staff for action in support of the strike."
Cambridge Marxist Society announced in their statement: "We support the immediate demands put forward by UCU wholeheartedly in their pensions and four fights (fair pay; inequality; casualisation; and rising workloads) disputes. We challenge the university to meet these demands."
CDE told Varsity that they do not plan to leave the premises until all their demands are satisfied.
Featured image credit: Cambridge Marxist Society
Related stories recommended by this writer:
• Cambridge University apologises after covering trees with anti-bird nets
• Exclusive: Strikes will stop some students graduating, leaked email reveals
• Frustrated STEM students ask Appleton occupiers to minimise disruption