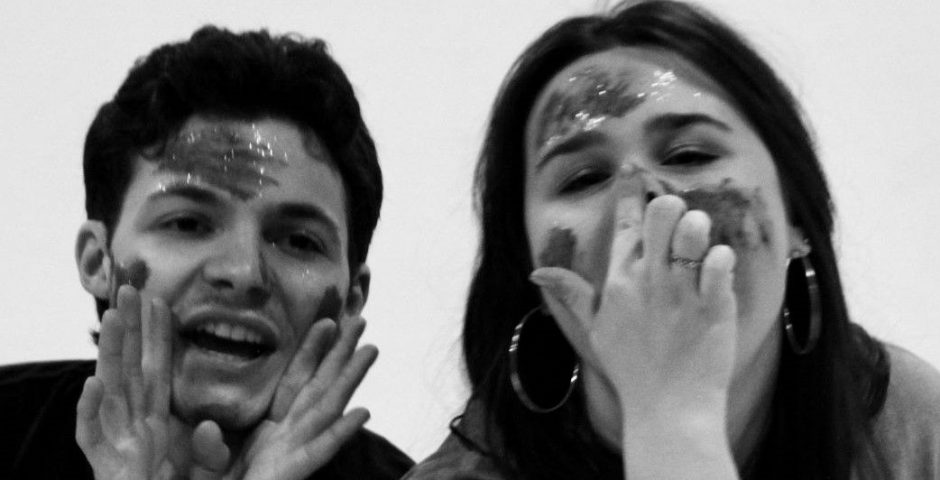 Review: Disco Pigs
The story of 'Pig' and 'Runt' begins like a bizarre fairy tale. Born in the same city, in the same hospital, and at the same moment, two newborns gazed across the room at each other and just never turned away. Thus begins the myth of Disco Pigs' teenage protagonists.
Growing up side by side in Cork City, the duo only became closer. The rest of the world may have called them Darren and Sinéad, but ensconced within a private universe, even the concerns about the intensity of their relationship fell on deaf ears.
And no wonder they couldn't understand. As well as curating the legend of their own birth, they developed a unique dialect, a twinspeak filled with onomatopoeic expressions and neologisms. Dangerously, this confines them to a linguistic prison, unable to connect with anyone outside their bubble.
Most of the play concerns itself with the apogee of this Pig and Runt show. It is Runt's 17th birthday and the two are hell bound to stir up mischief and mayhem throughout the city. The impetus for the odyssey clearly comes from the volatile and restless Pig, with Runt appearing slightly more restrained. Together they are a honed and destructive force. It is only when things take a turn for the sexual that this delicate balance is unsettled and events spiral out of hand.
It is an interesting move to put on Enda Walsh's very Irish play in Cambridge. First staged in Cork twenty years ago (propelling the then unknown Cian Murphy into the public eye) its central themes of miscommunication and violence were live issues for an Ireland just emerging from the Troubles.
Gabriel Wheble (Pig) and Meg Coslett (Runt) do make a good case for the plays continued relevance, particularly when it comes to conversations about 'healthy' relationships. In the first half hour their intimacy is palpable, and quite honestly, enviable. But it becomes increasingly clear that their friendship, once a supernova, is now a black hole. In one harrowing scene the needy Pig draws his arms around the confused Runt, before she claws herself free of his grip. Coslett does a wonderful job at showing the painful moment when she realises she wants out. In her eyes you can see Runt's sheer horror at her own reality.
Sometimes limited budgets and small spaces can render plays at the Corpus Playroom a little monotonous. Not so here. Director Ben Vince does an admirable job of recreating the soundscape of Cork's clubland. If anything, this play is a testament to how a little bit of imagination can turn a plastic bag or a torch into an excellent prop.
My biggest criticism was that often it was very difficult to understand what Runt and Pig were saying. When they first arrived on stage their shouts of exuberance were completely unintelligible, unnecessary when the small space would have allowed a more subtle pitch. Luckily the two actors are talented enough that their body language was enough.
Disco Pigs was certainly a jarring experience, but one that I am glad for.
4/5
Photos by Gabriel Humphreys