Emmanuel College issues a TOTAL ban on smoking within College Grounds
If anyone wants to smoke, they will be required to leave the college site completely, or be liable for a £100
#cambridge #exams #cambridgeuni #cambridgeuniversity #stress #studentlife #students #studentsofcambridge #endofyear #summer #term #thetab
#smoking #cigs #cigarettes # emmanuel #emmanuel college
Outrage has been sparked in Emmanuel College, following the announcement by the college of a blanket ban of smoking anywhere within college.
The ban came out from a student survey conducted over the space of Easter-Michealmas 2018, which offered students a variety of options for an updated smoking policy.
Options included a full blanket ban on smoking in college, a plan for designated smoking areas, a plan which allowed for smoking so long as it was at least 2 metres from windows, and no change to Emmanuel's current policy (which permits smoking anywhere in college besides Front Court and a few other reserved areas).
The student survey (a separate staff one was also issued, of which the results remain undisclosed) was the most participated in survey ever carried out by college, and allowed for students to vote for multiple options. The survey yielded 253 responses, with 134 in favour of a total ban, 106 in favour of designated smoking areas, 94 supporting the 2 metre rule and 40 supporting the college's smoking regulations as they stood.
After the results of this poll were gathered in, College Authorities asked the Emmanuel College Student's Union (ECSU) JCR to relay the new Zero Tolerance smoking policy to the student body. The announcement was made yesterday (the 29th of April) and will be coming into force on the 1st of May. Almost immediately after the issuing of the Facebook poll there was a flurry of comments, and the Tab has selected some of the most notable.
Many people commented that the smoking ban throughout the entirety of college seemed like overkill and impinged upon personal freedoms.
Others commented that college's interpretation of the results of the poll seemed faulty. As although a majority (53%) of responses were in support of a total ban on smoking in college, the fact that it was a multiple choice survey meant that although 134 responses supported a total ban on smoking, 240 responses supported some form of smoking being permitted within college.
Another group of primarily female students expressed concerns for their safety if they were compelled to leave college late at night for a cigarette. It is worth noting that Emmanuel College is relatively far from the centre and very close to pubs/clubs and public spaces frequented by drinkers/drug users.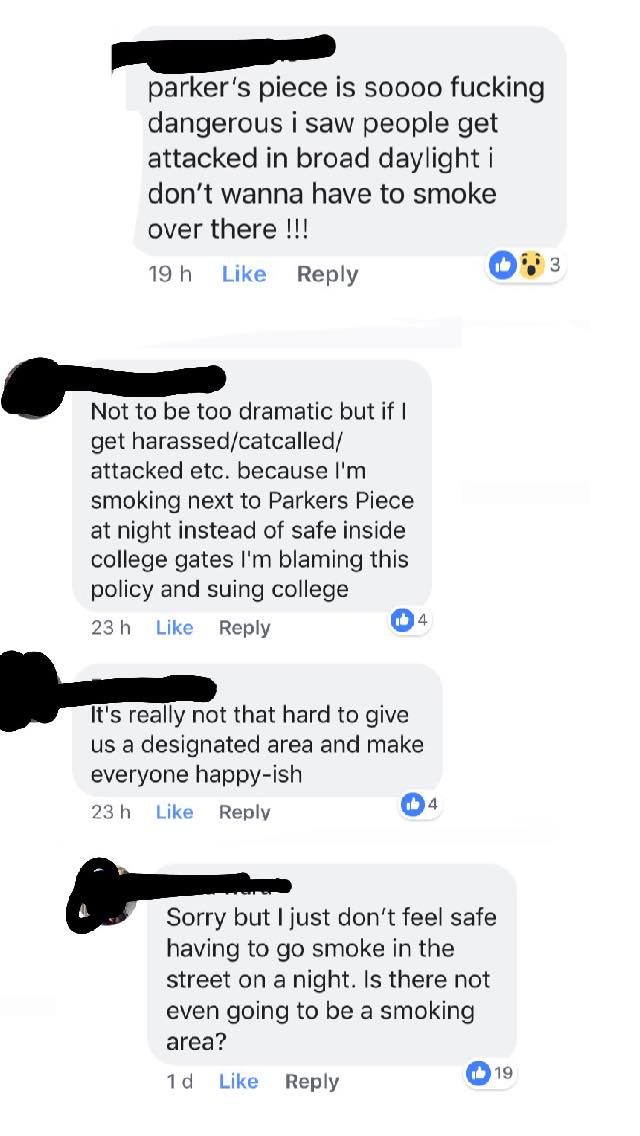 Some students also expressed their concerns about people who smoke due to anxiety, and for other mental health reasons, will most likely suffer from the imposition of such a ban and having to leave the safety of college everytime they smoke. Although the Tab has neglected to include copies of these comments.
It must be noted that not all students were opposed to the introduction of a total smoking ban, and a good few were supportive of the ban. However the majority reaction was undoubtedly negative.
Other students were able to make some jokes about the situation, and in a poll this writer introduced to try and gather an updated reaction to the policy following its announcement, there were some pretty jokes responses. Here are some of the best responses from the comments threads:
One of the biggest frustrations held by students was the finality of the policy, as the policy has already been agreed by college and is unlikely to be changed for a while. Tensions have simmered somewhat, but it is probable things will kick off again as of tomorrow when the ban is in full force.