The Tab News Column Week 6: Progressive pronouns, pies, and pints
Cambridge students' liberal stereotype lives on
New 'discrimination and harassment contact' position
St Catharine's college is leading the way in anti-discrimination measures by creating a new "discrimination and harassment contact" position. Miranda Griffin, Senior Tutor, sent an email to students this week to tell them she was taking up the position and inform them of her role.
Griffin now has the "responsibility for ensuring that there is appropriate signposting and support for students experiencing any form of discrimination or harassment". Harassment is defined as "any behaviour where the student feels that their dignity is being violated or that behaviour is causing a hostile, intimidating, degrading, or offensive environment for them. This includes any type of sexual, physical or abusive misconduct."
Peterhouse pronouns
In a similar vein, Peterhouse has made it easier for students to change their pronouns in official college correspondence.
This is following an open meeting last year in which a majority voted for 'Ms' and 'Mx' to be available for students to use.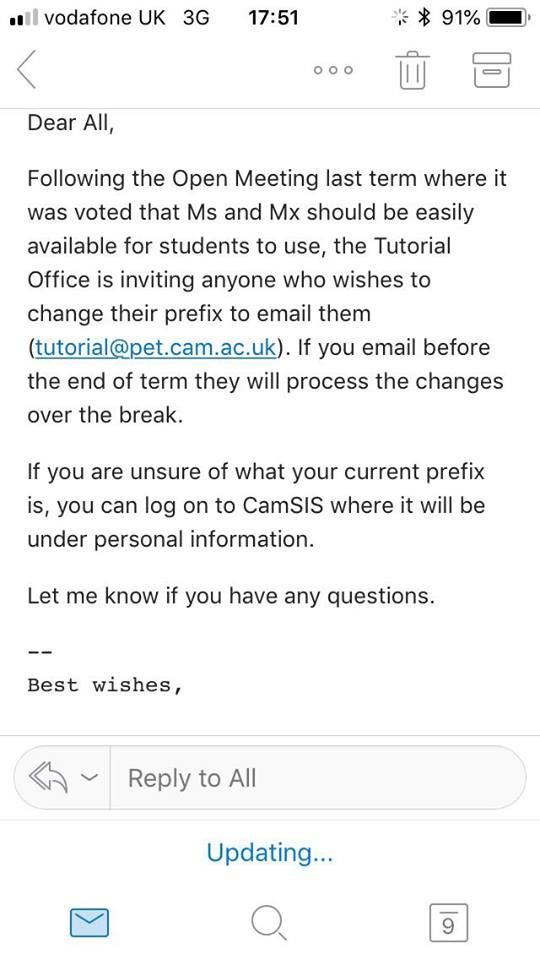 Newnham speed dating outrage
A Newnham speed dating event has sparked criticism for being heteronormative and insular.
The event was in honour of so-called "cuffing season" which, according to Urban Dictionary, is a period in winter when "people who would normally rather be single or promiscuous find themselves along with the rest of the world desiring to be 'Cuffed' or tied down by a serious relationship. The cold weather and prolonged indoor activity causes singles to become lonely and desperate to be cuffed".
Aiming to be some light-hearted fun that may spark romance, the event was explicitly heterosexual, only open to women from Newnham and men from other colleges. Especially angry was Newnham's lesbian and bisexual community which felt excluded from the event, according to one source for The Tab.
ADDITION: Newnham's JCR have been in contact to inform us that there will be an equivalent LGBT+ event in Lent term, during LGBT history month "as a celebration of LGBT people at Newnham and beyond"
Shell Twitter stalker
Following a Tab article, a Shell representative firstly emailed our very own Deputy Editor Edan Simpson, asking for minor changes (although he misspelt it as 'Eden' which we much prefer, far more biblical).
The correspondence did not end there. The same man, who Edan lovingly named "Tory McToryface", followed him on Twitter in an act never before seen in The Tab.
Is this an act of sabotage? Covert surveillance? An illicit crush?
Clare pie and pint party
In an effort to raise money for Movember, 15 men and 1 woman (good on you gal) took part in a competition to eat three pies and drink three pints as quickly as possible.
The winner, with a record-breaking 1 minute 49 second time, was Nick Gregory. A first year medic, he underwent two days of training before the challenge. "As a lot of you know I've been training quite hard for this, it's good to know that hard work pays off!" – words of inspiration for us all.
All 16 participants chundered shortly after the challenge.