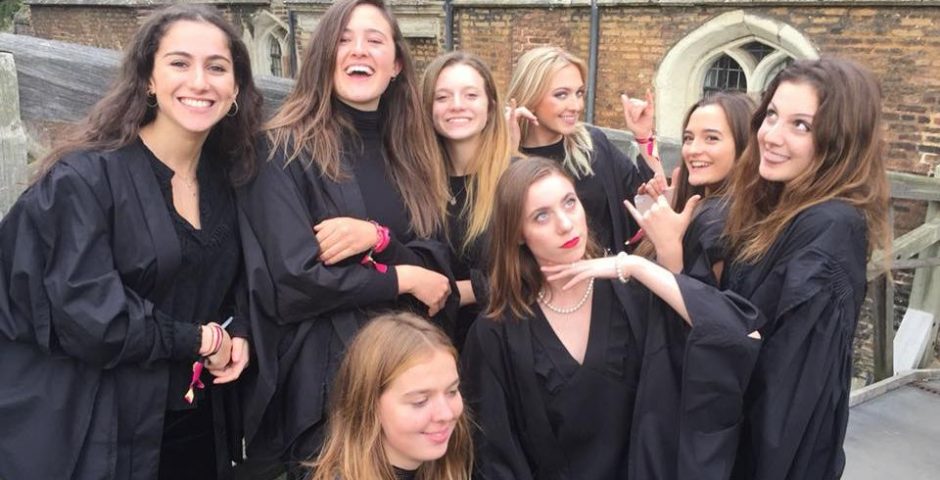 Mastering matriculation
A step-by-step guide to making the most of the occasion
cambridge freshers
cambridge students
Facebook
Freshers Week
Matriculation
Profile Pictures
University of Cambridge
Freshers' week is a hectic time, and full of various rites of passage; you'll marvel over the tropical humidity levels that the second floor of Lola's manages to accumulate in the depths of winter, forget the name of the person you just spoke to for an hour and try your best not to throw up on your shoes in your first meeting with your DOS [is this one not universal??]. However, the most important part of all is matriculation – a tradition dating back hundreds of years, unique-ish to Cambridge and an experience you will only get once; to wear your gown for the first time, sign your name/soul away to your college, or, depending on your priorities, a chance to get a banging profile picture.
Forget the dinner and the signing – the Master doesn't care what extracurriculars you're planning on giving up after two weeks, and you'll be far too hungover to make any coherent conversation with the fellow you're sat opposite over guinea fowl. The real task is the profile picture. Ponder this, how else can you make sure that ALL of your home friends know you go to Cambridge, other than the facebook post your mum made when you got your offer, the subtle changing of your education to 'University of Cambridge' and liking every Crushbridge, Grudgebridge, IgotoCambridge page under the sun?
Your friends at Bristol and Leeds have spent the last two weeks posting endless Instagram and Snapchat stories in a variety of edgy flares and heart shaped/3D/concave sunglasses at 3 am in a sweaty basement, and now's YOUR chance to prove your freshers week was just as crazy. Hell yeah Cambridge is cool – here's you in a bat wing gown and awkwardly clunky court shoes your mum made you buy in front of a really REALLY old chapel!
Now how to achieve the perfect shot. There are several things to consider here; as this isn't just vanity, but actually prime bonding opportunity. Nothing screams vulnerability like asking someone you've barely met – "sorry can you just take another one? A bit higher? With my hair behind my ear or not?"
You can also take this opportunity to scout out who is worth keeping around by completing the following mental questionnaire – how much patience do they have for your jawline-improving poses? How low will they crouch to take the perfect shot? How honest will they be when you ask how you look in that last photo? These are important things to consider for both your social media presence and future friendships, and a friend who will patiently, diligently and honestly help you curate the former helps kill two birds with one stone. It's just a matter of efficiency really.
Location, Location, Location! It must be clear that this is no ordinary university – you go to Cambridge, and even if you live in a shared set with a broken tap and aren't allowed to use a frying pan, you must make it appear that you live in a suite on top of King's Chapel. Perhaps suggest a meander into town with your new pals or snag a pic in front of the Mathematical Bridge – who cares if you're actually at Girton? Alternatively you could take a more collaborative route and catch a #plandid of you and your new best friends chuckling away – once you've made it clear you're a complete social butterfly online, it doesn't if you never speak again except for awkwardly half smiling at the floor when you see them in the buttery.
Last but not least, the final hurdle and the trickiest part of all – crafting the perfect caption. Just in case any of your Instagram followers were still unaware of your UCAS firm choice, this is prime time to show off your wit. Definitely include a pun on the word matriculation that will confuse your Bristol pals. When they ask; smugly leave them in the dark. They don't need to know it means nervously teetering on the edge of a bench for a group photo that will cost you your entire student loan rather than a lesser known bodily function. In any case, the most important part is you cannot forget to tag to the location. Perhaps even your room number so they can find you more clearly on google maps, should your mum's status, changing your education on Facebook and vlog of you moving into your fairy-lit box room have not proved enough to ensure that every single one of your Facebook friends knew where you were going to university.
This should stand you in good stead for the weeks to come. Your captivated home following as well as all the people you meet in lectures, Cindies and outside Van of Life who later find you on Facebook will be spellbound by how quickly you've settled in and probably will like you more as a result. So, finally, sit back, relax and enjoy the steady stream of wow reacts or a rapidly falling number of Facebook friends. Maybe both.