Pop Man takes bronze
A Cam FM presenter has won Bronze 'Speech Personality of the Year' at the prestigious Radio Academy Awards 2014
Cambridge University
Phin Adams
Pop Man
Radio Academy Awards
Radio Cam FM
Speech Personality of the year 2014
student radio
Cam FM presenter Phin Adams, who famously changed his name by deed poll to 'Pop Man' last year, has won Bronze 'Speech Personality of the Year' at the Radio Academy Awards 2014 – one of the largest and most prestigious awards ceremonies in the UK radio industry.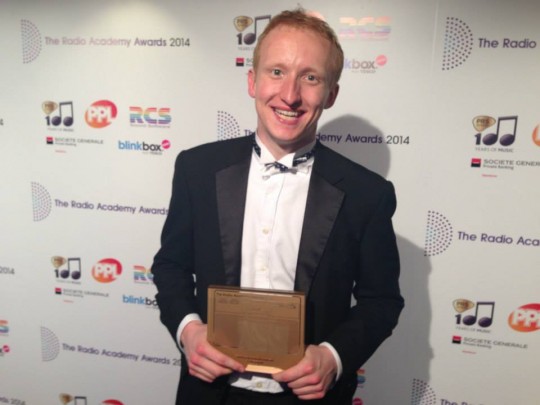 Phin won the award with his show Phin's Barmy Brunch against radio giants such as Johnny Vaughn and Danny Baker.
Sony judges described the Theology student as, "A young personality with a big future: original, brave and incredibly funny."
The awards, hosted by Chris Evans, took place last night at London's Grosvenor House Hotel last night.
In a press release, The Radio Academy described it as, "a tantalising David vs Goliath contest for Speech Radio Personality of the Year, where Phin Adams, an undergraduate from Cambridge University's Cam FM, takes on veterans Alan Robson, Danny Baker, Johnny Vaughan and Nick Ferrari"
Phin currently has 95 followers on Twitter. Gold place winner Danny Baker has 325,000.
Thank you to everyone for your kind messages. BRONZE at the @radioacademy awards. Words cannot describe how happy I am. And breathe.

— Phin Adams (@phin_adams) May 13, 2014
Adams has established himself on the student radio scene through a cheeky and enthusiastic personality, interviewing the likes of Rowan Williams, Quentin Blake, and Alistair Campbell.
He changed his name to 'Pop Man' by deed poll as part of an on-air challenge, and will graduate with it unless he plays every number one from 1950-2014 before graduation. It's taken him the past six months just to get to 1970.
Emma Clement, station manager of Cam FM, said "This is like the Oscars for radio. It's so exciting for Phin, and for the whole station."
Speaking to us soon after the results, Phin was elated:
"It happened so quickly I barely had time to take it in. Chris Evans raced through the nominations and within seconds it was announced.
"A strange moment. Months of anticipation but announced in seconds. I wanted to scream but five minutes after it had sunk in!"