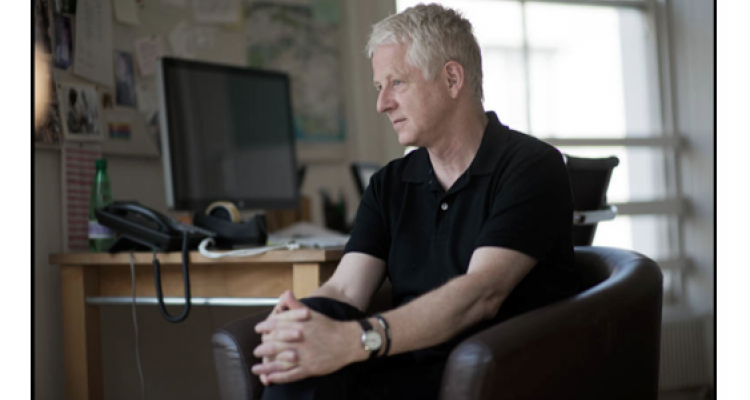 Tab Meets: Richard Curtis – "I didn't want to cast Hugh Grant"
ANNA WILMOT chats to Richard Curtis about how to be a successful filmmaker, love, and the mysteries of casting.
| UPDATED
about time
festival
Films
Four Weddings And A Funeral
hugh grant
love
love actually
notting hill
Richard Curtis
romcoms
script
Watersprite
writing
"Always write about what you know."
Richard Curtis is a legend. He is the writer and director of Britain's best-loved rom-coms (and the majority of my favourite movies), such as Four Weddings and a Funeral, Notting Hill, and Love Actually.
He begins by recalling the first time that he ventured out to L.A. to meet with a director and producer who were interested in turning his screenplay into his first feature film. The film was called 'Four Eyes and Fat Thighs' – apparently inspired by memories from when he was ten and used to put his hands beneath his thighs and pull them in when he sat down to make them look less chubby – and he claims that the title is all that survived from that first, eventually disastrous, attempt at screenwriting.
Realising that he did not know how to write about Americans, he ended up having a sort of nervous break down and spontaneously flew home, deciding in that moment that he would only ever write about what he knew, leading him on to write very personal English films, and he strongly advises any budding young filmmakers to heed this advice.
He describes his style as 'very autobiographical'. Like many of the characters he writes, he comes across as a sort of hopeless romantic, recalling the first time he fell in love:
"I was seven and her name was Tracy Thompson. I actually stole a ring from my mother's jewellery cabinet to give to her, but she threw it out the window."
Things didn't drastically improve for him when, at the age of 20, he fell in love with a women who broke his heart:
"It took me five years to recover from, and I think that all of my films have really been an attempt to win her back… Even though the last time I saw her she asked for £10,000. To be honest, I owe her a great deal more than that."
Next, he talks about his casting for Love Actually and whether he wrote any of the characters for specific actors: "I wrote for Hugh Grant and Emma Thompson, but not the others. In fact, the great casting surprise of that film was Bill Nighy."
When it came to the first read through of the film, they had whittled their choice down to two extremely famous actors to play the part of aged rockstar, Billy Mack, both of whom were too famous to audition but would have to be offered the part. Curtis asked his agent to pick someone who would be good for the read through, while he was deciding, but who he wouldn't want to cast, and she suggested Bill Nighy.
"It was perfect. I hated him. He's kind of the annoying, lefty type of whingy actor."
But during a 'magical' read through, Curtis had to admit he was perfect for the role and he has been in everything he has written since: "Casting is such a mystery."
Finally, I ask him about what it was about Hugh Grant and Domhnall Gleeson, the 'ginger Hugh Grant' who stars in his most recent movie, About Time, that made him choose them so frequently.
"I didn't want Hugh Grant originally. I thought he was too posh and too handsome, but I was outvoted and obviously I see now that I was wrong".
Really, he liked them both simply because they were funny: "Auditioning for Four Weddings and a Funeral was incredibly demoralising – we saw 70 people and Hugh was the first one to make us even smile, it's like there wasn't a joke in the film."
He also says that Domhnall is simply just a profoundly sweet and intelligent young man: "Hugh is not profoundly sweet. He is very clever, but he is not very sweet, he just plays it well. That being said, he is literally the funniest person I know and we get on very well.
"I remember one time on the set of Notting Hill actually, I was trying to give directions to Hugh Grant but the director thought I was getting overly involved so I struck a deal with Hugh's hair stylist to send him my notes between takes."
"We had repeated crisis meetings with the executive team trying to fire him because 'he kept breaking the rhythm of every scene and causing Hugh to do it differently each take'."
"I had to fight fight fight to keep him!"