The Perils of Online Shopping
This week we have newcomer DAHABA, who confesses her weakness for online shopping, and the Editors' picks off online retailers ASOS and YOOX.
asos
barney couch
Cambridge University
editor's choice
fashion
online
oxford university
sale
shopping
YOOX
There's nothing quite like the euphoria you feel when there is a brand new, unopened, shiny parcel waiting patiently for you in the porter's lodge.
Nothing can dampen that feeling. Not even the fact that, realistically, you will have to compromise on necessary commodities in order to afford your parcels of decadence. No more Taste the Difference orange juice, no more buying friends at Cindies with vast quantities of Jagerbombs.
My weekly ASOS shops used to thrill me. That was until I was forced to carry my backpack to the porter's lodge in order to avoid the disparaging looks the porters shot when they noticed me approaching the desk. My friends mock me as I dine on bread and water. "It's not an addiction!" I want to scream, "IT'S 70% OFF – I'M BASICALLY MAKING MONEY!"
It's okay for them to tease me; my clothes are my identity. They form a protective shield that I hide behind during classes and supervisions. "It's okay," I reason with myself as she confidently explains her theories. "Your shoes are nicer than hers." My supervisor's sarcastic comments slide off my Chloe bag. I'm fabulous.
Fabulously broke. However much I try to reason with myself, I cannot hide the fact that I, time and time again, fall into the trap of online shopping. Millions of consumers are lured by constant sales and we are often inclined to purchase items of clothing designed for members of the opposite sex just because it was 'only a fiver'. Convinced that we are saving money, we spend ostentatiously, indulging ourselves beyond belief.
The common rationale is that we will return the goods if they don't appeal to us in person – why would we keep them if they didn't fit? Speaking from personal experience, few ever do. The unwanted "not my size"/"not my style"/"not what I expected" items just perch with the elephant in the corner of the room, accumulating dust together with my unopened bank statements.
An extreme example would be my quest for a suitable May Ball dress. An experience most girls, and some boys, can empathise with. We locked eyes. I stared, it shimmered. My eyes flickered to the price tag: £150. For any other piece of material I would have scoffed and marched away. This was different. This was the one. I greedily tore dress after dress from the racks, frantically searching for my size, but to no avail.
Suddenly I thought, "what about eBay!" My heart sank when I saw the going rate with a minimum of just under £400—even I could not justify that. My fingers trembled and I silently thanked Santander's generous overdraft. Just as I was about to doom my credit rating to hell, our sporadic WiFi decided to take a nap. Divine providence or dodgy Internet provider? Either way, today I am thankful.
SYKE! Of course not, ASOS has got a sale on right now…
EDITORS' PICKS
Here are some of the editors' picks from ASOS and YOOX. We've found some great deals, and for those of you with more dough in your pocket (and we know you're out there), we've slipped in some cheeky treats.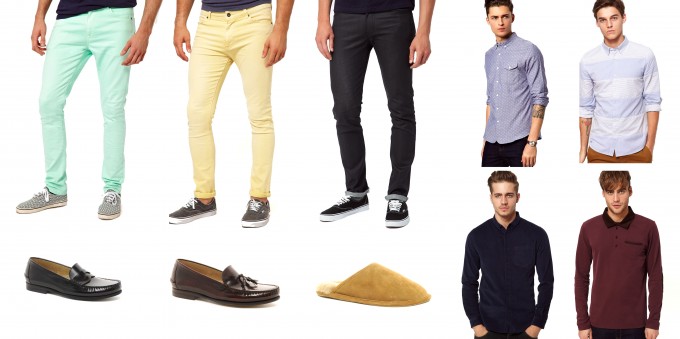 ASOS Skinny Jeans £10, ASOS Super Skinny Jeans £12, Levis Line 8 Jeans 510 Skinny £32, Ben Sherman Saddle Loafers £51, Ben Sherman Tassel Loafers £59, Drapers of Glastonbury Shearling Slippers £27, ASOS Polka Dot Shirt £15, ASOS Stripe Oxford Shirt With Button Down collar £14, ASOS Cord Shirt £17, Selected Long Sleeve Polo Shirt £17, ASOS Skinny Fit Suit Jacket in Gingham Check £41, ASOS Skinny Fit Suit Trousers in Gingham Check £18
ASOS Denim Jacket With Bleach Wash £20, ASOS Bomber Jacket With Acid Wash £20, ASOS Double Breasted Tuxedo Suit Jacket £47, ASOS Slim Fit Tuxedo Suit Trousers £20
We Are Handsome Traveller Scoop One Piece Swimsuit, £214, Motel Crackle Bodycon Dress, £20, ASOS Fringed Suede Leather Jacket, £130
Asos Cat Eye Sunglasses, £10, ASOS Half Frame Kitten Round Sunglasses, £12, ASOS PORTOBELLO Platforms, £30, ASOS Sheer Stripe Sock, £4, ASOS MUSIC Metallic Flat Shoes, £65, ASOS HERCULES Heeled Sandals, £45, ASOS MAXWELL Peep Toe Flat Shoes, £45, Cheap Monday Stomp Heeled Sandals, £75, Cheap Monday Leather Layer Leather Ankle Boot, £135 
Just Female Capetown Dress, £28, Motel Midi Dress, £32, American Apparel Polka Dot Scoop Back Dress, £25, Vero Moda Mini Skirt With Mesh Overlay, £20
MM6 by Maison Martin Margiela Necklace, £44, ASOS White Dungaree Skirt, £22, Cheap Monday Melinda Dress Exclusive to ASOS, £40, Cheap Monday Top, £40, ASOS Sleeveless Boyfriend Shirt, £30, Antipodium Reflect Shirt, £169, Antipodium Kraftwork Dress, £120, Antipodium Army of Me Dress, £98
Marc Jacobs ballet flats, £69, Marni closed-toe slip-on, £109, Palladium high-tops, £34, Sneaky Sneakers low-tops, £35, ADIDAS SLVR, £69, Chloé Sandals, £145
Images by Barney Couch