What's On At The Theatre
FRANCESCA HILL and JAMES MACNAMARA are the guardian angels here to guide you through the best and worst of what's on this week.
ADC
Hill
macnamara
the tab
theatre guide
The Cambridge theatre scene can be a little intimidating for the uninitiated. But don't panic, because our new weekly guide is here to point you firmly in the right direction.
Bluebird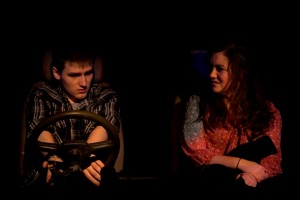 Corpus Playroom, 7pm 22nd-26th January, £6/£5
"Brilliant writing and brilliant acting and a feeling of quiet private devastation" set this rare 5-star production about city life apart. We've all indulged in deep-and-meaningful chat with a cabbie: what's not to love?
Killing Other People
Corpus Playroom, 9.30pm, Tue 22nd – Sat 26th January, £6/£5
J-Mac saw this play and still doesn't know exactly what to make of it. (It was so indescribable he wouldn't even let Francesca choose a quotation for it.) However, Michael Campbell has definitely got talent; if you have a free late evening go and check out this new writing. Big ideas lie within.
Enigma
ADC Theatre, 7.45pm, Tue22nd – Sat 26th January, £10/£8
Our reviewer wasn't convinced by this "patchwork of confused ambitions", thinking that grand ideas distracted from the actual dancing. However,  it seems many readers disagree. If you're serious about dance, consider giving it a go, but if it backfires don't say we didn't warn you.
Yellow: A New Sketch Show
ADC Theatre, 11pm, Wed 23rd – Sat 26th January, £6/£5
Our reviewer's enthusiasm knew no bounds, calling it an "innovative, insane, must-see sketch show". Matilda Wnek and co. do indeed make up a large proportion of Cambridge's primo comic talent, so that all sounds fairly plausible to us.