We tried Asda Bedminster's viral England football pizzas and they're a thing of beauty
This really is the peak of English culture
Asda Bedminster have launched personalised England pizzas in anticipation of tonight's Euro 2020 semi-final against Denmark. It's fair to say, this is English culture at its finest.
For the meat-lovers, you can choose from pizzas that collectively spell out 'It's coming home' in pepperoni. If cheese is your choice, you can also get your favourite England player's shirt created out of a lovely (suspiciously plastic-like) cheese on your pizza.
Since being shared on Twitter on Monday, the picture of the pizzas has been retweeted over 1,200 times and got more than 16,000 likes.
Ahead of the Denmark game this evening, The Bristol Tab wanted to see if they were worth the hype. So with Three Lions blaring in my ears and two England flags face-painted onto my cheeks, I went down to Asda Bedminster to speak to the artists themselves, who've been doing God's work all week creating these masterpieces.
At just £4.50, it's no surprise the England pizzas have been a huge hit. When I arrived at the pizza counter, they had completely sold out.
Worried I had wasted this long trek south of the river from my humble Redland abode, my worries were eased when I was told they can make England pizzas to order anytime.
It doesn't matter how popular they are, they won't sell out. If you go up to the counter and ask, they will make whatever customised England design you want.
Mind you, they are popular. When we spoke to one of the staff, he said they had already made a dozen that morning. Asda Bedminster plans to keep making them as long as England are in the tournament and that if they go through to the final tonight, they'd prepare extra stock overnight to meet demand.
As I was in a rush, I didn't order Alexander-Arnold to be spelled out in pepperoni and instead went for a far more economical choice with Kane. Despite some ridicule from the checkout staff who thought the whole concept was ridiculous, I raced back to my house to see how it would hold up when cooked.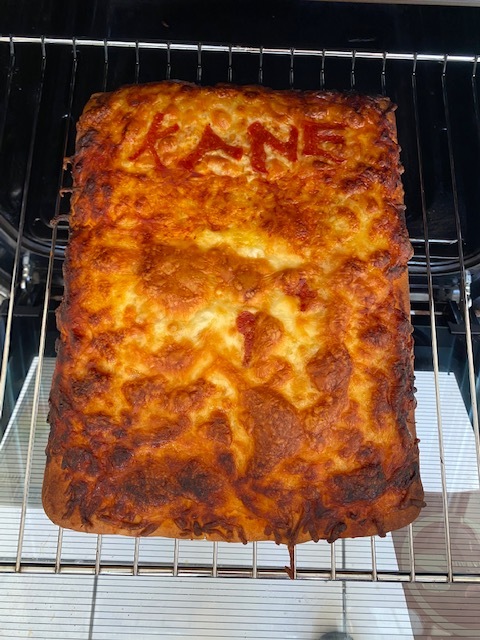 In all the excitement, the pizza was slightly cremated. However, once  I got round the burnt parts, and got to experience the unique taste of pepperoni shaped 'K' and 'A' of Kane in my mouth, I was sold. Don't get me wrong, Italians are probably going to be insulted by this excuse of a pizza, but that's what makes it so beautiful.
No one can quite believe how well we are doing at the Euros and this plucky pizza epitomises that.
Bristol Uni students, be warned, it is a trek compared to Clifton Down Sainos. You're also likely to to get lost in it because it's twice the size. However, we can't recommend enough going down to Asda Bedminster and getting yourself an England pizza.
It's what Gareth and the boys would want you to do.
Related stories recommended by this writer:
• Quiz: Answer these 11 questions and we'll tell you what type of Bristol boy you are
• Bristol Uni professor tells the nation he loves Ibiza and festivals live on TV
• These are the most underrated pubs in Bristol according to Bristol students