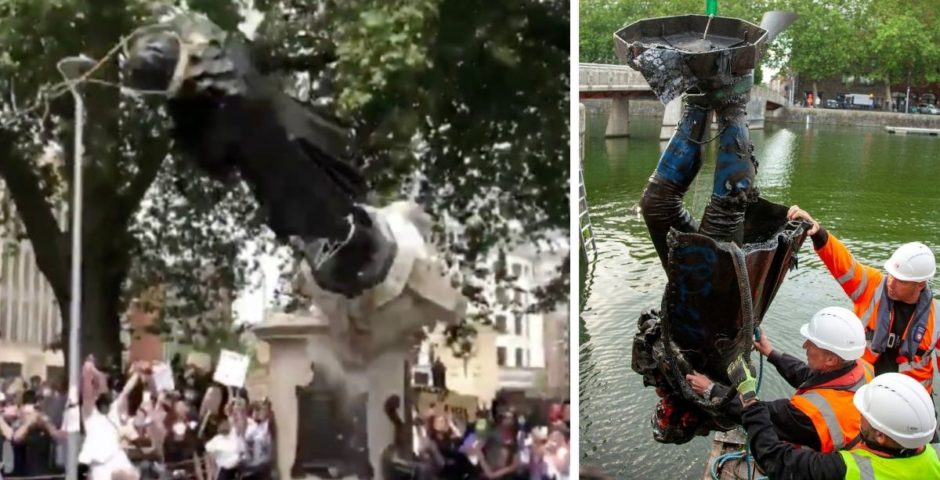 Graffitied Colston statue to go on display in Bristol museum next week
The temporary exhibition opens at M Shed alongside a survey asking Bristol citizens' views on the future of the slave-trader's statue
Edward Colston's recovered statue from Bristol Harbour will go on display next week in M Shed museum as part of a temporary exhibition from the 4th June until 5th September.
The exhibition coincides with an online survey asking citizens' views on the future of the statue.
Black Lives Matter protestors tore down the statue of the slave-trader last summer after thousands had protested through the city against police brutality and racism against black people following the murder of George Floyd.
The statue will be placed in M Shed alongside a selection of Black Lives Matter placards from the protest on 7th June as well as the bike tyre that emerged attached to the statue when it was recovered from Bristol Harbour.
Marvin Rees, Mayor of Bristol, said: "The 7th June is undoubtedly a significant day in Bristol's history and had a profound impact not just on our city but also across the country and around the world.
"The Colston statue: What next? display at M Shed is a temporary exhibition which aims to start a conversation about our history".
He went on to urge Bristolians to share their opinion about the future of the statue via the online survey launching at the same time, saying: "The future of the statue must be decided by the people of Bristol".
Feedback from the online survey will inform the We Are Bristol History Commission's recommendation on the long term future of the Colston statue later this year. The commission was formed last year to help Bristol better understand its history and is made up of local academics from areas including history, philosophy, arts and culture and trade unions.
Bristol Uni history professor and chair of the commission, Tim Cole, explained: "This is an opportunity for everyone to have your say on how we move forward together. The display is not a comprehensive exhibition about Colston or transatlantic slavery in Bristol, but it is intended to be a departure point for continuing conversations about our shared history".
The exhibition opens next Friday 4th June, tickets are free and can be booked here. As well as the survey being released online, the exhibition will also be available in an online format for those who cannot visit M Shed.
Featured Image: @SWNS
Related stories recommended by this writer:
• All these Bristol locations got their names from slavery and you didn't even notice
• 'Colston Four' appear in court amid protests and arrests
• Exclusive: We spoke to the man who pulled down the Colston statue in Bristol