We visited the new and improved Senate House and it was well worth the wait
The new study space and food hall opens on Monday and there's no need to book
Senate House reopens next Monday, 17th May, with a new collaborative study space and massive food hall and it's fair to say we are impressed.
Named the "SU Loft", the sleek new space gives students a relaxed place to work. From round tables to benches, sofas and even a projector, the space is adaptable to whatever type of work you want to do.
The ground floor has been transformed into "Marketplace" food hall. Marketplace comes with a breakfast building station, salad bar and a pizza ordering machine. Students will be able to walk between it and the new Beckford Bar (opening June 21st) which is also on the ground floor.
Bristol SU Loft
The SU Loft is on the Upper Ground Floor of Senate House as you walk in. You'll see it straight away because it's like walking into an Ikea showroom. Plans for the new study space have been in the works for over two years. The SU originally hoped to open the space at the start of this academic year but the impact of COVID has delayed construction work.
The study space also comes with a kitchen. There's access to complimentary tea and coffee as well as a fridge to store your food. Microwaves will be installed once COVID rules allow.
The study area has lots of different plants as well as fresh herbs students are welcome to use for their food.
Bristol SU say they want the space to be used as students wish. All tables are equipped with a QR code that students can use to send in their suggestions and feedback.
There is no need to book a space, students can make use of the SU Loft from 9am on Monday.
Marketplace food hall
Marketplace is the latest Source cafe on campus. It will however, serve the largest variety of food, catering to all times of the day as well lots of vegetarian and vegan options.
Marketplace comes with its own exclusive bench area to eat but the far larger atrium outside is open to both students who have bought food from Marketplace as well as those bringing in their own food and drink.
Much like the Loft upstairs, the atrium is full of plants as well as this centrepiece tree.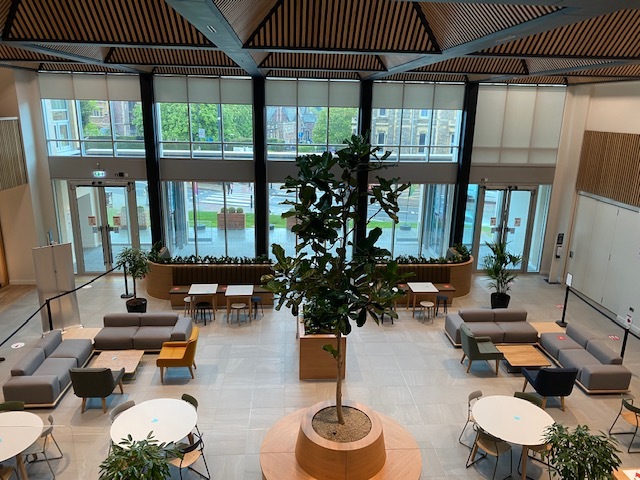 The atrium should help solve the issue of not having enough space on campus for students to eat their lunch. The area can also be used for students to catch up with friends and relax.
Like the Loft, Marketplace will be open from Monday and there is no need to book.
The Beckford
The Beckford is a new bar set to open on the 21st June in line with government guidelines. The bar is named after Carmen Beckford, one of the founders of St Paul's Carnival and Bristol's first Race Relations Officer.
With a separate entrance to the main Senate House entrance, The Beckford will stay open until 11pm when it opens in late June.
With Thatchers and Carlsberg on tap for a very reasonable £2.90 per pint, staying hydrated won't be an issue. The bar is also equipped with a Mcdonald's style pizza ordering machine to help wash down your drink.
The redevelopment of Senate House is impressive. The Loft and Marketplace help solve two problems students have long faced on campus, the lack of collaborative study space and the shortage of places to eat food. With an expanded SU Living Room opening in September, Senate House is both a shining example of what the SU can achieve and what disgruntled students want to see desperately more of from their SU.
Related stories recommended by this writer:
• Meet the Bristol Uni student who wrote her dissertation on Taylor Swift
• Why is Bristol Uni putting out awkward Twitter videos without asking if we're okay?
• Make tuition fee refunds easier for students, Bristol SU demands