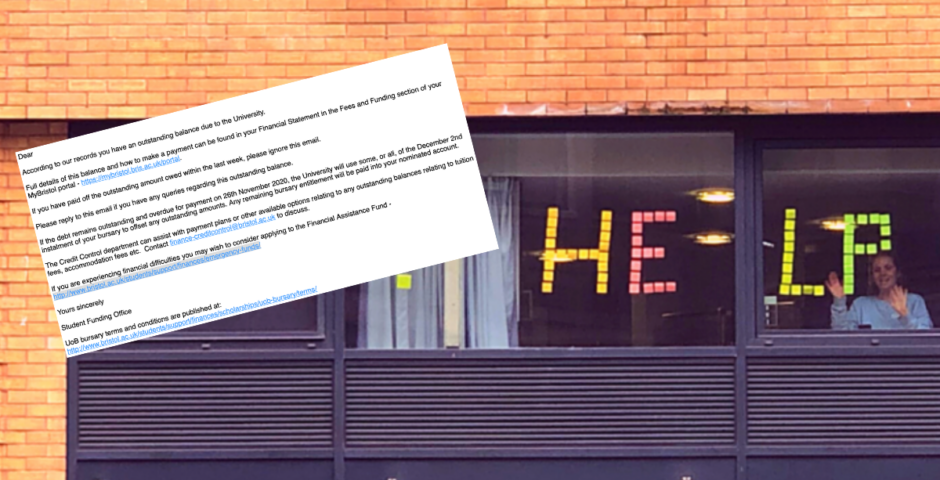 Bristol Uni threatens to take unpaid rent out of student bursaries
This is due to unpaid rent because of the rent strike
Bristol Uni made a u-turn 24 hours after publication of this article. You can read about the u-turn here.
The University of Bristol emailed first year students in receipt of bursaries to inform them if rent is not paid, the money will be deducted from their bursaries, due to be paid out on December 2nd.
The university has given students on rent strike until the 26th November to pay their rent, in a decision that has been labelled "shameful" by rent strikers.
Over 1,200 students are currently on rent strike, withholding over £1 million from the university. Ruth Day, Student Living Officer at Bristol SU, told The Bristol Tab: "I'm going to be speaking to the university as a matter of urgency. I think that this is completely unacceptable. This is likely to particularly effect Widening Participation students and will be an additional worry for students who are already struggling financially."
Rent strikers could not say exactly how many students are affected by this decision, but said "there's a lot of students who've received this email in our group chats".
The decision is being particularly criticised because of the impact that it will have on students from low-income backgrounds, with James Fishwick, Chair of the Widening Participation Network, labelling the decision "disgusting and shameful".
Fishwick told The Bristol Tab: "As an institution [Bristol] has done lots to create a more accessible university for students from all backgrounds, particularly those from lower socio-economic backgrounds whom I represent. By taking the action they have, the university has separated students based on their financial situation.
"It has placed many bursary students who have decided to take part in this action in a difficult position. Effectively removing their right to protest for fear of not being able to have enough money to live on. I would ask the university to think again on this, and call on them to issue an apology to all students.
"Any students facing financial difficulty should approach the financial hardship fund."
Dr. Elspeth Van Veeran, a Senior Lecturer in Political Science, wrote on Twitter: "How is this in any way consistent with the professional values we are supposed to have?"
In a letter to rent strikers, the university agreed to follow their standard procedure "in line with our policy for student debt collection", however nowhere in this procedure does it say that bursary money will be used in case of non-payment of rent. In a statement to The Bristol Tab, the university said: "The terms and conditions of bursaries clearly state that if a student owes the University money then the bursary will be used to pay any debt that is owed."
Two days ago, the university offered students a 10 day rent rebate, but only if full rent is paid by the 1st February 2021. The university says it is "to reflect the earlier date that many of you will now be leaving university accommodation" as a result of government Covid guidance for Christmas travel home.
A spokesperson for the University of Bristol said: "We fully acknowledge how stressful and challenging the current situation is, both for our students and everyone who is being impacted by the pandemic.
"Bursaries are provided by the University to help ​students cover expenditure such as rent. The terms and conditions of bursaries clearly state that if a student owes the University money then the bursary will be used to pay any debt that is owed.
"This is the case every year and applies to all students who have outstanding debt.  In addition to paying the bursary to students, we have communicated details of our Financial Assistance Fund which is also available for students who are experiencing financial difficulties.
"We have had regular discussions with Bristol Cut the Rent and the Students' Union, during which we have been clear that students must comply with the tenancy agreements they have signed.
"We have always pledged to act reasonably, reviewing our position as the national picture with Covid-19 changes. Although students are facing some necessary restrictions to safeguard their health and the health of others, we have been as flexible as possible and believe we've gone above and beyond to provide support.
"We are providing a 10 day rent rebate for students living in University accommodation in response to the Government's directive for teaching to be moved online between 3 and 9 December, allowing time for students to travel home safely should they wish to. This mirrors the rent rebate we offered in the summer term, when teaching was moved online during the first national lockdown.
"It is costing significantly more to operate our halls this year, due to later arrival dates, increased security and the additional support offered to students who are self-isolating, who we are providing with cleaning supplies, laundry services and free food boxes.
"We do not make a profit from student rent and all accommodation fees are used for operating, maintaining, and improving the residences. This includes 24/7 pastoral and wellbeing support."
Related stories recommended by this writer:
• Bristol Uni offers rent strikers 10 day discount – but only if they pay up
• Bristol students warned of 'dangerous batch of ketamine' going round the South West
• Bristol Uni confirms students will be mass tested for Coronavirus