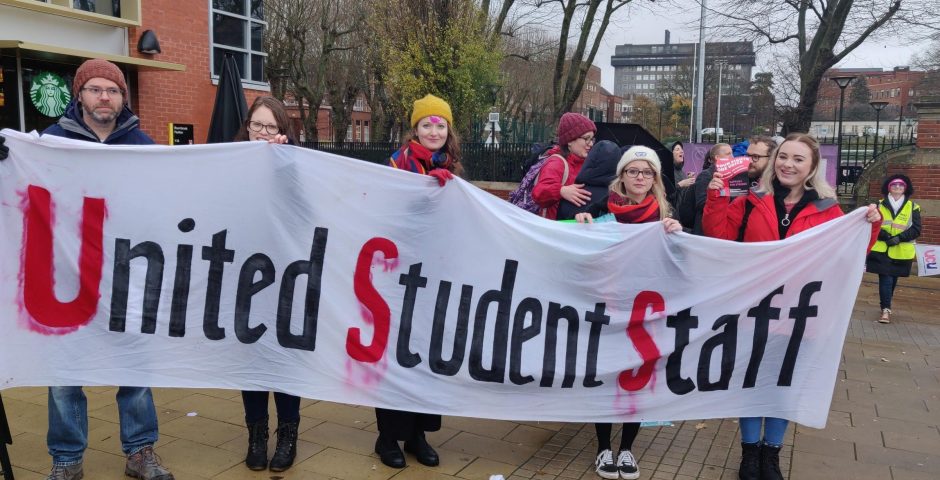 We spent the morning with the striking lecturers and here's what they had to say
'Where is all the money actually going?'
Today marks the fourth day of the UCU strike action at the University of Birmingham, and hundreds of lecturers have walked out of the uni in order to join the picket lines outside of campus.
UoB, much like 59 other universities around the UK, is currently in the midst of eight days of sustained strike action from its lecturers. For staff, issues surrounding pensions, gender and ethnic pay gaps, the casualisation of staff contracts and workloads have reached breaking point.
The Tab Birmingham spoke to the staff and students out on the pickets in order to understand what it's really like, ask why students should care, and how they can get involved.
Dr. Bodo Winter, lecturer in the Department of English Language and Linguistics
"We are here for many different reasons: one is gender differences in pay – at the University of Birmingham women are paid 19.4% less than men, which is not acceptable. We are here for pay in general, because our pay has not been increasing, whilst the pay of the heads of the university and the managers has been increasing like crazy, and that's just not fair.
"I'd actually rather be teaching, that's the thing to mention – I love the stuff that I'm teaching. But I choose to be here because I think it's kind of like a bigger fight, where we need to protect the university from becoming a sweatshop. If we are always working more and not at some point fighting back, the working conditions are not going to change. And then that will actually also be bad for the students, because if their lecturers are overworked, they are not going to get a good education.
"In the long run, the student's can only stand to benefit from this, [because] where is all the money that the university is making actually going? The students are not feeling it and the staff are not feeling it, so where is the money?"
Dr Rehana Parveen, lecturer at the University of Birmingham Law School
"There's lots of things I'm concerned about. I feel so strongly that I'm leaving my teaching and coming out here and I'm not being paid for it. But more importantly I'm really concerned about my students, that I'm not teaching them this week. I'm on a teaching contract and I love teaching.
"[For students who might not understand why we're striking ]- you enter into the world of education and it feels very bubble-like, but you're still part of the real world, you're still part of inequality, you're still part of oppression. Part of education should be that you understand the reality of how your education has been commoditized, but also you're going to be entering into worlds of work where this is a reality.
"I think everybody has to decide, not just about what sort of education they want, but what kind of human being they want to be, what kind of participation they want to take in the world. I think it's beyond just what you're learning in your classrooms. "
Dr Ben Warwick, lecturer at the University of Birmingham Law School
"To be honest I kind of understand that students are agitated because students care about their education. But what I want to say to students is that we care about your education, that's why we're here. What we are saying to students is, you know when we're marking your essays at 3am because we've run out of time, c and that we want to give you. And so that's why we're here, we're here to make sure your education improves and that people who come after you will have a better education as well.
"Educate yourself, have a look on Twitter and see what people are saying about the strikes, see what's happening at this university. Women in this university are paid 19 per cent less than men, that's crazy. That's completely ridiculous. And so those are the types of things we want people to learn about and we think students should be educating themselves about."
Niall, PhD student in English Literature
"I think it's important to show solidarity with the staff that are usually teaching us, because what they are doing really is protecting our futures as academics. As a PhD student, I really want to go into academia, but unfortunately the precarity of the job market can exclude people from [the field]. There needs to be more equality, more accessibility in higher education – for people from working class backgrounds, BAME, and gender as well.
"It's important to be on the pickets in particular, because they need the numbers, they need to show that there is support there. If there's no one on the pickets, there's no one to tell people what's going on. On the front lines of the campus, there's no one to address the student body in particular. And so it's a show of force so the higher-ups, who only really know how well supported this is by the people who attend the picket lines."
Phoebe and Emily, University of Birmingham Student Workers (UBSW)
Emily: "To me I think it's quite irresponsible to demand the service when our lecturers are overworked and underpaid, not had a pay rise which with inflation equates to a 20 per cent pay cut. We cannot keep asking these staff and these lecturers to keep doing more and more for us but not give anything in return. It's so, so important we have to stand here in solidarity because there are really important changes that need to be made to reform our higher education sector. At the end of the day, their working environment is our learning environment so if they're not happy, we won't be happy."
Phoebe: "If you can afford to, don't cross the picket line because it's really important we show the university that we want to stand with our lecturers – it makes a really big impact and lecturers really appreciate it as well. There's loads of information on social media if you go out and find it like our twitter account, @birminghamubsw, we post stuff all the time. UCU has been great for handing out information to students, and I think just read those posts, educating yourself.
"It's really important we're out here with them, because their future is our future as well."