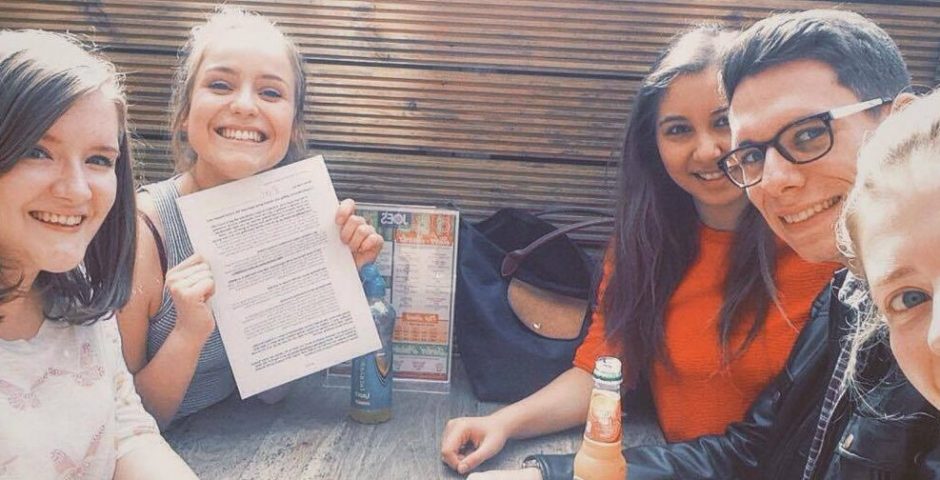 B-Eat society is coming to UOB
They aim to fundraise for the biggest eating disorders charity in the UK
b-eat
guild of students
the tab
the tab bham
the tab birmingham
the tab brum
university of birmingham
UoB
A group of students have set up a society at UoB to help tackle the issues of eating disorders amongst uni students.
Students Catherine Spencer, Emily Brown, Brittany Howe, Oceane Bonnet-Conroy, Juliana Figueiredo, Christian Frank, Catriona Simpson and Chloe Harrington have successfully set up the B-Eat society, which was approved by the Guild a few months ago, with the aim of fundraising for the UK's biggest eating disorders in order to raise awareness of the presence of eating disorders on campus.
Catherine Spencer, the president of the society, told the Tab the motivation behind starting the society was because: "The charity is very close to our hearts. With over 750,000 people affected by an eating disorder in the UK, it is definitely something that should be spoken about more. We want to start these conversations, and to let students know where they can find help- this was really our motivation behind starting the society."
She added that the aims of the society would be not only to fundraise for the B-Eat charity, but also to "signpost people to the services that this amazing charity offer."
"B-Eat is not government funded, so it's really important to raise money so that they can continue the work they do."
Currently, the society are in the process of planning some exciting events for the upcoming academic year, especially 'Sock it to Eating Disorders Week' in February, a whole 5 days of events aimed at fundraising for B-Eat and raising awareness of their cause.
Speaking about eating disorders, Catherine said: "There are a lot of misconceptions about eating disorders in our society that we want to challenge. If you are concerned about yourself or someone close to you, irrespective of the situation, there is hope, help and people who understand and care. Be sure to check out B-Eat's website if you would like more information and advice!"
She added the following message on starting societies: "If you have an idea, a passion or something you want to change on campus, then I cannot encourage you enough to start your own society. There is so much support available from the guild and from other students, you really will not be alone. Talk to others- chances are if you think it's a great idea, someone else will too!"
The Tab wishes Catherine and her team the best of luck with the society next year, and in the meantime, if B-Eat is something that you are interested in being a part of, feel free to drop them a message or come and find them at Freshers' Fair during Freshers' week.
Follow the Facebook Page B-Eat UoB to keep updated with the society!