Measure for Measure: Next Shakespeare play will have to Measure up
Article 19 performed a refreshingly modern adaptation of the seldom performed play
article 19
birmingham
drama
measure for measure
play
shakespeare
theatre
Director Ed Loboda took Shakespeare's Measure for Measure out of its traditional setting and threw it into a modern corrupted and political world. The overbearing presence of journalism from actor-audience interaction and a "media storm" of audio news reports and political announcements perfectly depicted this.
The problems facing the city's authorities in the play were chiefly drugs, drink and sex – all rife in the lead up to the impending election. The Duke, played by Chavonne Brown, carries out a plan to secure his position by placing his manipulative deputy Angelo temporarily in charge. Brown's mannerisms and confident stage command offered a powerful representation of a stereotypical political figure, while Maya Whatton portrayed his secretary Escala with effortless seductiveness.
Loboda and his fantastic cast handled the balance between the comedic and tragic elements of the plot very well. Danny Southern worked the crowd spectacularly as the crude and mischievous Pompey, as did his naughty side-kicks Mistress Overdone (Hannah Fretwell) and Froth (Benedict Churchus).
Danny Hetherington was brilliant in his comic portrayal of Lucio, who attempts to free his dear friend Claudio (Joe Madley). Madley's humble yet desperate characterisation begged audience sympathy, as did Chloe Rayner's portrayal of Julietta.
The city's wrongdoers were soon rounded up by the Provost (Jordan Chilvers), Lord Justice (Stuart Slingsby) and pompous prison guard Elbow played by Lizzie Sharp, whose physicality was highly entertaining.
Although the comedic value threatened to tip the comedy-tragedy balance at times, Olivia O'Neill maintained the play's poignancy with her captivating performance of the virtuous Isabella. In her appeal to Angelo for her brother's freedom, Sam Forbes reminded us of just how cruel the Duke's deputy could truly be.
Yet Angelo receives his comeuppance, and his hypocrisy is brought to public shame by his lover Marianna (Phoebe Indigo) whose sincerity and fight for justice made for a happy resolution.
The set design evoked a sphere of tension, encompassing the audience as well as the actors through the image of the weighing scales that governed the space. The raised desk facing the thrust audience created a theatrical area in which authority could be challenged, and this worked extremely well.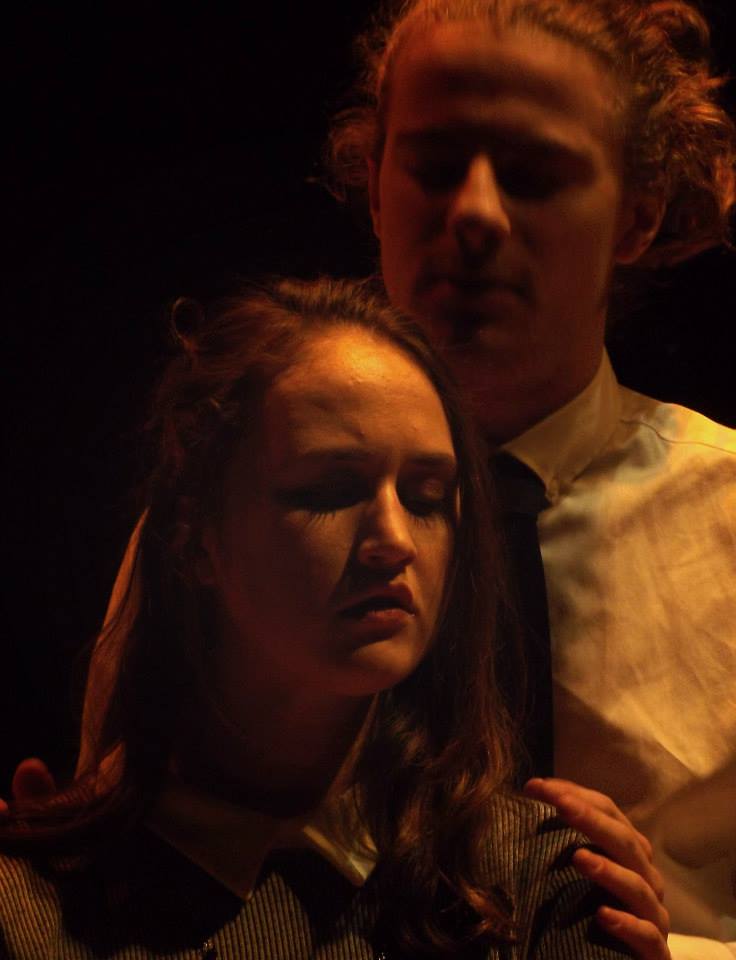 Credit must also go to the lighting and stage management team for the countless photographic moments provided, with the purple and black colour scheme running through set and costume added contemporary sophistication.
Initially the decision for the Duke to adopt the traditional disguise of the friar seemed at a disjunction with the modern direction, yet it worked effectively to create an air of intrigue to Brown's performance and united the issues explored in this modern rendition with those in Shakespeare's time.
Ultimately, the performance left the lasting message that socio-political issues and behaviours in Shakespearean England are still resonant in today's society. Well executed by cast and crew alike, Article 19's seemingly ambitious venture was, overall, inarguably triumphant.