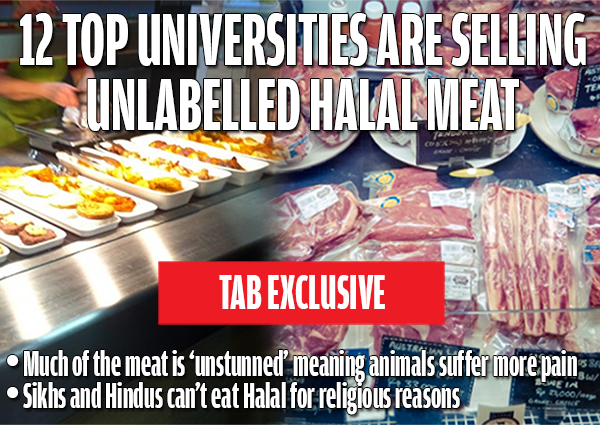 Top universities including Oxford and Manchester secretly serve unstunned Halal meat to students
Oxford, Liverpool and Manchester among unis failing to warn students their meat may be sourced using the controversial practice.
exclusive
halal
muslim
sikh
university
• 12 top universities serve students halal meat without telling them.
• Much meat may be "unstunned" meaning animals suffer more pain.
• Sikhs and Hindus can't eat Halal based on religious grounds.
Some of the country's top universities are serving controversial Halal meat to students without telling them, The Tab can reveal.
Oxford, Manchester and Durham are among a group of 12 top universities serving the food without any labels to tell students they are eating it.
And suppliers to Liverpool, Manchester, Oxford, Durham, Lincoln, Exeter, Cardiff, Sheffield, Kent, Kingston, Birmingham and Northumbria appear to be in the dark about whether the animals were stunned before slaughter.
The practice was condemned as "appalling" by leading vets, Sikhs (who cannot eat Halal on religious grounds), and the RSPCA who called for universities to warn students if meat was obtained without stunning, because that method causes animals more pain.
Universities selling unlabelled Halal
The Tab sent a Freedom Of Information request to 126 universities, and only 25 responded. Of the respondents HALF are serving Halal without labelling or any consumer information.
At Manchester 85% of all meat served is sourced from unlabelled Halal slaughtered animals, and a third of Liverpool's meat is also slaughtered this way.
In March, Birmingham University introduced signs across campus after The Tab revealed all of its chicken and beef was unlabelled Halal.
Similar non-marked quantities are being served at 2 of 3 colleges at Kent, where 70% of all meat is Halal and at St Chads College, Durham, where all beef and chicken is slaughtered according to the practice.
At Sheffield and Exeter, all chicken is also Halal and served without labelling.
Among other universities serving Halal unlabelled, Cardiff, Lincoln, and Northumbria were also found to be serving significant quantities of the meat.
This practice is currently permitted under EU and British legislation, which stipulates that ritually slaughtered meat does not have to be labelled.
When The Tab contacted the universities' suppliers to clarify if their Halal was stunned, several said they served a mixture of stunned and unstunned, while others admitted they didn't even know.
A spokesman for 3663, which serves Kingston, Kent, Northumbria and Liverpool and is one of the country's biggest meat suppliers, said:  "Currently, we do not collect information on the method of slaughter."
Universities whose suppliers could all confirm their meat was from stunned animals have been omitted from this story.
---
Why we are publishing this story
Although there is some debate around the topic, many people believe it is unethical to eat meat from animals which have not been stunned before slaughter.
Those objectors are not just animal welfare activists, but also Sikhs and Hindus, who cannot eat Halal meat on religious grounds.
In a multicultural society, different groups' values need to be respected and exist in harmony.
There is absolutely no room at university for intolerance towards Muslims, and we do not believe that anyone should be denied Halal meat if they want it, but we strongly believe it should be labelled wherever it is served.
It is shocking that many suppliers don't know how their meat is produced, and as February's discovery of pork DNA in Halal meat showed, labelling and transparency are vital for both those who eat Halal and those who don't want to.
If meat is Halal, tell us.
If animals are not stunned before slaughter, tell us.
This is an easy problem to solve, and universities should set an example.
---
A request sent to Oxford colleges also revealed Lady Margaret Hall and Somerville were serving Halal meat without labelling.
Out of 35 Oxbridge respondents, only 2 did not serve Halal in any form.
However, many more universities may be serving non-stunned Halal meat, as was discovered at the University of Birmingham.
When one of the University's main suppliers was contacted following an investigation into meat supply, they admitted to supplying a mixture of both stunned and non-stunned, despite the University claiming otherwise.
The exposure of this scandal provoked outrage among Birmingham students, who were angered by what they considered a denial of choice.
Condemned
In a statement to The Tab, the RSPCA condemned this method of non-stunned slaughter, and the unethical practice of non-labelling being carried out at several UK universities.
A spokeswoman said: "Scientific research has clearly shown that slaughter of an animal without stunning can cause unnecessary suffering, and so we are opposed to the slaughter of any animal without first making it insensible to pain and distress."
She added: "Our concern has nothing to do with the expression of religious belief but with the practice of killing by throat cutting without pre-stunning.
"Universities should only be serving meat that is stunned prior to slaughter. We are calling for labelling to refer to stun or non-stun slaughter rather than a method of 'religious' slaughter."
This call for change in current legislation is also being actively headed by the British Veterinary Association.
President of the BVA, Robin Hargreaves said: "BVA is campaigning for an end to the practice of non-stun slaughter which compromises animal welfare at the time of death.
"We would like to see all universities taking a proactive approach on animal welfare and only sourcing their meat from abattoirs that pre-stun before slaughter.
"The situation in all of the universities where products from non-stun slaughter are being served unlabelled is exactly the reason that BVA has been so concerned about labelling."
Alex McGhee, President of the Association of Veterinary Students, was similarly critical: "The fact that students are consuming non-stun meat without their knowledge is appalling.
"While non-stun slaughter continues it is absolutely imperative for students to be able to make choices based on both religious and animal welfare grounds."
The BVA is currently running an epetition to amend current labelling laws, which has so far gained over 50,000 signatures in one week.
Watch Halal meat being made at Belgian slaughterhouse unconnected to any UK university (you may find these images upsetting):
Alongside widespread protest over issues of animal welfare, the nationwide university exposure has also prompted anger among Hindu and Sikh communities, who are unable to eat Halal meat due to religious reasons.
Dr. Rami Ranger, Chairman of the British Sikh Association said: "The consumers should and must know what they are buying.
"Labelling should be clear and in a user friendly language so that people can make a qualified judgement.
"If Muslims wish to have Halal meat, then it must be clearly marked so as not to cause offence to anyone else."
Several Sikh students at the University of Birmingham told The Tab they felt the practice puts the demands of one religious group above others.
Despite Muslim students only accounting for a fraction of university populations across the country, the decision to serve the majority of meat as Halal at universities has prompted many people to accuse university food services of exploiting current legislation, because Halal meat is cheaper and more economical.
When we compared the pricing range for Halal and non-Halal products, on average the Halal products were significantly cheaper.
In recent weeks the debate surrounding labelling meat products has erupted over Subway's decision to only sell Halal products, and the Daily Mail's controversial exposure of practices being carried out in UK supermarkets and  restaurants.
Following the uproar, Deputy Prime Minister Nick Clegg demanded for legislation to be passed that would require proper labelling.
Speaking on his Radio phone-in show, he said: "I think it is really about consumer information rather than some reaction to halal.
"I personally have absolutely no problem with eating a pizza with halal meat on it at all.
"It is a question of labelling. I think there should be more information.
"This is something which should be relatively straightforward, it is something that is entirely traceable."