BNOC 2014: Heat 3
The penultimate week sees four more BNOCs enter the fray, but which one is ticking all your boxes?
Another 4 names are striving for glory, get voting:
Torin 'Tozzer' Pocock
In the world of media moguls, the US has Murdoch, we Brits have Branson, but UoB can go one better with our very own Tozzer.
If you want the definition of Illuminati, just look up the Pocock- there are few places on Campus this BNOC hasn't infiltrated. His influence has spread from news to radio, and now even the Guild has fell into his clutches.
Former Deputy Editor of The Tab, there hasn't been an incident, riot, or scandal gone by, without Tozzer being in on the action, delivering the all important breaking stories to his eager audience.
But even when this pen pusher puts down the ink, his voice continues to resonate amongst us, with his show on Burn FM effectively taking over UoB's airwaves.
He even starred in Made In Chelsea this year, where he claims he taught Spenny "everything he knows."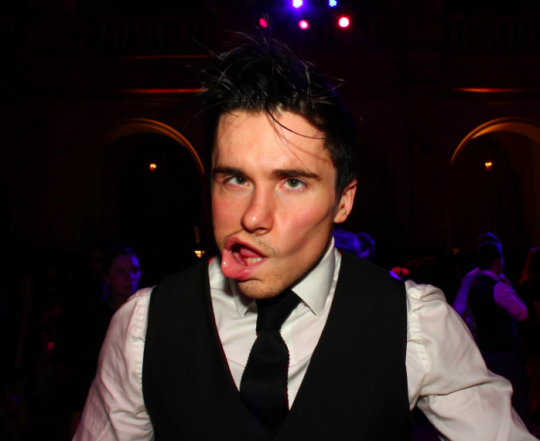 This rise to power has not gone unnoticed either, with Tozzer breaking down barriers to break some organic gluten free bread with the Guild.
In fact, according to our inside sources, those in the know refer to the "special relationship" as Poopycock.
Torin explicitly denies all claims of being Poppy's lap dog.
He's already newsworthy, but will Tozzer be making the headlines this year?
Greg 'Your Friendly Neighbourhood' Davies
Like a character from Marvel heroes, this big name has a burning desire to do his bit for the community.
You may well remember Greg's social exploits from last term, as he launched a huge PR campaign around Selly, delivering leaflets to every doorstep in order to add even more friends to his insatiable repertoire. Some may have called this needy and desperate… and indeed it would appear so. 
Now in his fifth year as a Chemistry student, it appears Davies has conjured up a real following amongst his idolising peers.
But it's during his coveted 11pm DJ slot at Seedy Sonics, that this Dancefloor Dominator has become UoB's ultimate crowd pleaser, belting out the two-step with his classic 'take it easy, keep it cheesy' take on life.
According to friends, in order to keep up with the rigorous demands of his fan base, Greg is most likely to be found singing Bon Jovi outside Urban Village, hitting the sun beds and gym, or handing out signed photos at the Learning Centre.
He's already pumped the mystery back into chemistry, aroused the hero in pheromones, but does Greg really possess the winning formula?
Jack 'Lusty' Collins
Whilst his mum may refer to him as Cutie Collins, in reality this BNOC has more in common with Charlie Sheen than Elmo.
He may be a placid Physics student by day, but when the night descends, Lusty transforms into a rampant romper in search of some alternative biology. He truly is viagra in human form.
According to one friend: "Jack is like a hound on the hunt in a nightclub, once he catches scent there's no stopping him. I don't know what they teach them in Physics but my god it must involve tenacity."
Even though Jack's darkest pleasures are often satisfied after a good night out, his voracious appetite needs to be constantly satisfied through his dabble in photography.
If you're a lady who's longing for some great snaps and an awesome shoot, Jack will certainly bring out your "beautiful" side.
He's already climbing on top of every woman in sight, but will this Hedonist manage to get his leg over the ultimate prize?
 Charlotte 'Cliff Face' Summers
This last big name is so on the edge of edgy, she's nearly falling of it.
Now in her fourth year, this out-there rebel is known for standing out from the crowd. A leader in all things alternative, she certainly isn't your orthodox BNOC.
Charlotte may be a student of Civil Engineering, but there's definitely nothing 'civil' going on in this trend-setter's wardrobe.
When she's not defying the laws of fashion faux pas, this Clapham socialite will only be found in Brum's edgiest nightclub venues. According to friends, Cliff-face won't be seen dead or alive in Seedy's due to it being far too mainstream, instead preferring the vibes of Spotlight and PST- places most of us have never even heard of.
As for the Guild.. let's not go there.
Just when you thought things couldn't get any more off-the-wall, friends informed us that when Charlotte isn't paving the way for her fellow radicals, she takes up the mantle as the ultimate Eco Warrior.
With public transport being far too conformist, she can only be found on foot, or whizzing round Campus on her vintage bicycle- she truly is a spectacle to behold.
She's already the definition of outlandish, but does she really have the edge over her competition?
As for the second heat results…we could say it was a close-run contest:
…but clearly that would be bollocks. The Library Hermit sails through to the final.