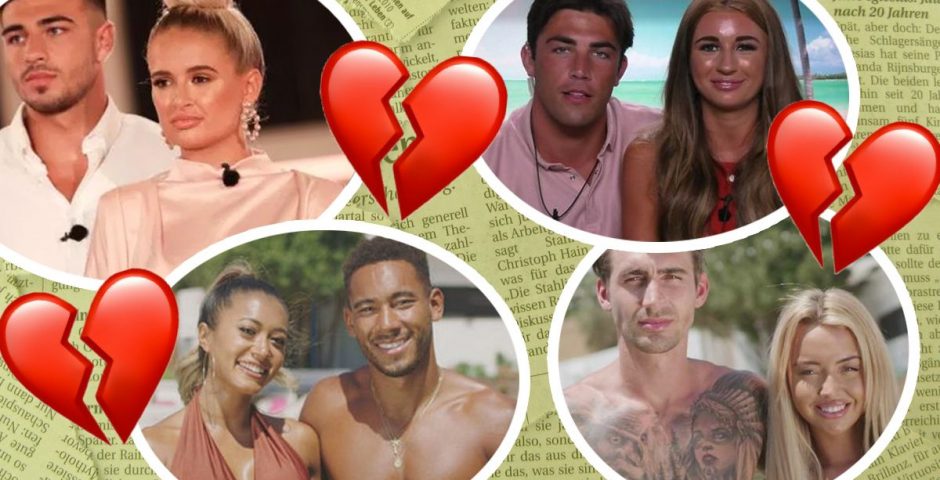 The Love Island break-up curse: Why all couples split up on these exact dates
This conspiracy theory will blow your mind
In the least shocking news of 2019, Chris and Harley from Love Island 2019 have broken up. But hold on a minute, it was around this time last year Frankie and Samira from Love Island 2018 called it quits too. The Love Island break ups seem to come around at the same time every year.
Hear me out here, the evidence is spooky. A LOT of the couples break up around the same time. And I'm not the only one to clock on to it either, there's an entire conspiracy theory into the Love Island couples either being contracted or straight up cursed.
Here is all the evidence the Love Island break ups aren't just a coincidence.
Kem and Amber – series three winners
Broke up after six months.
Amber and Kem won series three back in 2017. However their relationship didn't last that long. Just six months after bagging the Love Island 50k prize fund they split up.
Amber and Kem officially ended their relationship on December 4th 2017.
Jack and Dani – series four winners
Broke up after six months.
But then look at series four winners, Jack and Dani. They won the show after receiving a huge 80 per cent of the public vote in the final. Everyone thought this was true love right in front of our eyes.
Then six months later it was shock, as Jack and Dani broke up. Yep, just like Amber and Kem from the year before they broke up after just half a year. Jack and Dani first announced their split on the 6th December 2018. Literally two days off the EXACT anniversary of Kem and Amber doing the same.
But then apparently it was just for "publicity" and the couple got back together and then split up AGAIN. It was weird.
Wes and Megan – series four fourth place
Broke up after six months.
Also after six months, Wes and Megan ended their relationship. They broke up in January 2019.
Josh and Kaz – series four third place
Broke up after six months.
Now it gets even more juicy!!! Around the six month mark, series four couples were dropping like flies. Josh and Kaz from series four also broke up after six months. They announced their split in January 2019, half a year after they met on the show.
Then it was revealed the pair had actually been "over for weeks" and had even been on holiday together after splitting up just for PR. So why did they choose to wait to announce the news? ?
Frankie and Samira – series four
Broke up after two weeks.
Remember Frankie and Samira? Samira had a real tough time in the villa and the nation trusted Frankie to sweep her off her feet and treat her how she deserved. Then Frankie destroyed our trust as cheating claims were flying around.
Their relationship ended after just two weeks when Samira epically dumped him.
Chris and Harley – series five
Broke up after two weeks.
Chris and Harley from series five have already broken up. The show only ended two weeks ago. But what's that you see? A pattern? They broke up after two weeks. Exactly the same amount of time it took for Samira and Frankie to call it a day.
THE CONSPIRACY IS REAL.
If the Love Island curse is real, here's a prediction for the series five couples
Call me cynical (I know this is), but I believe the theory. If it is a real thing, and all the Love Island couples are some how contracted (or cursed) into breaking up at around the same time the next year is not looking good.
The couples that are still together from series five are: Amber and Greg, Tommy and Molly-Mae, Curtis and Maura, India and Ovie and Anton and Belle.
If the Love Island curse is real, Amber and Greg, Curtis and Maura and Ovie and India will all break up around December or January time. The only couples the curse doesn't seem to apply to are Tommy and Molly-Mae and Anton and Belle.
Tommy and Molly-Mae came second, and second place couples don't seem to feel the wrath of the Love Island curse. Last year, Paul and Laura came second and they weren't an official couple and in 2017 Camilla and Jamie came second – they are one of the only Love Island couples from previous series still together.
Related stories recommended by this writer:
• How long the Love Island couples will last, according to a relationship expert
• Molly-Mae and Tommy banned from group trip to Ibiza for being 'fake'
• These six Islanders were the only ones to apply for the show this year