Angry protesters make Vice Chancellor parody account on Facebook
They're not happy about his £374,000 a year pay package
Free Education campaigners have made a Vice Chancellor parody account "Keef Burnett", which includes "piccy's from his holls", memes and playlists from Puff Daddy.
Incensed students are unhappy with Sir Keith's £374,000 a year package, which after a £105,000 pay rise last year alone, makes him one of the richest Vice Chancellors in the country.
But, the University have repeatedly ignored calls to pay other staff a living wage. By the 14th January, Keith Burnett had earned the entire annual wage of the lowest paid worker at the University.
The parody Facebook account is being used to advertise a demo being held by the "Free University Of Sheffield" group on Friday, which calls for no fees, no privatisation and a living wage for all staff.
Keef Burnett's life events include getting a knighthood in December 2012, which features the caption "got made a Sir for my services to higher education- LOL". His pay rise is also documented as "105k pure cash mon£y".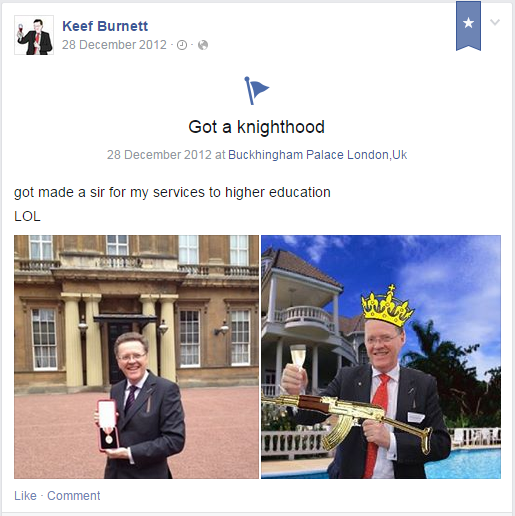 The profile shares a multitude of topical songs from the likes of Puff Daddy and Ed Sheeran. A link to "Pharrell Williams- Happy' is captioned 'lol i don't know about the cleaners and porters and catering staff but I'M HAPPY with my total reward package."
The account also features an impressive amount of background detail. Keef's favorite films are listed as Charlie and the Chocolate Factory, Indiana Jones and Titanic, and among some of his other "likes" are The Notorious B.I.G and Jay-Z. Who knew?