Here are some of the most niche UoN societies that you need to know about
There truly is something out there for everyone
Here at the Uni of Notts, there are over 200 societies to choose from, students are spoiled for choice.
Whether you love Harry Potter, re-enacting medieval battles or simply just having a quiet little cuppa, there is something out there to cater to the nichest of your desires.
Low and behold, here are all the weird and wonderful societies at Uni of Notts that you probably never even knew existed.
Medieval Combat Society
Hear ye, hear ye. Be prepared to storm Highfields Park like it's 1066 with the Medieval Combat Society. This society is centred around all-things medieval combat.
Whatever your weapon of choice may be, be prepared to put on your best armour and immerse yourself into another historical period through the power of roleplay.
The Medieval Combat Society is perfect for those who love history or are just fascinated by warfare of the past. Alongside its weekly training sessions, the society also holds a multitude of medieval themed socials, including trips to Nottingham Castle and pub crawls across the city.
Gear up, grab an axe and be prepared to slay the student union with the rest of this society.
BDSM Soc
Are you a freak in the sheets? Do whips and chains excite you? Well then, you're in luck, BDSM Soc is a society dedicated to the wonderful world of sadomasochism.
While the society sets out to bring together like-minded individuals who like to get experimental in the bedroom, teaching its members about consent and how to practice BDSM safely is at the core of the society's aims.
From workshops to fun socials, this society gives consenting adults the chance to explore their fantasies in a safe and comfortable environment, and allows students to meet people who aren't afraid to try anything new when it comes to getting down and dirty.
KettleSoc
Sometimes, all you really want are the simple things in life, a cuppa and a biscuit. KettleSoc caters to the quintessential British yearning of wanting a hot drink and a little chinwag with a few of your mates.
Dedicated to having a hot drink with friends on a weekly basis, this society is perfect for those who prefer a more low-key occasion.
KettleSoc describes itself as "laid-back", opting for a society socials at  cafés. They prides themselves on bringing people together in a chilled environment, whether it's in a coffee shop in Nottingham City Centre, or at a pottery shop on Beeston High Street.
This society is a perfect opportunity to kick back, unwind and meet people who appreciate a milky brew as much as you do.
Nerf Soc
NerfSoc is dedicated to all things Nerf gun related. You may have thought that Nerf Blasters were merely a figment of your childhood, but NerfSoc is here to remind you that Nerf guns are still as fun in your 20s.
University doesn't have to just be all work and no play. NerfSoc holds weekly team games, followed by a catch up in Mooch afterwards which allows its members to recharge and reload in preparation for another intense session of Nerf gunnery the following week.
No need to break the bank for NerfSoc either. The society provides all the equipment for its members and simply only requires you to show up for Nerf or nothing.
SwiftSoc
Drop everything right now.
Fellow Swifties, your prayers have been answered, Swift Soc is a society that is wholly dedicated to the one, the only Taylor Swift. Following the success of the singer's career, especially her works in recent years, Miss Swift has bartered up a fanbase of dedicated, broken-hearted women, many of whom can be found here at Notts. Us Notts girls know about many an Ocean romance gone bad.
SwiftSoc gives the sad girls and guys of Notts a chance to fill the blank space of both their hearts and their timetables to indulge in a variety of Taylor Swift themed activities, from T Swift themed club nights to pub quizzes dedicated to the star herself.
This fairly new society has already managed to create buzz in the university, with their first ever society social turning out almost double the amount of people expected. Go Swifties.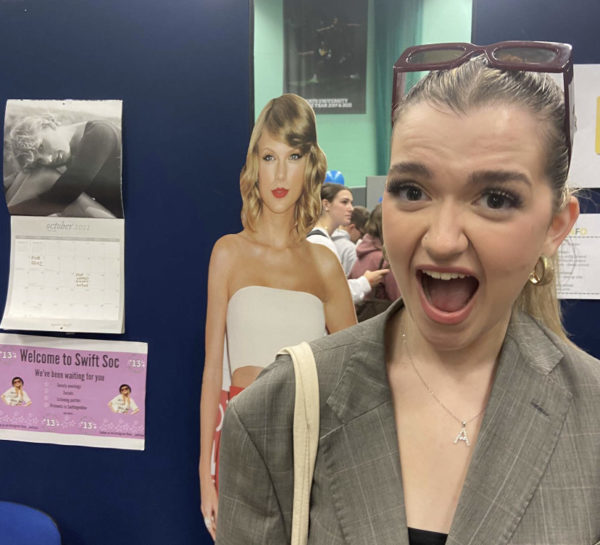 Bellringing Society
Ding, dong! Probably one of the nichest on this list, the Bellringing Society is one of the oldest societies at the university. It is very on-brand for Notts to have a society like this one.
What you see with Bellringing is what you get. The society is all about opening people's minds about practicing the art of, well, ringing a bell. It takes strength, gumption and a good sleep schedule as the society rings either early in the morning or later at night.
Bellringing is an uncommon one, but nevertheless still a hobby you should consider dabbling in just that once.
Hide and Soc
Be prepared to channel your inner child when you join Hide and Soc. This is a society that is quite literally a blast from the past, an ode to all of our favourite childhood games.
Adult life hits you like a ton of bricks, so it's great to have a space where you can regress to your younger self and let off a bit of steam once a week.
Whether it's hide and seek, cat and mouse, or whipping out the big rainbow parachute, Hide and Soc is home to a plethora of activities that will make you wish you were back in year four.
The society is sure to cover all bases of your younger years by hosting Sports Day, themed bar crawls and even birthday parties for its members.
Get ready to step back in time and see if you are still as good at What's the Time, Mr Wolf as you were when you were eight years old.
Matchmaking
Finding love in a big city like Nottingham is never easy. There's only so many swipes on Tinder you can take before losing all hope with finding the one.
I think I can speak for all singletons here when I say that looking for love is a rather abysmal affair. Matchmaking society is here to to change the status quo and offer you an alternative way to find the person of you can take home to your mum.
Matchmaking society brings together hopeless romantics right in the heart of the university. Ditch sliding into those dms and turn to Matchmaking to help you in your pursuit for finding love.
With a joining fee of £3, the price one has to pay for love has never been cheaper. Matchmaking society makes dating and finding love that bit easier. Simply fill out the dating form and let the fate of your love life be in the hands of the committee members, who'll match you to a potential suitor and set you two lovebirds up on a blind date.
This National award-winning society is a refreshing form of dating in the age of Hinge and Bumble. It gives you the chance to connect with someone you may not have met otherwise and provides students with the safety and security that other dating apps may not be able to offer you.
Apart from setting up two lucky people, the society hosts a variety of events and socials where in which hopeful romantics can come along and scout out a potential partner.
Related articles recommended by this author:
•  10 lessons you'll learn as a Notts student in your first semester
• What your favourite place to buy food on campus says about you