The best things to do when you're stuck in your student house
Staying in is the new going out
Banned club nights, a 10pm curfew for all hospitality and the new six people rule all have really put a strain on socialising and most students are pretty much stuck inside with their housemates. For students this sounds like a thing of nightmares as social life is integral at university.
But fear not, instead of running out of things to do in the house, The Tab Notts have you covered. Here's a list of some nifty things to do while stuck indoors.
Come Dine With Me
Domino's and ready meals can become very boring, very quickly. So, spice up your evening with a Come Dine With Me themed night. This is a chance for you to finesse that teriyaki chicken and prove that you have learnt something more valuable over lockdown than just how to down a pint in under 10 seconds.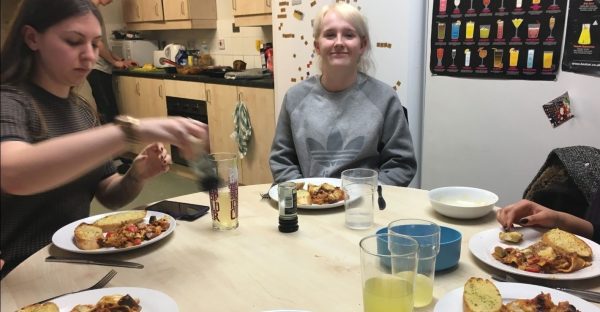 Each housemate will chef up a course of their choice, preferably something they have made before. They will then cook the meal to perfection until it's oozing with flavour. Each housemate will then try the meal and rate it a score out of 10. This is a chance for you to turn up the heat and slate your housemates for being terrible cooks. To add more flavour, you can theme your evening, pick your favourite cuisine to add to your night.
Sing-along
Bored of binge-watching Netflix? Well, this is music to your ears. Jazz up your evening with an iconic sing-along; whether it be Mamma Mia, Frozen or The Greatest Showman. Sing your lungs out and enjoy your evening. Fancy dress and plenty of drinks are definitely essential.
Pamper day
After a night of hefty drinking and eating rubbish food, there isn't anything more needed than a chilled-out spa day. Buy or make your own face mask and put some cucumbers on your eyes, to be a little more boujee. Steam your face, paint your nails and add some relaxing music for ambience.
Zone out from the Nottingham shambles, to an exotic holiday retreat… which you probably won't be travelling to any time soon.
Bootcamp day
Workout from the comfort of your home and sweat away your boredom. Turn each room into a different exercise station and rotate around the house. This may be no David Ross but it's certainly something different.
Games: drunk or sober
Board and card games are really underrated. Not only do they pass the time, but they can also be made into hysterical drinking games. Popular games amongst students include UNO, Jenga, Twister and Ring of fire.
Put an alcoholic twist on Jenga by writing funny commands such as "two shots" or "dare" onto the blocks. When the tower falls down, the player who caused it to fall takes a drink. Who needs a pub when you've got this!
So take your pick and once you've exhausted this list you can always settle down to Netflix, Fifa or Tiktok.
Related articles recommended by this author:
• The best six person drinking games for a socially distanced freshers
• These are the best things to do in and around Notts during a global pandemic