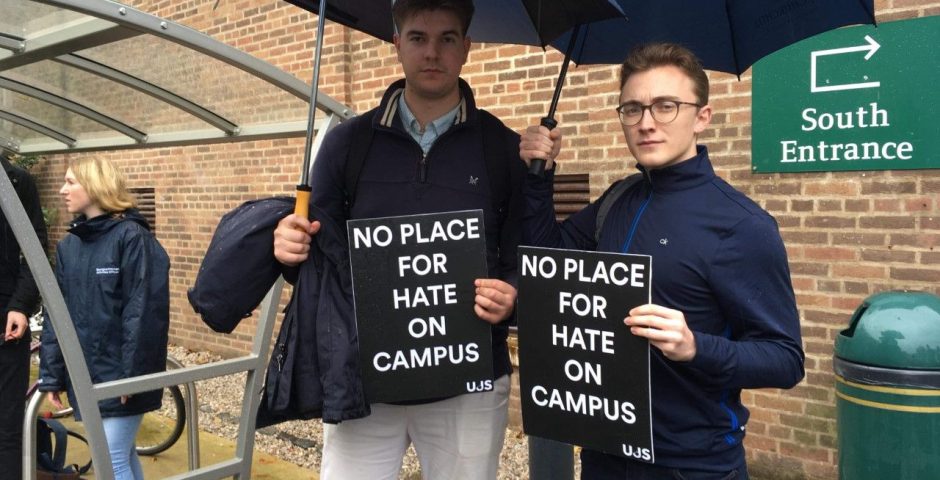 Protests on Notts campus against Chris Williamson speech
Protests against University's decision to invite controversial MP Chris Williamson
| UPDATED
Rain didn't dwindle the outrage felt by protesters standing in solidarity with Jewish students and the Jewish community as controversial MP Chris Williamson spoke at the School of Politics. Williamson, who spoke about the Labour Party and Socialism in the late 20th century, is currently suspended from the Labour party due to allegations of Anti-Semitism.
Williamson's invitation to campus caused uproar within the University community and with Daniel Kosky, UJS Campaigns Organiser stating "Williamson has been suspended by the Labour Party over antisemitism and has a consistent history of Jew-baiting and defending antisemitism. Williamson has been invited to Nottingham to add a perspective of an individual who is an ally of Jeremy Corbyn, yet there are plenty of individuals the university could have invited who have not been suspended for antisemitism.".
The University defended its decision to invite Williamson stating "Speakers are invited to the University by individual academics to speak in relation to individual study modules for their courses, enabling students to gain insights and explore subjects in greater depth.
"In this instance, Mr Williamson is among a number of regional politicians and MPs from across the political spectrum invited to discuss matters directly related to the content of the British Party Politics module run by our School of Politics and International Relations."
The University also noted "The University of Nottingham does not in any way condone the actions and statements of Mr Chris Williamson MP that led to his suspension from the Labour Party and condemns any form of intolerance to religious belief of any kind…The University is discussing what we can do to support the wellbeing of students who disagree with this decision."
Williamson spoke for around 30 minutes. A question and answer afterwards, turned ugly, with an attendee demonstrating his disdain with Williamson to a roar of applause from the audience. This led to an intervention by event organiser Professor Mark Stuart.
There were both campaigners protesting against and defending the decision.
Jacob Collier SU Community Officer, who was representing the Student's Union stated "We've got a very clear union policy which is to condemn anti-Semitism so that's why I am here today to show my support and solidarity, we constantly work with the Jewish community on campus to make sure they are protected."
Prominent members of Nottingham's Jewish community and Jewish Student organisations were also present, including Chabad Rabbi of Nottingham Rabbi Mendy Lent.
Josh Lee, former Campaigns organiser of Notts Jsoc, said: "I absolutely agree with freedom of speech and strong defender of it and absolutely believe that debates are necessary in society for development… however when it comes to racism I believe the university has absolutely safeguarding duty under the equalities act to not be allowing victims to be hit with further oppression and racism by someone under investigation… once the charges are cleared.. Absolutely he should be given a platform to be debated."
"This is a protest for any and all students who believe that antisemitism and racism of any kind should not be legitimised. Williamson was invited to speak in order to represent the pro-Corbyn point of view, however the idea that the only person they could find for this was Williamson is ridiculous. We do believe that Williamson has a right to free speech but there also needs to be greater awareness and accountability from universities in deciding which voices to legitimise", said Daniel Marcus, the co-organiser of UON Students against anti-Semitism.
Williamson, defended his accusations claiming "I've been smeared as an anti-Semite". The Derby North MP has been now twice suspended from the Labour party and yesterday lost his legal bid to overturn his suspension from the party.
We were unable to find anyone who was supporting Williamson's right to speak who would publicly comment.