We've rounded up some of Manchester's best Halloween costumes of 2021
From Phil Mitchell in Crocs to sleep paralysis Shreks
After a year without a proper Halloween, Manchester clearly had a lot of pent up creativity. Some scary, some original most of them just incredibly weird. The Magicbus drivers may never truly recover from the scenes and traumas of this past weekend.
Here's our roundup of the best Halloween costumes sent in by you:
Shreks – Laura, Nan, Estée, Roxy, Sophie, Kate and Sarah
You wake up in a cold sweat, you try to move but you can't. As you look into the corner of you room, you see it, not one but seven Shreks, enough to field an entire netball team.
Have to admire the coordination here or the result of someone accidentally ordering seven pairs of Shrek ears.
Phil Mitchell – Lucy 
Some people take Halloween as a chance to wear the raunchiest outfit you never can quite justify any other time of the year, others take it as a chance to dress as yer da'.
The magic a bald cap and a tinnie can do to thrust a third year straight into a mid-life crisis. Pretty sure I've seen this bloke hanging out at the front of Friendship around 2pm on a Monday.
Guy Fieri & Co. – Jasmine and Dillon
Well executed and definitely the only rare instance in which it's ok to wear a flame shirt. Guy Fieri has been through a lot but we haven't yet seen his bowels put to the Fallowfield kebab test. Having done a quick Google search I'm pretty sure that isn't Guy Fieri's wife but a flawless outfit nonetheless.
Scooby Doo – Rachael, Nikita, Emily and Alice
We've been sent and seen a lot of Scooby Doo outfits but this is a cut above the rest.
The casting, attention to detail and above all else the photoshoot. This mystery gang understood the assignment, I'd be shocked if there isn't at least one drama student among them.
Blokes – Laura, Nan, Estée, Roxy, Sophie, Kate and Sarah
Group outfits were clearly in-style this year, a rather ambiguous bloke/gangster theme yet somehow it works.
They've all nailed the Steve Buscemi 90's typecast look although the ponytail, glasses and goatee look on the left is a strong contender for a Saltbae body-double.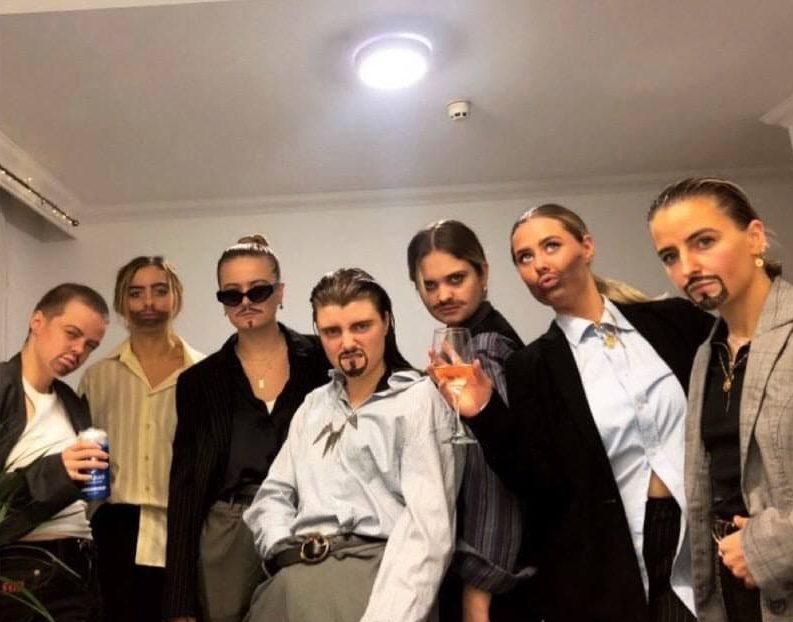 Related stories recommended by this writer:
• These are the best Halloween costumes from all the Love Islanders
• There were 56 reports of spiking by injection across the UK in the last two months
• Every type of basic biatch you'll meet at the pumpkin patch this year