There have been reports of 10-year-olds terrorising students in Fallowfield
'Four kids threw tangerines at us'
There have been multiple reports of a gang of children aged between 10 and 19 terrorising Fallowfield over the last week.
Shona Lightheart, second year student at The University of Manchester, posted to FSG last Friday: "Be careful around Cawdor Road area, group of lads aged 10-19ish have broken our door open twice and harassing multiple people. Wouldn't recommend walking home alone."
Speaking to The Manchester Tab, Shona said: "Basically they were harassing a couple on Friday night so we let them into ours for safety. This resulted in the kids ramming at out our door, trying to pick a fight and throwing a wine bottle at my friend, who luckily closed the door in time so it just smashed there.
"They came back on Monday night and kicked our door open but ran off, returning a few hours later with greater numbers of them and rocks. They threw the rocks at the door and kicked it multiple times – they tried really hard to get in."
Greater Manchester Police confirmed there had been a burglary reported, saying the incident "was reported as a burglary on 18 Feb. The offenders did not gain entry and nothing was stolen."
Multiple reports on FSG last week mirrored Shona's experience of students being assaulted by young children in central Fallowfield. One student said on Saturday: "Wouldn't recommend going to Platt Fields tonight, group of four kids tried to steal our bike, threatened us with a mallet knife, and threw tangerines at us."
On the following Monday, another student came forward on FSG saying a group of ten kids assaulted her and her friend, saying: "Don't go walk down Sainsbury's alleyway, me and a couple of pals just got set on by like 10 kids who hit my pal in the face then hit me".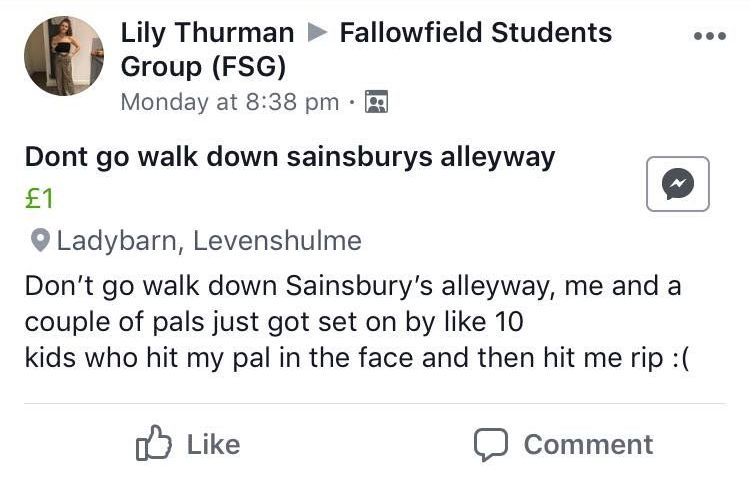 The same Friday that Shona's door was nearly broken down, another student reported: "Just got mobbed by like 10 14-year-old wannabe roadmen in Platt Fields, they're just tryna cause trouble. Leave them be, or shout at them for running off with my courgette".
When asked about GMPs response, Shona said: "We were on the phone to them as the kids were literally trying to break the door open and they didn't send anyone, we were told it would be reviewed by 9pm (was 8:30-ish at this point) and by 10:30pm still hadn't heard anything, so we rang 101.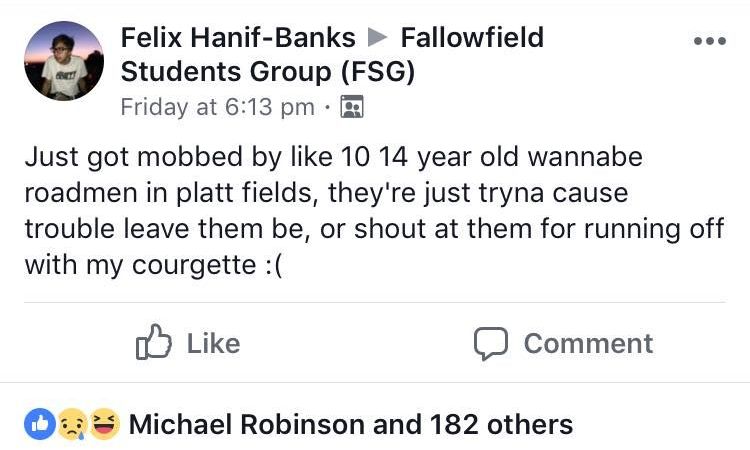 "A policewoman came at 11:30 and to be fair she did apologise. She was shocked they hadn't sent anyone, and she took details.
"From then after they weren't bad, as they assured us police were circulating the area and the next day it was followed up that they'd spotted the kids on cctv"
Updates to follow.
Featured image credit: Twitter