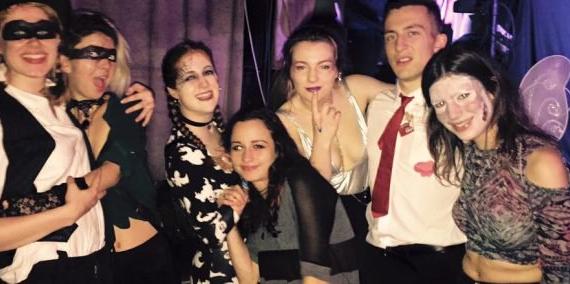 What's on in Manchester this Halloween
Get ready for some seriously spooky sessions
Halloween is almost here, so pull out the cat ears you bought in first year and some fake blood and get yourself ready Manchester's spookiest weekend of the year.
Friday 27th October
LOCKARFMCR at Revolution Oxford Road
What to expect: A student pub crawl across various locations in Manchester, starting at Revs on Oxford Road. From 10:00pm til 4:00am (last entry 1:00am). The DJ's on the night will bring you Hip-Hop, Grime, Dancehall, Afrobeats, Garage, R&B and House. Dressing up is encouraged. Free shots for everyone on arrival too.
Tickets: £10.70 (including booking fee) and can be bought here. More info on the Facebook event.
Fright Night 251 at Factory
What to expect: Freshers favourite nightclub Factory are putting an a themed Halloween event on the Friday night with 3 floors of music choice. Dressing up is a must.
Tickets: Avoid the inevitablely long queue and buy advance discount queue jump tickets for £3.50 here while you still can. Or pay 99p for entry before 12:00pm on the night.
DJ Sotofett at Soup Kitchen
What to expect: Techno, a sweaty basement and good vibes all round. Go if you fancy something a bit different to a standard night out. Go here if you love discovering new, experimental music from offbeat artists in intimate venues. Tickets are £11.50 get them here.
Henry's Hidden Halloween
What to expect: A massive Jungle, Dub and Reggae line up featuring big names like Deekline B2B Serial Killaz, Benny Page, Kenny Ken, Dub Smugglers, Red Eye Hi Fi. You'll it if you love jungle music and skanking.
Price: £7/ £9 on Skiddle.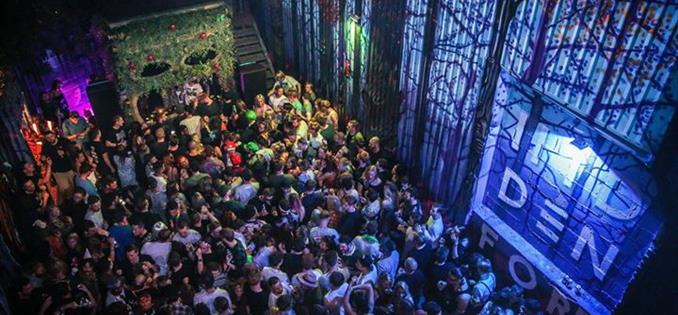 Festival of The Dead – Chapter 2: 'Limbo' at Bowlers Exhibition Centre
What to expect: The Festival of the Dead is returning to the Bowlers Exhibition Centre in Trafford Park after it's massive success last year. Expect giant carnival floats, acrobats and circus performers and loads of DJ's and live music. Dressing up is essential – think skull face-paining and carnival costumes. The event lasts from 9:00pm to 3:00am
Tickets: Final release tickets are on sale here for around £22.
Saturday 28th October
Capital's Monster Mash-Up: Manchester @ Manchester academy
What to expect: A night of spooky boogie-ing to some of the biggest DJs and EDM stars around, get down and darkly-dirty to the likes of Sigma, Martin Jensen, Kygo, Disciples, Sigala and Jonas Blue. Plus the yummy Marvin Humes. Check out more info for the event here. Keep your eyes peeled for tickets on Facebook, as the event is currently sold out.
Warehouse Project- ANTS
What to expect: A classic warehouse party with the added excitement of Ants halloween theme decor. Move fast to cop tickets for a huge line up of DJs including Paul Kalkbrenner, Groove Armada, wAFF and Pirate Copy. Expect a night of cultivated house, bass, techno and disco.
Go here if: You're up for a big night out and several hours of two-steppin' to amazing music. Watch the clip below to see what went down last time Ants came to WHP.
Avoid if: You get tired after dancing for half an hour.
Cost: £38.50 direct from WHP website or slightly cheaper via a member of the offical street team
Antwerp's 8th Birthday
What to expect: Claimed to be their 'Biggest night of the year' and the venue to look like 'you've never seen it before' (this is what the toilet doors must have been for lol). So far whos playing hasn't been revealed but with an extended licence till 5am its certain to be a lineup to keep you dancing.
Go here if: You're a dirty sesh gremlin who cant afford WHP.
Avoid if: Your idea of a good night out involves wearing heels.
Price: All tickets £11 on Skiddle
A Nightmare on Jacksons Row | all nighter at Venue
What to expect: The Venue, just off Deansgate, is transforming into a Halloween nightmare with full club decor and production. Indie and cheesy music being played on the night is a given. The night starts at 10:30pm and lasts until 6:00am.
Second release tickets are on sale for £6.60 here. Check out the Facebook event.
£1 shots, £2 drinks all night, £5 horror buckets and loads of other halloween drinks specials.
Sanction Halloween at Gorilla
What to expect: Sanction has secured Trouvè Grooves for a Halloween event at Gorilla that starts at 11:00pm and ends at 4:00am. The venue is being transformed into a horror show with 5 different DJ's playing.
Tickets: Get tickets between £6 – £10 here.
Surgeon – Hidden Halloween at Hidden MCR
What to expect: Techno and House DJ Surgeon will be playing at Hidden, an old converted Mill in the city centre, alongside the likes of Anton Fitz, Martin Loose Cuts and Flux Groove.
Tickets: Get the last available tickets here or check out the Facebook event for people selling them.
Sunday 29th October
Sunday Live x Halloween Special at Cane and Grain
What to expect: Head to Cane and Grain in the NQ for a chilled Sunday evening of acoustic music. There will be cocktails on offer too.
Tickets: Free entry on the night, no tickets needed.
Monday 30th October
Remake Remodel Dead Stars of Rock n Roll Halloween Ball at Soup Kitchen
What to expect: Bowie, Cobain, Hendrix, Joplin and many more plus a best dressed dead star of rock n roll contest!
Go here if: You play the guitar and own a pair of Doc Martens.
Avoid if: "Kurt Cobain?? Who's that????"
Cost: £3 advance/ £5 OTD
Tuesday 31st October
Halloween Carnival- A Tormented Circus at the University of Manchester SU
What to expect: The SU Halloween Carnival never disappoints. Boasting 4 arenas of music across the academy venues covering every sort of genre you could possibly want to hear. This is the place to be this Halloween wether you're a student or not.
Go here if: You've spent hours planning your halloween costume and youre ready to rake in the complements.
Avoid if: You're not up for giddy, glitter-covered freshers swarming the whole place.
Cost: £5/6 on Skiddle

Halloween PARTY- Hidden
What to expect: Boasting a broad range of music from Hip Hop Garage and Trap to House and Disco, PARTY events always have something to satisfy everyones taste. Expect a sell out night, a bouncing crowd and banger after banger.
Go here if: You usually like Factory and 42s but are feeling a bit more edgy.
Avoid if: You're boring and hate fun.
Cost: £8 on Skiddle
Lockdown Halloween- Hotness vs Orderly Conduct at Deansgate Locks
What to expect: A two club takeover with Ark and Revolution promises a night of classic club bangers and cheap drinks. What more could you ask for?
Go here if: You think 'Feed Them to the Lions' is a tune and want to hear it played at least 3 times.
Avoid if: You think 'Feed Them to the Lions' is annoying, overplayed and you hate it.
Cost: £7.50 on Skiddle (cheaper OTD but WILL sell out)