Pangaea's Rumble in the Jungle didn't dissapoint
No one ever has a bad Pangaea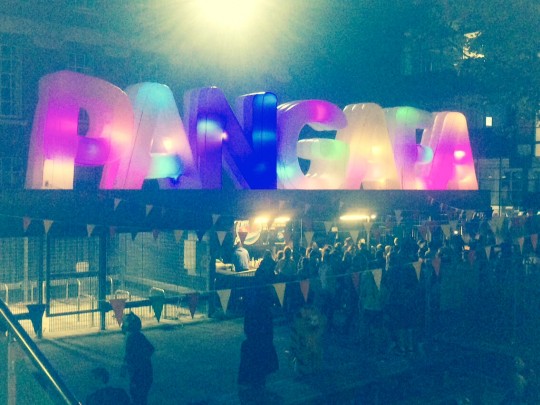 Having attended all five Pangaea's so far (dedicated), we couldn't help but worry that it wouldn't be as good as the rest.
Most of our friends were still on holiday and we were exhausted from spending the day trailing the shops for fake foliage and twigs for our costumes, but the night completely lived up to past experiences, giving the Summer of Love a slap in it's beautiful little face.
The decoration was to the nights usual mesmerizing standards. Who'd have thought the same space we sat our summer exams in could be transformed into this luminous, ancient jungle brimming with lights, palm trees and strange creatures?
Amongst the tree's they had tucked in an extra outdoor arena for the event, and there was even a street food party.
It wasn't as busy as the post-exam Pangaea's, being part of the freshers pack people were probably all too hungover/had no idea what they were missing out on and the venue never fully filled up the way it usually does, so we were revelling in the fact that we didn't have to have our faces pressed up against some sweaty boys back.
No matter what the theme is, every Pangaea seems to be a golden opportunity for half of the boys to go sans-top, abs or no abs.
The great thing about Pangaea is that it gives you the chance to see all your favourite nights in one place. From some of the more established nights like Rub-a-Dub to some of the newer favourites like Kids Nowadays and the M20 collective, you can weave in between the rooms depending on what kind of mood you're in.
They even had a new 'chill-out' tent between Academy 1 and the Union, for those times when it all gets too much.
Everyone this freshers week got into the Pangea spirit and went all out for fancy dress, resulting in a number of questionable ensembles.
From downright dodgy:
To dedicated:
And to the very un-PC:
But the dedication and commitment some people put into their outfits is something you've got to give them credit for. It's enough commitment to have to look after your phone, ID and bank card all night, let alone a relatively expensive looking pot plant. Bravo, guys.
This years freshers were going bloody mad for the hashtags, creating a full blown Instagram media storm
Tonight has successfully confirmed for us that it is pretty difficult to have a bad Pangaea, eight beautiful hours of sweaty dancing in ridiculous costumes in our student union; it's a bizarre and wonderful experience that will always be unique to Manchester, and we already can't wait for the next one.