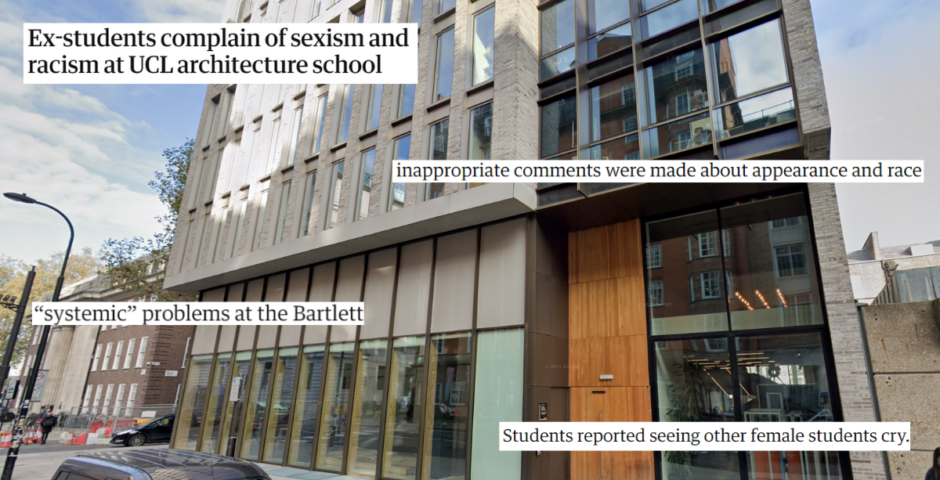 UCL appoints external agency to investigate racist and sexist allegations at Bartlett
Former students have made claims of sexist and racist behaviour at the Bartlett
Howlett Brown, an external agency appointed by UCL, is carrying out an independent investigation of sexist and racist behaviour at the Bartlett School of Architecture following former students' claims.
The alleged inappropriate behaviour, directed to "predominantly females", includes one student's experience being told by a member of staff that "he could not tell she was brown as she acted and spoke like a white person".
UCL's Pro-Provost of equity and inclusion, Sasha Roseneil, said: "UCL has been deeply troubled to learn about allegations of unacceptable behaviour at The Bartlett School of Architecture and we have appointed an external agency, Howlett Brown, to carry out an independent investigation into the culture and behaviours in the School."
The claims surfaced back in May, when the Guardian spoke about a dossier assembled by former student Eleni Kyriacou, containing testimonials from 21 former students who claimed that members of staff at the Bartlett "sexually harassed female students and made derogatory comments about race".
Since these claims were publicised, 70 formers students and staff have come forward, forming the Bartlett United group.
The 21 former students claimed the Bartlett had "systemic problems", with their testimonials of inappropriate comments regarding race and appearance at the School stretching back a decade. Some female students were also seen in tears due to such comments.
An anonymous student told the Guardian that members of staff were "damaging primarily female students". This was previously investigated in 2007 by UCL's equality, diversity and inclusion team, who determined that "women were being given different marks then men" and concluded that female students had indeed been receiving different treatment, which has reportedly since been addressed.
Another student was allegedly told by their male peers at the Bartlett that they were the "whitest black person they had met". According to the student, to their male peers, "studying architecture at a top school like UCL was a white and middle-class thing, not a place for a mixed-race, British, Black Caribbean woman with a working-class heritage".
The same student also said they complained to the Bartlett about a video for a unit brief which "had created a connection between hesitancy in the use of colour in architecture, and race and the Black Lives Matter movement".
The video "used a lot of violent imagery and then with that, the voiceover was discussing chromophobia" which is "a persistent, irrational fear of, or aversion to, colours". Whilst the video has since been removed, the brief was never changed.
Eleni Kyriacou decided to make the dossier after allegedly experiencing sexist behaviour through her studies in 2000 at the Bartlett. When the dossier was released, she said:
"I fear these findings implicate widespread misconduct that may have had a detrimental effect on hundreds of alumni, predominantly female.
"I urge UCL to investigate and to take bold action with regards to accountability for the misconduct that has occurred regarding staff members, but also to consider offering female alumni grade changes, and their RIBA part I qualification to those who need it so they can still become architects."
Due to the claims and allegations being made, UCL have recently appointed the Howlett Brown consultancy to independently investigate this alleged behaviour at The Bartlett School of Architecture.
UCL's Pro-Provost of equity and inclusion, Sasha Roseneil, said: "We are aware that unacceptable behaviour takes place at UCL, and we are committed to fully understanding the issues and to addressing them."
UCL have asked that any further former and current staff and students that have also experienced such behaviour, share their experiences with Howlett Brown. Anyone who comes forward will be working independently with Howlett Brown, and so will remain unidentifiable to UCL and the Bartlett.
Sasha Roseneil confirms this, saying: "As part of the investigation, we are keen for students and staff (current and former) to share their experiences of studying and working at the School with Howlett Brown.
"Howlett Brown specialises in independent investigations that concern workplace culture, diversity, and inclusion.
"Their investigation will be carried out separately from the university, and UCL and The Bartlett School of Architecture will not have access to any identifiable information from current or former students or staff who come forward."
Howlett Brown are due to make change recommendations to UCL following the completion of the investigation in early 2022. Sasha Roseneil continues: "This is a complex investigation and we ask for patience while Howlett Brown conduct their work.
"This independent investigation will provide recommendations for changes at The Bartlett School of Architecture, to ensure that all its students and staff are treated fairly and are able to thrive."
If you have had a similar experience and are interested in sharing, speak to Bartlett United and Howlett Brown for more information.
Related stories recommended by this writer:
• This is what it's actually like being a person of colour at London university
• 'This movement is so empowering': Speaking to the organiser of UCL's Girls Night In
• I'm sick of being asked to watch my drink by clubs who don't seem to care if I get spiked