Let's stop pretending like everything is fine, we need a safety net now more than ever
The safety net is the bare minimum we deserve, realistically a full no detriment policy should be laid out for this year's students
With ongoing remote teaching, a THIRD national lockdown and the prolonged mental toll of studying throughout the pandemic, why is the University's policy regarding 'no detriment' virtually non-existent and the student safety net a thing of the past?
March to June 2020 was an undeniably stressful period for all students and, indeed, most people! And so, there is no doubt the class of 2019/20 deserved a no detriment policy in those weird and scary months. However, to say that we do not at an absolute minimum deserve a similar safety net policy is outrageous.
We need a safety net policy and we need it now. 
As we covered in December – there are a whole host of ways in which this academic year is totally different to last year, not least because some of us will go the entire year without a single contact hour.
Unlike last year's, this year students have: dealt with totally new forms of teaching, coursework and examination. Despite all of these being dependent on factors such as a stable home working environment and reliable wifi; being on the receiving end of a year of online teaching when pedagogical studies show attention span online is reduced to just 15 minutes compared to 50-90 in person.
Students have been in far more complicated living situations, many stuck in London where Covid infection rates are significantly higher now than they were last academic year – leading to more students actually being ill and more dealing with illnesses in their families.
We've been blamed for the rise in cases, had to navigate totally incoherent and contradictory government guidance. Not to even mention the damage that this has done to student's mental health. 
Now after this lockdown announcement more than ever the University needs to reconsider its 2020/21 policy.
Let's first, a recap of what the University's policy for assessment this year comprises:
"Our experience over the summer showed that blanket changes to classifications were not necessary, and that all of the other measures which UCL put in place provided the right amount of support for students during the emergency period. As the pandemic continues, we know that students are being affected in very different ways – you might be happy with how your studies are progressing or you might be struggling to keep on top of your work. Rather than apply mass adjustments which some students might not need, we are focusing our support on those students who need help."
Admittedly, this might seem reasonable upon first inspection. However, upon reflection, there are many, considerable, limitations to this view.
UCL's latest guidance and its implications for next term does not support us academically in the slightest
UCL has effectively just banned students from accessing vital materials, resources and texts from campus. If this third National Lockdown resembles the first, further restrictions to essential resources on campus could be coming over the next few days. Currently, the latest guidance from the University Provosts Michael Arthur and Michael Spence reads:
"We are advising you not to travel"
and
"We strongly advise that you do not plan to come to campus until reading week at the earliest. If you stayed in London over the winter break or you have already returned, you should remain here and not travel home again. The campus is open and so you can have access to our facilities."
So in theory University is open, but we shouldn't go? And international and non-London students can go back to London, but are advised not to and even more strongly advised not to use the university study spaces and resources. And in all likelihood, these restrictions will only become stricter with the National Lockdown announced in the UK yesterday.
This all makes sense and seems very sensible with regard to the spread of the pandemic, however, it has major implications on the way in which the majority of students will study next term and this should be reflected in the assessment policy for all students.
For international and non-London students who went home over Christmas, this means they must make the difficult choice of whether to go against University, and now government, advice or stay at home for the next term, where they will be isolated from peers and friends, may not have good studying spaces or reliable wifi, will nevertheless continue to pay extortionate London renting prices with no reprieve despite not being there, and may not even be able to access key resources for their degree. None of which factors alone constitutes the need for an extension etc but which undeniably, cumulatively fosters a stressful working environment and extensions can only help so far.
For those students who did stay in London over the break and have been told they can use University facilities – the problem of resources may not be as acute. That is, so long as the University do not close campus completely and thus deny students even the possibility of click and collecting essential University resources. However, the fact that many of their flatmates and friends may not return for the foreseeable future cannot be underestimated as an emotionally challenging factor.
As one department has highlighted, in light of recent announcements "[our] tutors may find themselves dealing with unexpected extra challenges …that means they may not be as available as normal". Of course, we sympathise totally with our professors who are trying to deal with all the same technical difficulties and working from home challenges as we are. But the mark schemes and assessment policy need to be reconsidered in light of such changes.
With limited access to campus, resources and our tutors – how can students be expected to complete coursework as if nothing has changed?
The impossible situation of international students
International students are also being disproportionately impacted by the recent advice. For a start, many are being advised not to travel and thus complete term 2 in a different time zone than they expected. Additionally, concern over visas and the very legality of returning to the UK as well as seeking advice from national consulates are all innately time-consuming and stressful things. Many international students have barely had the chance to recover from the stress of how they were going to get home for Christmas and are feeling simply overwhelmed by the latest announcements.
We spoke to international students who told us the following about the conditions in which they are expected to perform. "1am-3am is my worst class, but I've also got a few that start at 3am too'; "I have lectures at 5a.m.  …Quite difficult and distressing for me"; "Lab work kits and ending lessons at 2.30am". 
The uncertainty over crossing borders during term time and the fact many will be completing huge amounts of coursework not just in a different 'environment', but a different country from where they had planned is hugely unsettling. The short term measure UCL currently has in place to manage the situation is extenuating circumstances which are great but are they enough?
Covid IS impacting student mental health, read these statistics
Student mental health has suffered enormously as a result of the pandemic.
The Tab UCL has already reported that "over 60 per cent of students said that they had experienced disordered eating since we had first been placed into lockdown in March.".
The Tab London conducted a mental health survey with students since the latest changes to teaching plans had been announced with over 729 students taking part.
89% of students claimed that their mental health had been affected by the pandemic. Unsurprisingly, 79% of have also reported their grades have dropped as a consequence, which in turn does not improve mental health.
Also, 53% students (that is more than half of students) claimed that they have considered dropping out this year and the posts referencing suicidal comments have doubled on University Confessions pages – it seems that this is where people are turning to, to admit that they're struggling in lieu of more official channels. First years in halls especially, without the same support networks of established friends that other years have, deserve better. UCLove has been flooded with mental health Trigger Warnings and confessions of deteriorating mental health and feelings of no hope. The very hopelessness referenced may be indicative of people feeling they cannot reach out to UCL Wellbeing Services. It is essential that some hope is provided, without students needing to jump through hoops to get it.
And so, there comes a point when any juggler reaches their limit when there are simply too many balls in the air for them to maintain the flawless act. In March to June 2020, there were many balls in the air for lower and final year students alike: getting to grips with the new and terrifying virus that was quickly separating friendship groups and claiming lives, the suddenly disrupted teaching schedules and library access as well as new, unusual and unequal studying environments, exams, dissertations, the list goes on. The difference is all of us juggling last year did so over a safety net.
It seems that in the case of being a pandemic pupil, practice does not make perfect. Rather, if there were too many uncertainties or things to juggle in the March of 2020, not only have few of these been laid down to rest now but rather they have multiplied and …mutated – meaning none of us yet have quite mastered the art of dealing with them.
As we head into our third National Lockdown, the uncertainties and challenges faced by this year's students are many and ongoing, and while none of these should directly impact our University studies, the task of separating anxieties from action plans is far from simple. Indeed, high levels of stress caused by prolonged, incessant uncertainties do have proven effects on concentration and memory – two things that are vital for studying at University.
While stress and feeling occasionally anxious are very different from experiencing anxiety disorders, feeling even circumstantially anxious about a pandemic, for example, does still release stress hormones in the brain which impair your ability to concentrate and may also impact your ability to sleep. Prolonged sleep disruption in turn is detrimental to concentration and only exacerbates the other effects of stress. Therefore, stress experienced even for short periods, let alone months, impacts studying. And here are just a few things the class of 2020/21 have to be stressed about :
A third National Lockdown
Almost an entire year of constantly shifting laws and restrictions in England and elsewhere, resulting in there being no stability in when you will next be able to see your family or friends – therefore isolating many students from support networks needed now more than ever – and with no sense of how long the situation will go on like this
The consideration of whether or not to come back for term two – weighing up virus fears against degree concerns
The fact the Prime Minister forgot to address the University student demographic in its entirety
Online teaching
The new advice counselling students to stay away from university study spaces
The economy this year's finalists will graduate into
Lost internships and part-time jobs
Unreduced fees despite so many families in the UK and abroad being hit economically by the pandemic
The fact that for final years, ALL of their modules from this year count towards their final grades and are being marked according to mark schemes that don't account for limited resources or intensely disrupted study
The limitations of extenuating circumstances that could be resolved with academic safety nets
Amongst "all of the other measures which UCL put in place provided the right amount of support for students during the emergency period" are presumably extenuating circumstances aka extensions. These exist to provide a small safety net should a last-minute crisis occur and prevent someone from being able to complete a piece of coursework.
However, extensions are limited in their capacity to support students. Firstly, by providing an extra 1-14 days, they do not actually help resolve any initial problems that necessitated them. This year, the criteria for being granted extenuating circumstances have been relaxed so that in two instances you can apply for an extenuating circumstance without GP evidence, for a third EC this must be provided. However, not all UCL students may have had the opportunity mid-pandemic to register with a GP in London and others are wary of approaching an overburdened NHS in a time of crisis. In such cases, this two extension limit essentially puts the pressure on students to gauge, in a period of crisis, whether they might not have a bigger crisis in the future.
"Every time I ask for an extension, I feel like I have failed and that I'm not good enough, I spoke to my GP about seeking reasonable adjustments but they were so dismissive and mean it just sent me into an even worse spiral".
Obviously, this is not something that extenuating circumstances can alter or reasonably account for – but without a doubt a no detriment or safety net policy that reduced pressure on students in the first place could reduce the stressors that drive many to seek extensions in the first place.
Students are pleading for reconsideration on Safety Net and No Detriment Policies
The student demand for a no detriment policy is significant and rising.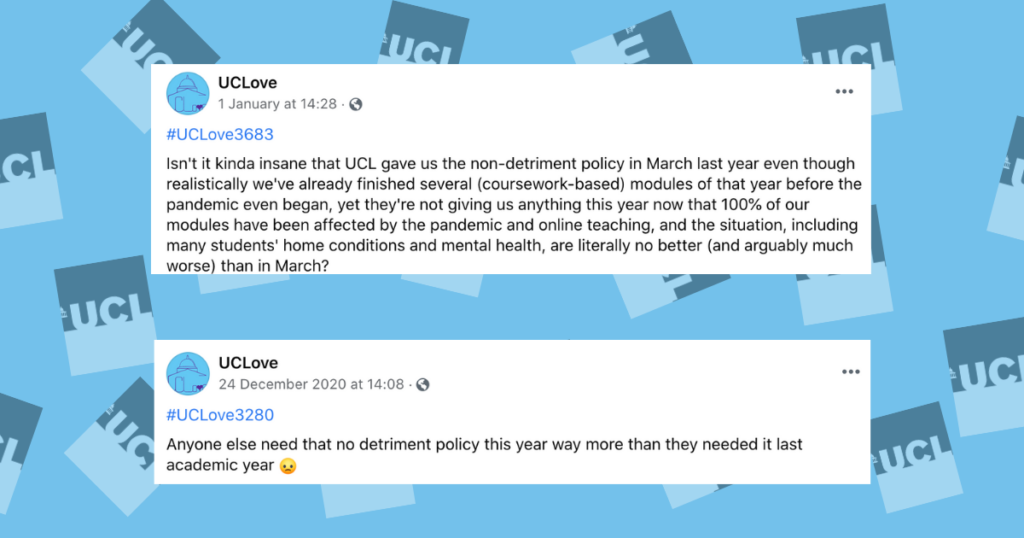 While well-intended, this policy shifts responsibility onto the most vulnerable students to actively seek help – an emotionally draining affair.
Fundamentally this is the greatest weakness of UCL's current assessment policy. Though "focusing our support on those students who need help" sounds great in theory, and is genuinely well-meant, in practice what this means is that they have shifted the responsibility to actively seek help onto the already overwhelmed and vulnerable student body. This is obviously flawed.
The very nature of mental health issues on the rise – eating disorders, anxiety and depression – is that they are insidious and often manifest in symptoms of self-doubt that actively prevent people from reaching out to others, let alone going through the emotionally draining administration behind seeking official help through GPs or University sources. For example, though 71% of students told us they were aware of UCL Well-being services, many expressed far from positive experiences they had had with them in the past.
"I reached out to them when I was under a crisis and all I got was an automated email".
"I've tried but it didn't really help… don't feel like reaching out when you're on the edge".
"Tried to and they said they couldn't help lol".
For students to register with local GPs and make remote appointments when they have just moved to, or around in, London is also a difficult and time-consuming process – especially in the middle of a pandemic.
Given the vast amounts of stress that students are already under (deciding where to study next term after the provost's latest announcements, having spent a holiday season separated from family and friends, oh and panicking over all that lovely Christmas coursework)  it would be fair enough to consider students overwhelmed. Therefore, additionally putting the responsibility on them to seek help seems simply unreasonably.
Because UCL can be great, and its ongoing Covid-19 reaction policy should reflect that. 
I LOVE UCL – I chose it because of the exclusively flexible approach it offered for my course and the inspiring and friendly staff in my department. And there are many aspects of the pandemic that UCL handled incredibly! Since March for example, my department kept us up to date, well informed and reassured about what the University was planning and were amazingly responsive to queries and concerns. My professors this year have done their utmost to make the year as palatable and inspiring as possible amongst the doom and gloom – from enrolling in Open University courses to ensure that their own courses were better than what we could find there, to uploading their personal library for our access – I cannot fault individual professors' attentiveness and genuine care for their students this year. Though I recognise I am very lucky in this respect, and my experience is by no means universal.
We also can't fault UCL for being forced to react rather than respond to the perpetual and somewhat unpredictable vacillations of the government, especially as we have seen this week – they're often ahead of the game. However, what we can ask, or at this stage, politely and with dignity beg for, is for a reconsideration of their stance pertaining to a blanket policy for a safety net to protect and reassure the students that the university has a duty to, that is, all students.
Link to the petition for a no detriment policy can be found here.