We tried the fat-only diet
It sounded too good to be true
national
Our jaws dropped as we read about it in a magazine: a diet that actively encouraged eating fat in order to lose weight.
This was the diet to end all diets; we could lose 6 lbs in a week while chowing down on cheese, bacon and slabs of butter.
A quick look at the ketogenic – or fat-only – diet books in Waterstones enlightened us to the ways of the fat junky.
Science, apparently, says that by eating loads of fat, and virtually no carbohydrates, our bodies would enter a state of "ketosis" and would be forced to break down body fat for energy.
We had to consume as much fatty foods as we could, and it was going to be glorious.
We moved on to Sainsbury's and did a supermarket sweep. Our trollies were loaded with double cream, clotted cream, whipping cream, soft cheese, bacon, eggs and enough avocados to fatten a nutrient deficient army.
We drooled at the thought of the sumptuous fat drenched meals that would help us to shed pounds like Fern Britton's gastric band.
The weekend began and we were swimming in lard.
Breakfast was a filthy three egg fry up with cream cheese, avocados and mountains of bacon.
Lunch was a large tub of full fat yoghurt and the best part of a Wensleydale cheese, each.
Dinner was a naughty smorgasbord of pan fried scallops drowned in butter, cheese sauce, double cream and avocado finished off with a 'bulletproof coffee' (black coffee with a generous dollop of butter stirred in).
MyFitnessPal, the reliable app we were using to track our nutrient intake, was sounding alarm bells.
We had stoically consumed 270 grams of fat, enough to last the average woman for 4 days.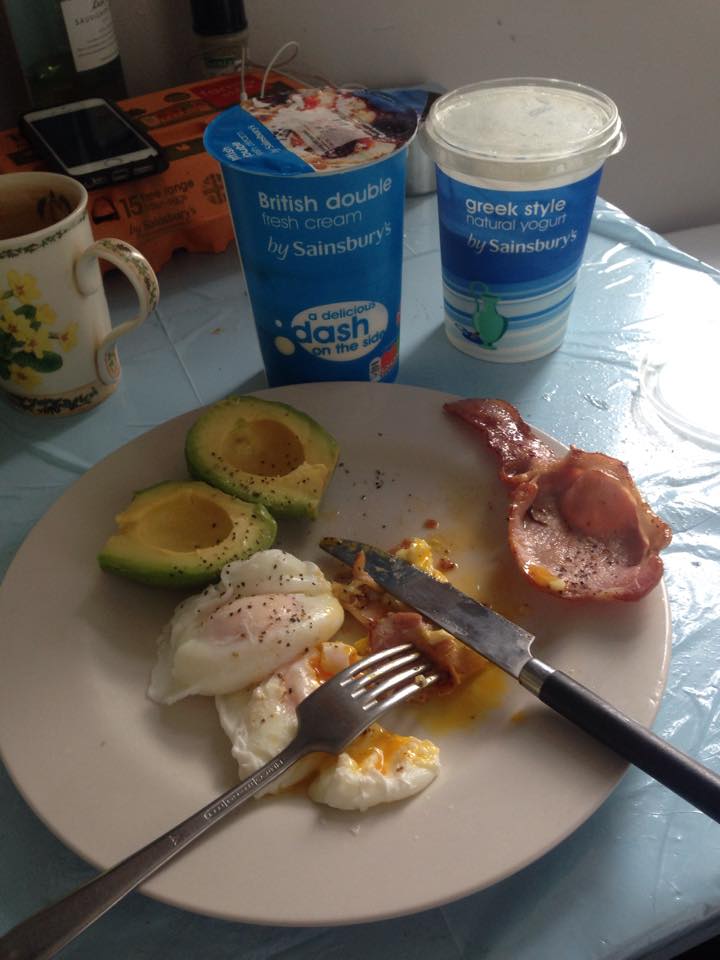 We cried with smug laughter. We were in stitches. Silly, misguided app. It would be laughing on the other side of its stupid little digital face when it saw us strutting the Victoria's Secret runway in a matter of weeks.
Oh, how the glossies would be wide eyed in amazement when we revealed our dieting secret!
As we said it all seemed too good to be true, and as our mothers had told us, "If something seems too good to be true, then it probably is."
And it was.
A medic friend bet us that having a heart attack and going into intensive care was the only way we'd lose weight.
He pointed us towards the actual science behind the diet – which requires eating  a high percentage of fat, while still keeping your calorie count in check.
We had been doing it wrong in a big way, exceeding our recommended calorie intake by 2000 kcal for the last four days.
It was time to cut the crap (and the cream) and invest in the proper diet book, like the joyless nerds we are at heart.
We loved the diet and were going to stick at it for ever – the results were pleasing. An inch off Kitty's hips and 3 kgs from Lara's bod.
But then we relapsed. We committed carbicide. There were pink wafers, ginger nuts, chocolate pudding, bread, Tunnock's caramel wafers, lasagne, Toblerone, pie. It was like the charge of the Light Brigade, as the carbs galloped to their unavoidable demise in the face of the our heavy artillery.
And so, shamefully, the diet ended. We looked back with both delight and horror on the fat binges and messy diarrhoea.
What is our verdict on the high fat ketogenic diet? Try it for yourselves. Stick to it devoutly and the pounds will fall off, but it is not easy.
The novelty of fat wears thin quicker than you'd think. And you will be stared at as you tuck into a boiled egg and hunk of cheese in the Print Room Cafe. It's a psychopath's lunchbox.