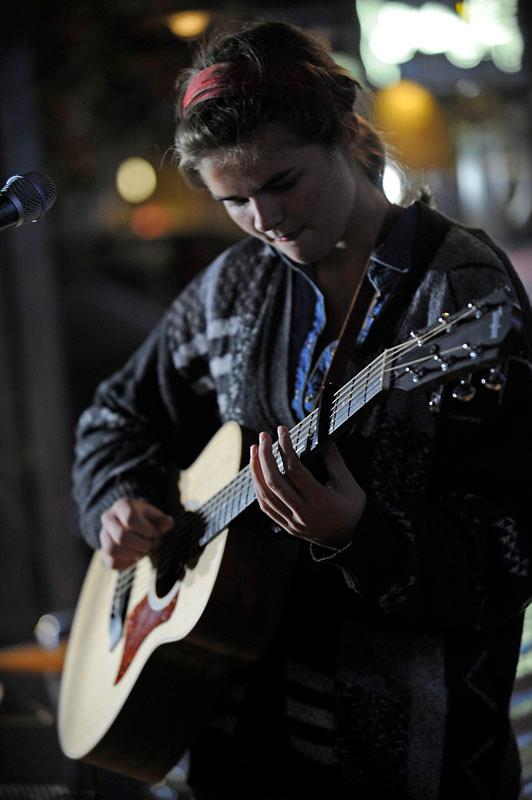 Interview: Ani Petite
A cuppa in Cilantro with one of UCL's most promising talents…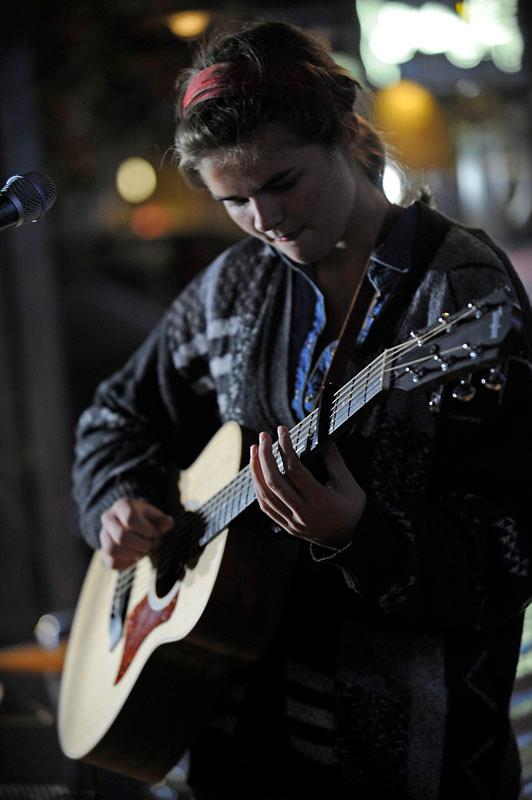 Anika Ostendorf arrived in September with an arsenal of instruments; a reluctant biologist whose voice hits you like an iron fist in a velvet glove. She's already released a professionally produced album with the help of her father, the product of a year-long "creative break" in Michigan, and is now trying to get the stone rolling in London alongside getting through the first year of her degree.

So what's your background – does music run in the family?
Well I was born in Detroit but I was raised in Germany, my parents are from Cologne. Both are performing musicians, but neither is a 'professional': my mother's a singer and accordionist and my father is a great guitarist.
So they're the ones who inspired you to pick up a guitar?
They were very encouraging, but Dad was reluctant to try and teach a 6 year old how to play, he just didn't know how. I had formal lessons in guitar and piano instead, I didn't enjoy them in the slightest at the time but I'm pretty grateful for them now! They didn't last too long though, so I've mainly taught myself over the years.
You've done quite an eclectic array of covers – everything from Bon Iver to Fucked Up – but who would you say are the few bands that have truly inspired you?
It's quite a weird combination, but very early Jack Johnson and a Bluegrass outfit from Nashville called BR5-49 are the two first bands that really had an impact on me! Then I went through that pop-punk phase…
Everyone has a pop-punk phase!
Yeah, I guess, makes me feel a little bit better about loving Sum 41 and All American Rejects…
Everyone's got their guilty pleasures. Any more recent influences?
Oh, plenty. I would definitely say Beach House for their sound, even if Solo Major said so in another of The Tab's interviews already! Also, although I don't really listen to or make music like them, I'm really attracted to the character of War Paint. For straight up song writing it has to be [the sublime] Antony Hegarty.
Be honest now, what comes first: music or studies?
I'm a full time student, but I try not to be a full time student! I came to UCL for central London. I'd decided on the city before I'd decided what I wanted to study. I always make time to fit in gigs, my room is packed full of guitars and keyboards (including a few stuffed under the bed) and I spend most of my spare time jamming with friends around Max Rayne.
Dreamworld time: if you could collaborate with anyone who would it be?
Arcade Fire for sure. When I saw them live I can remember thinking how much fun it would be to be performing alongside seven others, especially them! Purely for the beauty of the music, it would be wonderful to perform with Bon Iver and I'd love to work with Conor Oberst, just to be able to try and imitate his style… To be honest though, I think I'd be a bad person to collaborate with. I enjoyed bossing around my Dad far too much when we were recording my latest album!
You haven't been here long, so you're probably not too familiar with the BBC Radio 4 institution that is Desert Island Discs. So I'm going to unashamedly nick their idea: what are your three Nuclear Winter Warmers?
Ummm… there was this band called 1997 [virtually untraceable on youtube], '…A Better View of the Rising Moon' reminds me of being 14 years old in a tent with a bunch of friends – good memories. I would like to say I'd have an Antony Hegarty album but I'd probably end up killing myself after a couple of listens! So instead, I'd also have Arcade Fire's The Suburbs, because it's just brilliant, and finally a classic: Pink Floyd's Dark Side of the Moon.

So what does the future hold for Ani Petite?
I'm always thinking about it, but I try not to. I'm open to it, although I can't see myself as a biologist stuck in a laboratory! I wouldn't like to be a session musician either, it's too much like an office job: 8 hours of practice a day and if you break your finger you lose your job. Maybe I could use my degree to travel the world studying animals in the Arctic Sea and the Galapagos or something… I don't know; maybe another degree, maybe travel, maybe get myself a band and go on tour!
Ani Petite is competing in the Uni Music League at Proud Camden on the 5th February, on the 25th at the Rattlesnake of Angel and on the 12th March at the Music For Youth Festival in High Wycombe. You'll also be able to find her chowing down with the UCL Chocolate Society…
Check out www.anipetite.com for her album stream, including a rainy cover of Skinny Love