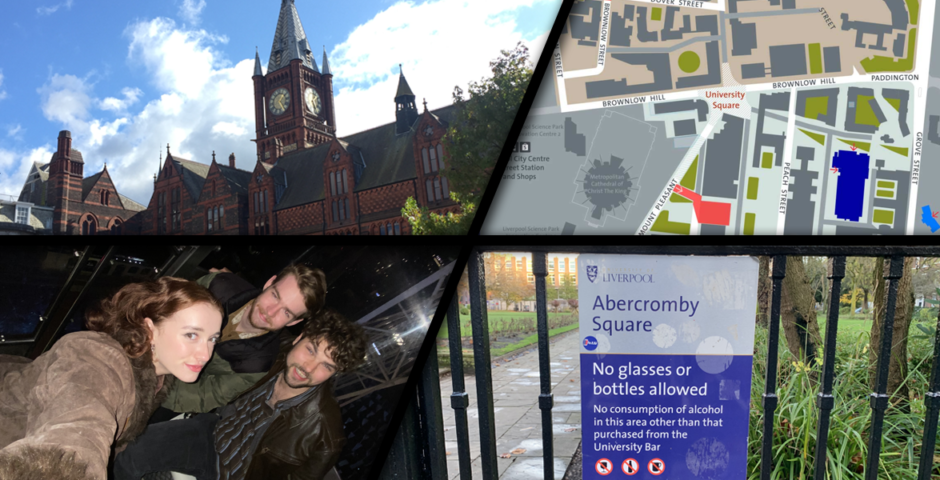 Five wild projects that would improve the University of Liverpool campus
What do we want? A big Wetherspoons! When do we want it? Now!
Over the past week, I've been surveying the lay of the land at the University of Liverpool. Yes, I have circumnavigated campus listening to your quarrels, comments and pitches about how to make this university a better place. To clarify, I'm not talking about putting extra recycling bins in the Guild, I'm talking about big heavy projects. High-vis jacket jobs.
Before we dive into the 5 projects on this list, I should clarify that I, Ewan Stewart Wilson (to give my full legal name), do not have any official architectural qualifications, however, I have watched a couple of episodes of Grand Designs and DIY SOS. It must also be pointed out that neither budget nor logistics were taken into account when drawing up these plans, so please take this with a pinch of salt.
Rendall Building
As a humanities student, I have sadly spent many an hour in the abyss that is the Rendall Building. Whilst brutalism is admired by some, it's often hard to motivate yourself to go to a lecture in this grey concrete cage of despair.
I imagine rebuilding this would be quite an annoyance for timetabling and general chaos. So, what I propose is a fun, multi-coloured glass shell for the building — think of this as an architectural wardrobe change. Shining bright like a kaleidoscope on campus, students will no longer loathe their journey to the Rendall Building after this successful revamp.
Wetherspoons on Campus
Look at this — who actually parks here? The lecturers? Well, they aren't the ones paying £9,250 each year to be at university here. In this climate crisis, should we really facilitate parking on campus? Instead, this car park could make way for a glorious new Wetherspoons.
Although the Sphinx is decent, a big ol' Wetherspoons on campus would be perfect for a lunchtime bite, a society social or even just some pints after a seminar. Just think of the memories that could made here, the stories passed down through generations about our uni's very own Wetherspoons ⁠— it would be delightful!
Travelator from Abercromby Square to University Square
I don't know about you, but I don't like slow walkers. They are the plague of our society. However, during the day between Abercromby Square and Uni Square, you can often find yourself in a game of student dodgems.
In order to overcome this problem, I propose a big travelator (like those ones at the airport) to make everyone get through campus just a little bit quicker. Say farewell to those sweaty powerwalks across campus to make it to a seminar on time, instead, you can just calmly strut your way along the travelator and arrive on time. Also, I will no longer need to curse slow walkers under my breath. Hurrah!
Sydney Jones to Harold Cohen Cable Car
This may be the jewel in the crown of this list.
We've all been there — hunting around the SJ, desperately trying to find a seat. After scanning the Grove Wing to see a distinct lack of spare seats, you need to head over to the Harold Cohen on the other side of campus. The 800-metre walk between the two can often feel like an eternity, particularly if the Liverpool weather is not on your side.
Well, let's make this a thing of the past with the all-new 'Library Cable Car'. Yes, this gondola will carry you across the city sky, taking you across to the wonderful Harold Cohen Library. 
You never know, the cable car could become an icon of the city, with tourists flocking to the Sydney Jones to see the wonderful skyline of Liverpool as they fly over campus. Forget about being the 'Original Redbrick University', the University of Liverpool could become the 'Original Cable Car University'.
Retractable Roof on Abercromby Square
Abercromby Square in summer is bliss. It's the perfect place to have lunch, meet friends or even have a kickabout. However, when it's winter, it resembles Shrek's swamp. Even daring to cross the green during winter will place the upkeep of your shoes in jeopardy.
So, here's a solution: a retractable roof. Yes, just like the one on Centre Court of Wimbledon or the Millennium Stadium in Cardiff. I don't know if the technology is there or not yet, but I would hope that as soon as the rain falls, the great retractable glass roof of Abercromby Square can protect the grass, keeping conditions pristine all year round. Voilà!